Professor Maeve Glass '09 Receives 2021 Willis L.M. Reese Prize for Excellence in Teaching
Professor Maeve Glass '09 Receives 2021 Willis L.M. Reese Prize for Excellence in Teaching
Students laud Glass for her captivating lectures and praise her as a teacher who inspires, encourages, and values their active participation in classes. Glass will receive the honor, which is awarded annually by the graduating class, and speak at graduation on April 29.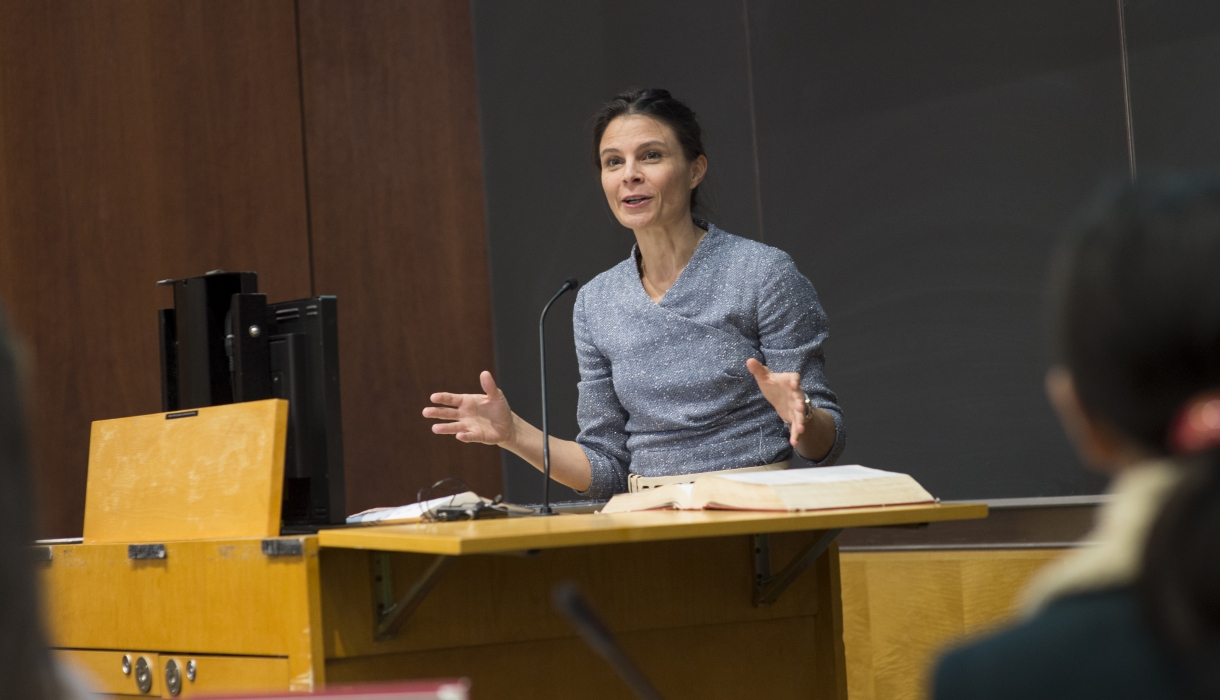 When Associate Professor Maeve Glass '09 began teaching at Columbia Law School in fall 2018, she introduced a new seminar to the curriculum: Legal History of American Slavery. It was the first law school class she had ever taught—and a runaway hit with students. "Hands down, this is the most important and most relevant course I have taken at the law school," wrote one reviewer in a course evaluation. "Professor Glass is an incredible educator who cares about creating an open and engaging learning environment," noted another. A third declared: "All the students left on the last day wishing we could take this class again."
Still, when Associate Dean of Student and Registration Services Yadira Ramos-Herbert called to tell her she'd been chosen by the Class of 2021 to receive the annual Willis L.M. Reese Prize for Excellence in Teaching, Glass says, "I was completely surprised." She allows that she hadn't fully absorbed the positive reviews her classes had received. "My general tendency in reading student evaluations is to hone in on the constructive criticisms about how I could teach better, which can be strong and heartfelt," she continues. "They tend to take on much more importance in my mind than the positive comments."
So Glass pored through the evaluations again. "It was very moving to read through the comments with an eye to the good ones," she says.  Glass was gratified that one student described her as "brilliant beyond measure." Another said she was "made of magic." A third declared, "Professor Glass came in with a floodlight and lit up the world."
A Historian's Approach
After graduating from the Law School, where she was a James Kent Scholar and the recipient of the E.B. Convers Prize (awarded annually to the member of the graduating class who writes the best original essay on a legal subject), Glass enrolled in a Ph.D. program in American legal history at Princeton. Her dissertation, These United States: A History of the Fracturing of America, received the American Society for Legal History's best dissertation prize in 2017 and is the basis for her forthcoming book on the origins and evolution of the U.S. Constitution. 
Glass's teaching interests and interdisciplinary methods are reflected in her scholarship, which explores the material foundations of public law and constitutional discourse. Earlier this year, she received a Junior Faculty Diversity Grant from the Office of the Provost to map the trading routes that connected the ports of North America prior to the drafting of the Constitution. Glass's scholarship has appeared or is forthcoming in the Fordham Law Review, Michigan Law Review, and The University of Chicago Law Review as well as in interdisciplinary journals including Law & Social Inquiry and History and Theory.
Glass's training as a legal historian informs how she structures her first-year courses in Property and Constitutional Law. "I've tried to build the classes around a law and history approach, locating the doctrines in the large historical context of chains of title rooted in dispossession based on race," she says.

Class Participation
In her classes, Glass asks students not only to construct legal arguments using doctrinal precedents and policy justifications but also to analyze how courts construct historical narratives that foreclose particular lines of argument. Drawing from the four-volume course reader she created over the summer of 2018 for her Legal History of American Slavery seminar, Glass assigns readings to help students consider how decisions live outside the casebook. "I have them read the words of Justice Taney or Justice Story alongside the words of Black abolitionists like Frances Ellen Watkins Harper," she says. "I try to pair doctrine with a range of perspectives, from John Locke to Cheryl Harris."
Students describe her classes as intellectual enlightenment. "Attending Professor Glass's 'con law' classes felt like stepping into a rich and full ecosystem of thought," commented one student in her Constitutional Law class. "Professor Glass can weave philosophy, precedent, history, social (in)justice, logic, and, of course, the cases and doctrine together," said another. 
Many students consider her approach a tour de force. "She teaches with such a vigor for property and historical analysis of law that it's just a pleasure to sit there and listen," wrote one student. Or as a classmate put it  succinctly: "Each class feels like a TED Talk."
Glass also brings her own spin to her American Constitutional History course. "Although it's a staple at the Law School, I added insights from the Legal History of Slavery seminar and my own scholarship," she says. For example, instead of beginning with the standard map of 13 colonies, Glass asks students to imagine a history of the Constitution that starts with the material histories of the land and the sea. One student summed up the course as a "home run every day." 
Connecting With Students
Glass's pedagogical approach is built on listening and learning from students. "I see law teaching as an iterative and collaborative process," she says. In the classroom and in office hours, she aims to create a space where people can bring their individual expertise and perspectives to bear. "She treats us like her peers and genuinely is interested in what we have to say," said one student. 
Last summer, Glass recruited several students to work as research assistants on projects designed to improve her own teaching. Some developed a database of materials for incorporating race into the 1L curriculum, while others produced a database of best practices in law teaching, including a comprehensive evaluation of Glass's own pedagogical practices. "I have learned as much from the students as they have learned from me," she says.
During the pandemic, Glass has remained committed to forging relationships with students inside and outside the classroom. "I'm in New York, and I see students once or twice a week," she says. "I go for socially distanced walks with three or four of them at a time in Morningside Park, and it's been so nice to get to know them that way." 
Glass says she is eager to return to teaching in-person and misses being able to see the students' reactions in real time. "I'm looking forward to the day when I can open my office door on the ninth floor and welcome students back in to gather around the coffee table and talk through the elements of adverse possession or bounce ideas around for a note topic on originalism," she says. 
Columbia Law School is Glass's past, present, and future. "It's where I first learned how to think like a lawyer and where I've begun to figure out what it means to be a teacher," she says.