Graduation 2022: An Evening to Remember
Graduation 2022: An Evening to Remember
J.D., LL.M., J.S.D., and E.LL.M. students celebrate graduation, with Andrew Yang '99 delivering the keynote.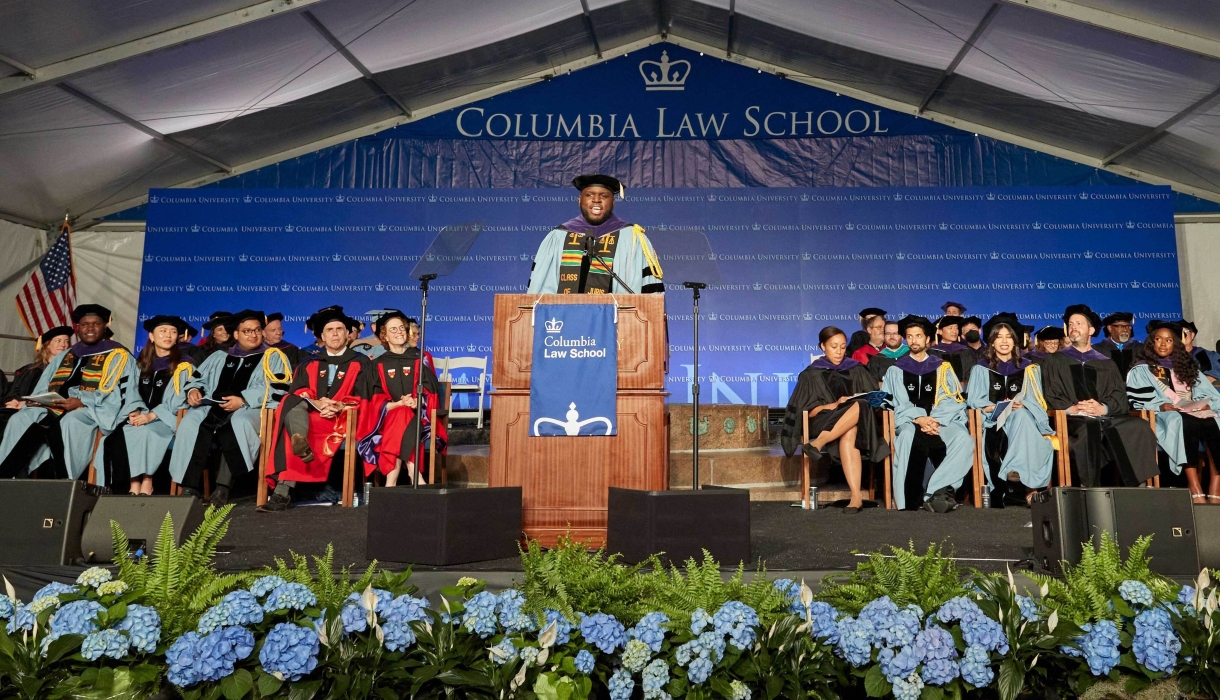 On the evening of May 16, more than 900 J.D., LL.M., J.S.D., and E.LL.M. candidates gathered in a massive tent on the South Lawn of Columbia University's Morningside campus to mark their graduation from Columbia Law School. They were cheered on by more than 4,000 friends, family, and guests who attended the ceremony—the Law School's first in-person graduation celebration since 2019. The graduates' degrees were officially conferred at the University Commencement on May 18.
Shortly before students entered the tent, a rainbow appeared over the campus, a fitting symbol for the members of the Class of 2022, who had to navigate a pandemic during their time at the Law School.
By tradition, representatives of the 50th Reunion Class of 1972 led the procession, followed by Gillian Lester, Dean and Lucy G. Moses Professor of Law; the student speakers, and Law School faculty and senior administrators.
Following a video featuring six members of the Class of 2022, welcome remarks were delivered by Saaket M. Pradhan '22, the graduation committee co-chair, who described the Class of 2022 as "the most resilient group Columbia Law has ever seen." He thanked the Law School's essential workers and staff, "who put themselves at risk every single day to keep the school running" during the pandemic. He then introduced Dean Lester, who, he said, "has guided the school throughout its most trying times and in the process increased student financial aid, committed the Law School to increasing diversity, and worked openly with students to improve the overall CLS experience."
"I hope you savor this day, take pride in your achievement, and feel the warmth of the embrace of all who surround you," said Dean Lester. "Combining the lessons of the classroom with learning to listen to your emotions—to heed the values you wish to live by, to embrace humility, and to give it your all while rolling with the trials and errors that will come your way—will not only help you make decisions in your own life, it will also make you a better lawyer and a better human being."
Paul Augustus Riley Jr. '22, the outgoing president of the Student Senate, introduced the J.D. student speaker, Enioluwada "Eni" Oluwafunto Popoola '22, and the LL.M. student speaker Jordan A.J. Jarrett '22 LL.M., who were elected by popular vote of their respective classes.
Popoola, who served as essays editor of the Columbia Law Review and as secretary of the Black Law Students Association, reminded her classmates of their responsibilities as Columbia-educated lawyers. "For better or for worse, we are entering a profession of immense power and influence," she said. "And so it is my hope that we learn the distinction between profession and purpose, and that we come to know and experience more of the latter. . . . I hope that we never let being lawyers keep us from being the dreamers, thinkers, and advocates who put people before institutions so that the word 'justice' represents not an empty, overused platitude but a substantive principle, ever transforming to the realities of the time and beckoning to the needs of the generation."
Jarrett, who hails from Kingston, Jamaica, and was a United Nations extern and a staff editor of the Columbia Journal of Transnational Law, spoke of his class's shared humanity and responsibilities. "We are among the largest and most diverse of Columbia's LL.M. classes," he said. "We're almost 400 strong, hailing from over 50 countries across six continental regions. From now on, class, a large portion of the world's happenings will have a place in the lives, homes, and families of someone sitting beside us. And by that fact, I dare to say we can no longer be strangers to the issues that plague this world."
Moliang Jiang '22 and Samarth Khanna '22 LL.M. presented the Willis L.M. Reese Prize for Excellence in Teaching to Eric Talley, Isidor and Seville Sulzbacher Professor of Law. "Professor Talley goes the extra mile to make himself available and connect with students," said Jiang. "He takes student ideas and concerns to heart and figures out ways to make learning easier for all. To many of us, Professor Talley is a passionate and devoted professor and a thoughtful and personable mentor."
In his speech, Talley drew inspiration from a 150-year old contracts case, Raffles v. Wichelhaus, which involved two ships called Peerless. "I think this case serves as a reminder that no matter how peerless you think of yourself or your situation, reality is often much more complicated," he said. "And let me be clear: If the label peerless applies to anyone, it's this graduating class . . . . But by the same token, none of us is really, truly peerless. We all owe our trajectories, our fortunes, and our fates to countless other peers." Talley encouraged the graduates to honor their mentors by becoming mentors to their peers as they progress in their careers: "Take pleasure in lending a hand to help them navigate their way, to confront hardships, and to make difficult choices. Celebrate their triumphs as though they are your own."
David Pozen, vice dean for intellectual life and Charles Keller Beekman Professor of Law, announced some of the Law School's most prestigious academic prizes. Alexandra Ann Nickerson '22 and Marica LaRobbia Wright '22 received the Samuel I. Rosenman Prize; Nickerson also won the E.B. Convers Prize; Susannah Rachel Cohen '22 and Nina Jaffe-Geffner '22 were awarded the Pauline Berman Heller Prize; the John Ordronaux Prize was given to Alec Schwartz '22; the Walter Gellhorn Prize was awarded to Tristan Lockwood '22 LL.M.; and Annel Becerra Rodriguez '22 won the Campbell Prize.
Rebecca Chacon Naranjo '22 LL.M., the LL.M. graduation committee co-chair, announced that Kenneth L. Stein '62—co-chair of his class's 60th reunion and a former member of the Law School's Board of Visitors—had made a gift "in honor of every member of the Columbia Law School Class of 2022," which will help alleviate the unanticipated financial needs of current and future Columbia Law students.
Andrew Yang '99—the first Asian American to run for the Democratic presidential nomination and the first candidate to popularize the idea of universal basic income—delivered the keynote address. "I still remember when I was in your shoes, and I'm told that one of the reasons I'm here tonight is due to student voting. So thank you for that. It's the first election I've ever won," he said to much laughter. 
"Make the most of your degree by testing people's belief that you know what you're doing," Yang said. "Find a problem to solve that's significant enough that you can care about it for years and work hard on it gratefully and have confidence that if you do what you want and work hard at it, the market will follow you, not the other way around. It's no exaggeration to say that the future of civilization may rest on the choices you all make. So find that voice inside you, apply yourself with the same energy you have to reaching your goals thus far, and I have no doubt that you'll do great things."
After the speeches, students crossed the stage and received a Columbia Law School bookmark from Dean Lester as their names were announced by Nkonye Iwerebon '93, associate dean and dean of admissions; Yadira Ramos-Herbert, associate dean of student and registration services; Jill Casal, executive director, Office of Graduate Degree Programs; Petal Modeste, associate dean for professional development, graduate degrees, and executive education; and Julie Sculli, assistant dean, Office of Graduate Degree Programs.
The ceremony ended with an abundance of hugs and tears, and the evening concluded with a reception for the graduates and their guests on Ancell Plaza.
Explore a gallery of photos from graduation day: