Student Spotlight: Saaket Pradhan '22 on Big Tech and the Big Apple
Student Spotlight: Saaket Pradhan '22 on Big Tech and the Big Apple
As Pradhan prepares to embark on his legal career, he is following his own advice and taking full advantage of life at Columbia Law.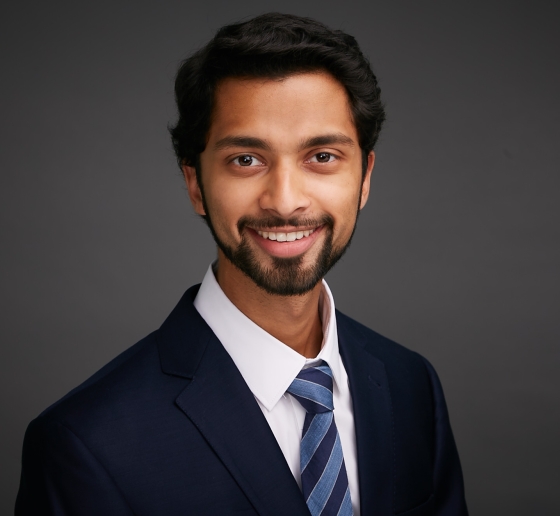 Columbia Law School was a natural fit for Saaket Pradhan CC '16, LAW '22. He knew he wanted to practice in New York City, and as a Columbia College graduate with a degree in economics, he already loved the campus and the neighborhood. But now, after more than a year of virtual learning, Pradhan is experiencing the campus anew and approaching his classes, the community, and his remaining time in law school with a fresh perspective.
What is it like now that you are back on campus? What's changed? What's stayed the same?
It's a bit surreal to be back on campus and see people I haven't seen since March 2020. I was in New York City during the shutdown, so it's very heartening to see the campus vibrant again and back to life. Many things have changed—like the social scene and spontaneous hangouts. The academic experience has gone back to normal, and it's nice to be back in the classroom instead of looking at 100-plus Zoom boxes online. I definitely miss all the free daily lunch events with guest speakers and hope they come back soon! 
What impact has Columbia Law had on your career aspirations?
Columbia Law has opened up so many doors to what is possible for me. Coming into law school, I wasn't really sure what area of law I liked or what exactly I wanted to do post-graduation. But meeting so many driven students, brilliant professors, and helpful peers and mentors has helped me narrow down things a bit. And having the 2L/3L freedom of taking classes in whatever subject I want has helped me discover areas of the law I didn't even know existed before. 
Can you give us an example?
An area of law that I knew nothing about before law school, but is now the one that interests me the most, is tech regulation. In our 21st century digital age, there are constantly new questions being raised on how to best regulate new technologies, especially for the Big Tech companies. I'm excited to get involved in this sphere.
Do you participate in any student organizations? 
I've been heavily involved in Student Senate, the Columbia Journal of Transnational Law, and the South Asian Law Students Association. They've introduced me to some great friends and have kept me engaged even while we were all so far apart physically last year. 
How are you planning to spend your free time this year, especially now that the city has reopened?
I'm looking forward to hitting up my favorite local restaurants, bookstores, and shops all across the city. I haven't been to some of my favorite places since 2019, so I'm excited to go back, support them, and see how they weathered the pandemic. 
I've spent a lot of time playing tennis and hope to continue this throughout the year. The board game cafe Hex & Company just opened up in a new location a block from campus, so I want to go there more often—not to mention go to sporting events, movies, and Broadway shows that are finally back in full force. I also want to do more pleasure reading instead of just sticking to reading casebooks! 
What do you hope to do after graduation?
After graduation (hopefully an in-person one!) I plan on passing the bar exam and taking a giant post-bar trip to make up for being stuck at home for so long during COVID. I'll be working at a firm after graduation, but I hope to break into teaching at some point down the road. 
Advice for an incoming 1L?
Remember that you're going to leave Columbia Law School with a job all but guaranteed, so try not to stress out too much! Since this will likely be your last time in school, make sure to take full advantage of the student life that you won't get again—being a part of clubs and organizations, hanging out with your classmates, and pursuing any academic or personal interests you have. Some of my favorite things about Columbia Law are all the events organized by clubs, so put down the books every now and then and go attend them! 
This interview has been edited and condensed.