Albert J. Rosenthal, Former Columbia Law School Dean, Dies at 91
Albert J. Rosenthal, Former Columbia Law School Dean, Dies at 91
Albert J. Rosenthal, who served as dean of Columbia Law School from 1979 to 1984, passed away Wednesday.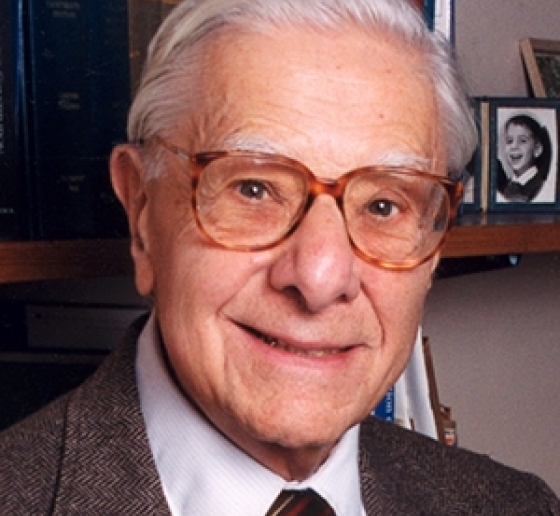 Albert J. Rosenthal, who served as dean of Columbia Law School from 1979 to 1984, died Wednesday. He was 91.

Rosenthal, of Scarsdale, N.Y., died of complications from Alzheimer's disease.
Rosenthal, most recently the Maurice T. Moore Professor Emeritus of Law, was for many years a popular presence at the Law School with fellow professors and students alike. During his tenure, Rosenthal boosted the number of female faculty members, enhanced the Law School's clinical programs and established centers for Asian legal scholarship.
"Al contributed immeasurably to the intellectual life of the Law School by hiring extraordinary faculty, by enhancing our international curriculum, and by strengthening the Law School's connections to the profession," said
David M. Schizer
, Dean and the Lucy G. Moses Professor of Law.
Among the professors at the Law School when Rosenthal assumed his post was Supreme Court Justice Ruth Bader Ginsburg '59, who left in 1980 to become a federal judge.

"Throughout his good life, Albert Rosenthal quietly but persistently pursued justice and loved mercy," Ginsburg said in a statement. "He was a wise, kind, and compassionate colleague and dean during my tenure at Columbia Law School.  His scholarship, both caring and careful, and his dedication to civil rights in our land, encouraged others to follow in his way.  In all respects, he was a true gentleman whose brave heart complemented his bright mind."  
Rosenthal succeeded
Michael I. Sovern
, who had assumed the presidency of Columbia University. Sovern said he left the Law School in good hands.
"Al was that rare combination of human warmth and extraordinary ability. He was a brilliant scholar, beloved teacher, and gifted leader. Most importantly, he was a loving husband and father, and a dear friend, said Sovern, the Chancellor Kent Professor of Law; President Emeritus of the University.
Still, Rosenthal, who began teaching at the Law School in 1964 and regularly presided over classes until 2002, came to the deanship reluctantly.
Louis Henkin
, Professor Emeritus, recalled in a 1984 appreciation of Rosenthal in the
Columbia Law Review
 that Rosenthal not only did not seek the job, he at first turned it down.
"He succumbed finally not to the temptation of command and authority but to the challenge of a novel work and the sense that there was an important cause to be served," Henkin wrote.
It was during Rosenthal's five-year tenure as dean that some of the Law School's most-prominent professors joined the Law School, including
Vincent Blasi
,
John Coffee
,
George Fletcher
,
Henry Monaghan
, and
Barbara Aronstein Black
'55, who became dean in 1986.
"He is probably the most considerate person I have met in my professional life," said Blasi, the Corliss Lamont Professor of Civil Liberties.
Rosenthal established the centers for Japanese and Chinese legal studies, and was also praised for enhancing the Law School's clinical offerings.
"Al understood the interdisciplinary nature and needs of family law," said Jane Spinak, the Edward Ross Aranow Clinical Professor of Law, who joined the faculty in 1982 and founded the Child Advocacy Clinic.

"When the clinic was created, he hired one of the first social workers to be employed as a faculty member in a law school to teach alongside the professors. He recognized that we would be unable to represent children fully without a social-work perspective. He also knew that law students needed to understand the perspectives of multiple disciplines to become adept in their own."

Spinak was also part of an effort by Rosenthal to bolster the number of female faculty. When he started as dean, only three women held full-time faculty positions, including Ginsburg. Five years later, there were six full-time women, while four other women, including Spinak, were named clinical professors.

After his five-year term as dean ended, Rosenthal returned to the classroom, where colleagues said students were drawn to both his demeanor and legal acumen.

"Students loved him, sensing that he was simply there for them–not a histrionic or commanding teacher, as some of us were, but fully committed to their success and willing to teach in essential areas–legal drafting comes to mind–that most of us eschewed," said Peter L. Strauss, Betts Professor of Law.

Among those who knew Rosenthal as a student was Lee C. Bollinger '70, President, Columbia University; Professor of Law. "Al was the classic law professor -- serious about his field, exhaustive in his knowledge of the law, kind to students, and devoted to the school," Bollinger said. "He was one of the most likable people you could imagine."
Rosenthal began his legal career after graduating from Harvard Law School in 1941 as a clerk to First Circuit Court of Appeals Judge Calvert Magruder. He then joined the Air Force, where he served in the European theater. After the war, Rosenthal clerked for Supreme Court Justice Felix Frankfurter.
After working in government and 11 years of private practice, Rosenthal joined the Law School, where he became a noted expert on constitutional and environmental law. It was in the latter discipline where Rosenthal was especially active.
He was a member of an environmental study group that looked at conditions at Jamaica Bay and John F. Kennedy Airport for the National Academy of Sciences, where he also served on the Environmental Studies Board. He also served as a hearing officer for the New York State Department of Environmental Conservation, where he ruled that the controversial Westway highway project should not be built in New York, and as a special master in a suit brought by the federal government against New York City for dumping sewage into the Atlantic Ocean.
Rosenthal was also a member of consulting or teaching missions on constitutionalism and human rights in South Africa, Indonesia, Uganda, and Mozambique.
Rosenthal is survived by his wife Barbara, three sons, Ned, '80, Tom '82, and Bill, and 10 grandchildren.
A memorial service will be held Sunday at 11:15 a.m. at Riverside Memorial Chapel, 180 West 76th St., New York.