Columbia Law Professors Tackle Free Speech, Climate Engineering, Open-Data Policies, and More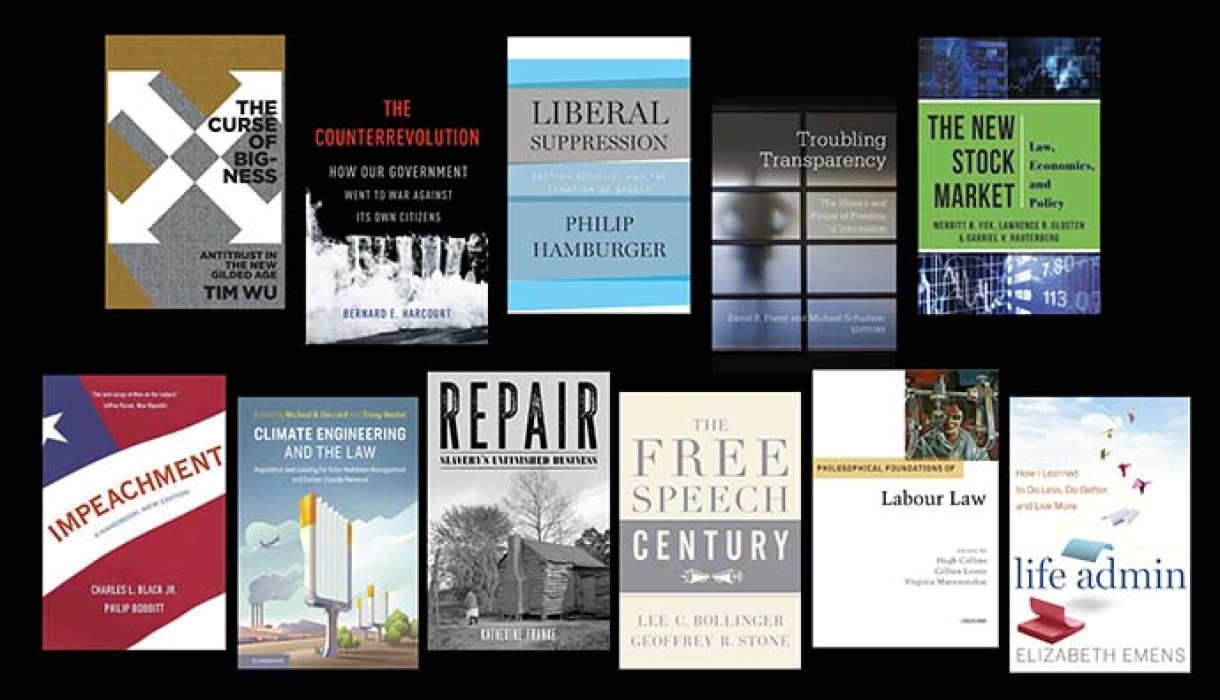 The past year was a prolific one for Columbia Law professors. They wrote and edited new books—some out already, some forthcoming—examining many of today's most pressing legal issues, including free speech, climate interventions, charitable tax exemptions, and domestic security policies.
The virtual bookshelf below provides a snapshot of the innovative research and scholarship taking place every day at the Law School.

The New Stock Market: Law, Economics, and Policy
By Merritt B. Fox, Lawrence R. Glosten, and Gabriel V. Rauterberg
Columbia University Press, January 2019
This new book from the Program in the Law and Economics of Capital Markets, a joint initiative of Columbia Law School (Fox is a professor) and Columbia Business School (where Glosten is a professor), examines the transformation of the U.S. stock market over the past 25 years. The book covers the stock market's regulatory framework, fundamental institutions, and economic dynamics, with assessments of various controversial features, including high-frequency trading and "dark pools." In early 2018, the program published Securities Markets for the 21st Century, an electronic book that completed the first phase in a multiyear New Special Study of the securities markets supported by the Securities and Exchange Commission, the Financial Industry Regulatory Authority, the Commodities Futures Trading Commission, Bloomberg Law, and others. The study ultimately will result in a definitive plan for best practices in securities regulation.
Life Admin: How I Learned to Do Less, Do Better, and Live More
By Elizabeth Emens
Houghton Mifflin Harcourt, January 2019
Drawing on her experience as a working mother, Professor Elizabeth Emens offers guidance on how to manage the "invisible labor" of administrative tasks that "fill our minds and steal our time," such as scheduling doctor appointments, paying bills, and planning for weddings, births, deaths, and other major life events. Emens, an expert in disability law, family law, and antidiscrimination law, previously has written about administrative tasks for the Georgetown Law Journal.
Philosophical Foundations of Labour Law
Edited by Hugh Collins, Gillian Lester, and Virginia Mantouvalou
Oxford University Press, January 2019
Gillian Lester, Dean and the Lucy G. Moses Professor of Law, has co-edited Philosophical Foundations of Labour Law, the first book to examine that topic in detail. The book addresses subjects including the meaning of work, the relationship between employers and employees, and the demands of justice in the workplace. Dean Lester is a nationally recognized authority on employment law and policy, referred to as "an expert on issues facing the middle class in America" by former Vice President Joe Biden during a November 2018 visit to the Law School. 
The Free Speech Century
Edited by Geoffrey R. Stone and Lee C. Bollinger '71
Oxford University Press, December 2018
This book, co-edited by Columbia University President Lee C. Bollinger '71, a longtime professor at the Law School who is a leading expert on the First Amendment, traces the evolution of free speech doctrine from the 1919 U.S. Supreme Court case Schenck v. U.S., which included the first use of the phrase "clear and present danger." Columbia Law School Professors Vincent Blasi, Sarah Cleveland, and Tim Wu contribute chapters on recent rulings in favor of individual liberty, hate-speech provisions in international law, and whether the First Amendment is obsolete in an era of information overload, respectively.
The Curse of Bigness: Antitrust in the New Gilded Age
By Tim Wu
Columbia Global Reports, November 2018
A well-known antitrust and communications law expert, Professor Tim Wu argues that consolidation in global industries—such as banking, pharmaceuticals, and technology—threatens democratic principles by contributing to the rise of populism, nationalism, extremist politicians, and fascist regimes. He has previously written about how attention became a commodity and the corporate control of information flows.
Impeachment: A Handbook, New Edition
By Charles L. Black Jr., and Philip Bobbitt
Yale University Press, September 2018
Originally published in 1974 at the height of the Watergate crisis, this definitive guide to presidential impeachment written by the late Columbia Law professor Charles L. Black Jr. has been thoroughly updated to include new chapters by Professor Philip Bobbitt, the Herbert Wechsler Professor of Federal Jurisprudence. Inspired by student questions in his Legal Methods class, Bobbitt addresses precedents set since the original publication, the Emoluments Clause, and the 25th Amendment, while, he notes, leaving Black's "work of genius" untouched.
Troubling Transparency: The History and Future of Freedom of Information
Edited by David Pozen and Michael Schudson
Columbia University Press, August 2018
Co-edited by Professor David Pozen, this collection examines the effectiveness of transparency laws including the Freedom of Information Act. Pozen previously wrote about the topic in "Freedom of Information Beyond the Freedom of Information Act," in the University of Pennsylvania Law Review in 2017. Pozen, an expert in constitutional law, national security law, and information law, frequently writes about government leaks and new forms of government protest.
Liberal Suppression: Section 501(C)(3) and the Taxation of Speech
By Philip Hamburger
University of Chicago Press, April 2018
Philip Hamburger, the Maurice and Hilda Friedman Professor of Law and a prolific author who in 2017 received the prestigious Bradley Prize for innovative scholarship, argues in this book that prohibitions on campaign speech for tax-exempt religious organizations are unconstitutional and an assault on minority rights. Hamburger's previous book, Is Administrative Law Unlawful?, won the Hayek Book Prize from the Manhattan Institute.
Climate Engineering and the Law: Regulation and Liability for Solar Radiation Management and Carbon Dioxide Removal
Edited by Michael B. Gerrard and Tracy Hester
Cambridge University Press, March 2018
Professor Michael B. Gerrard, director of the Law School's Sabin Center for Climate Change Law and faculty chair of Columbia University's Earth Institute, has edited the first book focused on the legal aspects of geoengineering, or the large-scale manipulation of the climate to prevent the worst impacts of global warming. Although support seems to be growing for these efforts, little attention has been paid to the legal aspects and implications of such interventions. The book addresses geoengineering technologies, relevant U.S. and international law, liability and compensation, and research governance. Sabin Center Executive Director Michael Burger '03 and former staff attorney Justin Gundlach contributed chapters.
The Counterrevolution: How Our Government Went to War Against Its Own Citizens
By Bernard E. Harcourt
Basic Books, February 2018
After writing a book on digital surveillance in 2015, Professor Bernard E. Harcourt was inspired to tie a host of militarized policing strategies into a more comprehensive argument that the U.S. government is using counterinsurgency techniques to control its own citizens. This is the resulting book, and it makes the case that strategies originally developed to combat colonial rebellions abroad—including bulk intelligence collection, the targeting of minority groups, and the use of propaganda—have been brought home as a new form of domestic governance.
# # #
Published on January 11, 2019