Faculty Discuss 'Abortion as the Curriculum' for Foundational Courses
Faculty Discuss 'Abortion as the Curriculum' for Foundational Courses
The first-year curriculum often strikes students as unrelated to the most pressing legal issues of the day. On a panel this fall, faculty teaching 1L courses "taught their subject" through the lens of the right to abortion, showing how their subject is critical to the legal questions surrounding a right to abortion, reproductive autonomy, or sexual liberty.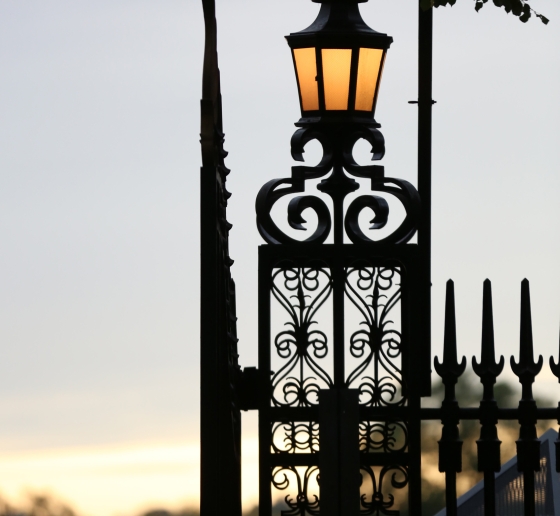 When the U.S. Supreme Court ruled in June 2022 that there is no constitutional right to abortion, overturning Roe v. Wade, it sent shock waves across the nation and through the legal academy. The 6-3 decision in Dobbs v. Jackson Women's Health Organization meant states could now pass new legislation or enforce long-dormant laws severely restricting or criminalizing abortion. Columbia Law professors have spent the past several months considering a range of legal issues and scenarios in a post-Roe world.
On October 16, five Columbia Law faculty members who teach first-year students gathered for a panel discussion to explain how the foundation curriculum—Torts, Property, Civil Procedure, Constitutional Law, Contracts—is implicated in the right to abortion, reproductive autonomy, or sexual liberty.
Torts and Abortion
Katherine M. Franke, James L. Dohr Professor of Law—a leading voice on reproductive justice, director of the Center for Gender and Sexuality Law, and faculty director of the Law, Rights, and Religion Project—provided examples of how tort claims have been made in the reproductive justice space. "The first is the tort of wrongful life," she said. 
Franke said that in states with laws restricting access to abortion, there could be cases in which people will be born to pregnant parents who would have terminated the pregnancies had the law permitted an abortion. Such cases build on a cause of action, she says, "with an ugly history" in which a child with a disability sues for "wrongful life" after a prenatal diagnostic test failed to reveal a fetal anomaly.
Tort claims can also be made, Franke said, by people entering a reproductive health clinic who say their privacy was invaded by anti-choice activists; for example, protesters might take photos, record license plate numbers, and then publish a person's name and personal information on the internet or elsewhere. "That can be humiliating," she said, adding that in the current climate being outed as having an abortion may damage a person's reputation, relationships, employment, and personal safety. In seeking a remedy, plaintiffs can make claims against "abortion outers" under the tort of intrusion, which "covers wrongful intrusions of a person's physical seclusion or personal affairs," Franke said.
Property and Abortion
Maeve Glass, an associate professor of law, introduced the 1984 case Moore v. Regents of the University of California, in which a cancer patient sued the UCLA Medical Center and other parties for using his spleen cells for profitable research without his permission. When the case reached the California Court of Appeals in 1988, Glass said, the court had to answer a fundamental question: Does a person have a property interest in their body? 
"The judges answered with a resounding yes," she said. But in 1990, the California Supreme Court overturned the decision, finding that there is no property interest in a person's human tissues sufficient to sustain a claim of conversion (the interference of a person's right to property without the owner's consent and without lawful justification). Glass said the case "illuminates just how central property law is to the struggle for reproductive justice that is unfolding today."
Citing the work of the legal scholar Julie C. Suk, who has written about abortion vis-à-vis the takings clause of the Fifth Amendment ("Nor shall private property be taken for public use, without just compensation"), Glass raised the question of establishing property rights for a person's uterus. "It would follow that the state would have to pay people who are carrying unwanted pregnancies for their lost wages [and] for their emotional, physical, and economic costs," she said. But Glass also cautioned that this interpretation is morally vexing given the legal prohibition against slavery: "Do we really want to be commodifying bodies?" she said.

Civil Procedure and Abortion
"Dobbs is in the air when we're talking about courts—full stop—in a way that I hadn't expected it to be," said Olatunde C.A. Johnson, Ruth Bader Ginsburg '59 Professor of Law. In her Civil Procedure class, students have raised questions around the legitimacy and enforcement power of the courts, which Johnson says differs from past years. Judicial independence, term limits, and the structure and size of the federal courts have come up. "I never taught [those topics] in a first-year Civil Procedure class, but it seems very urgent to teach those things this year," she said.
Johnson has also revised the way she teaches 1Ls about preliminary injunctions. "In past years, I've done this around election law," she said. But this fall, she focused on a different topic: the lawsuit that the United States filed in August 2022 against the state of Idaho for having a near-complete abortion ban that contradicted the federal Emergency Medical Treatment and Labor Act. A district court granted a preliminary injunction that temporarily prevented the Idaho law from going into effect; the court reasoned that the United States would likely succeed on its merits and that there was potentially irreparable harm to U.S. sovereign interests, the physicians who might be arrested or jailed for performing emergency medical services, and the pregnant people with medical complications that could be life-threatening without having an abortion. Johnson said students were highly engaged by discussing the case and the other ways it might have turned out. 
Constitutional Law and Abortion
"In light of Dobbs, there are numerous constitutional issues still in play," said David Pozen, Charles Keller Beekman Professor of Law. He suggested they would be contested and litigated for years.
The first issue he raised: Does Congress have the constitutional authority to pass a nationwide abortion ban or a federal law to protect abortion and preempt state laws? He suggested that Congress might claim its authority from the Constitution's commerce clause (which regulates interstate commerce) as it did to pass the Partial-Birth Abortion Ban Act of 2003. "There were numerous skeptics of that theory of the Commerce Clause, but the Supreme Court never ruled on that issue," he said. Pozen noted the conservative justices previously did not seem interested in interrogating the commerce clause, but he predicted the current conservative majority would be very interested in doing so if Congress passed a law expanding abortion access.
Pozen then considered the role of state constitutions. Contrary to the Dobbs ruling, a Michigan lower court judge last summer used the Michigan constitution's equal protection and due process clauses to strike down a state abortion ban. "So, are we going to start to see state constitutional law pull away from federal constitutional law and do more to protect abortion rights, particularly in blue states?" Pozen asked. 
The three other constitutional issues Pozen brought up: To what extent can states impose civil or criminal liability for out-of-state travel to receive or facilitate abortion care? Will the theory of "fetal personhood" allow abortion opponents to argue that an abortion violates the fetus's due process and right to life? And will Dobbs spill over to other areas of substantive due process law such that the right to contraception or to same-sex marriage could be overruled too?

Contracts and Abortion
Carol Sanger, Barbara Aronstein Black Professor of Law and author of About Abortion: Terminating Pregnancy in Twenty-First-Century America, offered two examples of interplay between contracts and abortion. Lawyers writing surrogacy contracts, she said, sometimes put in a provision that the commissioning parents can demand that the surrogate have an abortion if the fetus is detected to have certain kinds of physical anomalies. "There are lots and lots of open questions about [the enforceability of] these contracts," she said.
Sanger also discussed a 1987 case about an unmarried pregnant woman in Missouri whose father told her that if she did not have an abortion, he would cut her out of his will. She ended up having an abortion, but she learned after her father died that she had not been reinstated in the will. She sued his estate for breach of contract—and won. Sanger noted abortion was legal in Missouri in 1987, but as of June 2022, it isn't except in a medical emergency, leading Sanger to wonder how courts in different states might rule today depending on their abortion laws.