Student Spotlight: Alex Herkert '23
Student Spotlight: Alex Herkert '23
Herkert is a finalist in the 2023 Harlan Fiske Stone Moot Court Competition.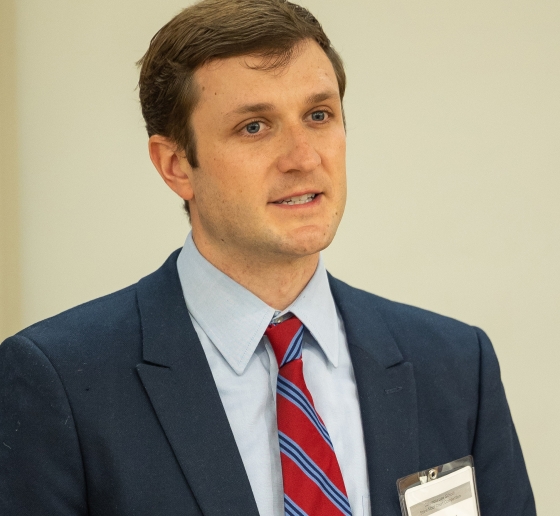 An interest in Chinese law and national security law drew Alex Herkert '23 to Columbia Law School. Now a 3L, he served as notes editor for the Journal of Transnational Law and as a research assistant for multiple professors, and he externed with 2nd U.S. Circuit Court of Appeals Judge Robert D. Sack '63. A finalist in the 2023 Harlan Fiske Stone Moot Court Competition, Herkert opens up about some of his favorite classes and the need to overcome fears of failure.
Hometown: Orono, Minnesota
Education: B.A. in global affairs, Yale University; master's degrees in contemporary Chinese studies and global governance and diplomacy, University of Oxford
Before Columbia Law: Blakemore Fellow at National Taiwan University
At Columbia Law: James Kent Scholar; Columbia Journal of Transnational Law notes editor; Lawfare contributor, student fellow with the National Security Law Program; research assistant to Matthew C. Waxman, Liviu Librescu Professor of Law; Daniel Richman, Paul J. Kellner Professor of Law; Gillian Metzger, Harlan Fiske Stone Professor of Constitutional Law; and Benjamin L. Liebman, Robert L. Lieff Professor of Law
After Columbia Law: Joining Williams & Connolly in Washington, D.C., and then returning to New York to clerk with U.S. District Judge Lewis J. Liman of the Southern District of New York

Why did you choose to attend Columbia Law School?
I took my time coming to the decision, but ultimately it was the faculty and the Law School's strengths in Chinese law and national security law that brought me here.
How have your career goals changed over time?
I always thought I wanted to do something in the diplomatic space, but as I started thinking more about it, it turned out that what I really liked about diplomatic jobs was present in the legal sphere. For instance, each case presents interesting new ideas and challenges. I also like public speaking and meeting with people, which litigation offers. In the diplomacy space, I got frustrated by the slow-moving timeline and the fact that if the winds around political leadership change, that can determine your future.  
Tell us about a class that has influenced you.
I had Professor David Pozen for Constitutional Law. That was one of the most amazing classes I've ever taken, even over Zoom. That really sold me on constitutional law and public law and got me thinking that there is this space where I can mix my interests in national security law and public law. 
What was your externship like with Judge Sack?
I got to write two full bench memos and go to oral arguments. To do that as a 2L, when I'm still learning the law myself, was a really great experience. Judge Sack gave me a lot of great feedback, which has been helpful in the Stone Competition.
You and Conor Regan '23 have been partners throughout the competition. How did you first team up? And what have you learned through the process?
We ended up taking a lot of classes together; we studied for exams together. We knew we worked well together and trusted each other. 
I didn't realize how hot the benches were going to be. Going into the first round, I was prepared to give a five-minute monologue, and, I'm not exaggerating, I think I got through two words at most. I think one of the most interesting and challenging things has been learning how to respond to questions to get across the broader narrative I wanted to get across.
What advice would you give incoming students?
Get over your fears, whether it's reaching out to a professor, writing for a journal, or signing up for a competition like the Harlan Fiske Stone Moot Court. A lot of things can seem intimidating, but once you force yourself to take that first step, it becomes easier. You won't get everything you apply for—I certainly haven't—but you'll find the things that mesh and develop your path from there.
This interview has been edited and condensed.