How I Got Here: Akshaya Kumar '12
How I Got Here: Akshaya Kumar '12
Akshaya Kumar is the director of crisis advocacy at Human Rights Watch in New York.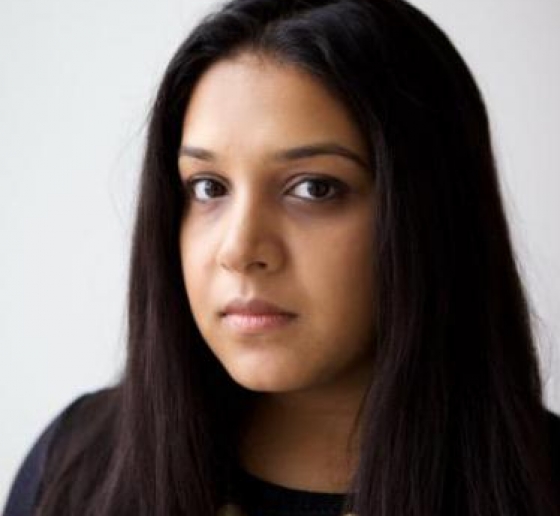 What exactly do you do?
I am a lobbyist for people who've suffered human rights abuses, violations, war crimes, and crimes against humanity. The people who would never be able to pay for a lobbyist. It's sort of a dirty word, but I'm proud to be doing that work for them. The crisis team responds to breaking news developments and also protracted situations where people are experiencing or at risk of atrocity crimes. Human Rights Watch has researchers around the world who are our subject matter experts, working with our civil society partners, corroborating accounts, and collecting information in real time. In the advocacy department, we read their updates and think, how can we convince people in power, who might be hearing from other governments or multinational companies on the same issue, to also consider the needs of the most vulnerable, whose voices wouldn't otherwise be at the table? That's what crisis advocacy is. It's thinking about how to mobilize the various parts of the international legal and policy framework to serve the interests of people who are disproportionately affected and most vulnerable to crisis, conflicts or an unexpected situation like this global pandemic.
I meet with diplomats and people inside governments to share information and try to persuade them to take up our analysis and recommendations. I write op-eds. I appear on television programs as a commentator. And I also work with my colleagues who are closest to the issues to devise a strategy identifying the best way and the best tool and the best forum to make our case.
I love the opportunity to use the power and privilege, and the vocabulary I gained through legal education to represent people who deserve to be heard but don't have access to the corridors of power.
Right now, I'm working in a coalition to change the way international trade rules treat the intellectual property behind COVID-19 health products like vaccines, treatments, therapeutics, and testing kits so that they can be more affordable and accessible to all people, especially people in the developing world.
What do you like about your job? 
It's a dream job for me. I love the opportunity to use the power and privilege, and the vocabulary I gained through legal education to represent people who deserve to be heard but don't have access to the corridors of power. Working in crisis response, I open the paper and say, "Oh, I wish we could do something about that," and then my job gives me the responsibility to consult with the smartest and best-informed people, especially for international issues and really sticky, intractable issues. And then we try to propose a smart solution that policymakers will adopt.
What experience best prepared you for this job? 
The decision that I took my 2L summer to travel to what was then Sudan and intern with a consulting team that had contracts with different U.N. agencies as Sudan was splitting into two countries, Sudan and South Sudan. Being in Juba at that really formative moment—it felt like a crucible—is what launched me on this path. It gave me the confidence to now have a job where I may, at the drop of the hat, have to deploy to a refugee camp to help take testimonies or the next day interface with senior U.N. officials. That experience also gave me a way to connect the international law that I learned out of a textbook to real people's lives and to see how important terms that we read—whether it's "sovereignty" or "responsibility to protect"—are when they play out for people who may not know those terms but certainly feel their benefit.
It's definitely a job that demands a lot of flexibility. Having been born in India and then moving to the United States, I developed the ability to be flexible, to engage with different people from different cultures, speak different languages, and also adapt to different circumstances. That was something that growing up I forced myself to be able to do: to be comfortable, whether I was with my grandparents in a village in India or I was with my classmates on a field trip in Pittsburgh. Now, that same flexibility and the ability to code shift is really important.
How did your Columbia Law training help you get to where you are now? 
I really wanted to pursue a career in international human rights. I was kind of dead set on it. So I skipped the early interview program and I did the Human Rights Law Review and I was part of Rightslink. I was part of the U.N. externship program and seconded to the International Committee for the Red Cross delegation to the U.N. That was a hugely formative experience for me. I was also in Richard Gardner's joint seminar on international trade and economics. He had been a former U.N. ambassador.
I was on the Jessup International Moot Court team, which was an amazing experience because I got to know Professor Lori Damrosch really well as our faculty adviser. I was lucky enough to compete in the international rounds twice, and so I met aspiring lawyers from around the world and argued in front of sitting judges of the International Court of Justice in the championship rounds. I also took advantage of the dual degree program to spend my third year abroad studying for an LL.M. in London. My Columbia experience was really great for taking somebody like me, born in India in a small town and raised in Pittsburgh, and giving me exposure to circles of international legal thinking, public policy, academia that I couldn't have entered on my own.
Columbia Law School has a reputation for being a great place to learn how to be a white-shoe corporate lawyer. But it has an incredible tradition and history around being one of the places where international law, especially international human rights law, was crafted. You have people like Louis Henkin, Oscar Schachter, and Lori Damrosch who walked these halls and have shaped the actual legal canon. And so the chance to learn from their work is unparalleled. Especially if you're interested in the international aspect of human rights, it's not something new that the school is doing; it's something that is built in the DNA and the bones of the institution. 
What motivates you? 
This career path is one where there is a huge opportunity to make a difference. I feel blessed and happy to be able to see something unjust in the world and feel equipped to think about how I might contribute to a solution.
In order to be in the field of international human rights, you have to believe that engagement and caring about people, even if their interests don't immediately intersect with yours, is worthwhile. 
What is the hardest part of your job, and how do you deal with it? 
Choosing what tool is the right tool for a particular situation. That's difficult because smart, caring, thoughtful people who also want to make the situation better will have different opinions. When you have the courage of your conviction that this tool that we are advancing is the right one, then you can move forward. But finding that consensus and comfort in that diagnosis is the challenge. It's moving from the idea of analyzing the situation and identifying the violation to then identifying the most appropriate, meaningful remedy for these people. It might be litigation, it might be policy reform, it might be reparations. When you're engaged in international policy conversations, you need to make sure that you're advancing one solution that's responsible and what the affected communities and victims would want.
What professional aspirations are you working toward? 
I think a lot about international human rights, and how we can develop better ways to make sure that we're not speaking on behalf of people but instead are creating spaces for them to be advocates for themselves. There are people I've met doing this work, like my friend Wai Wai Nu, a young woman from Myanmar from the Rohingya community, who is a really powerful advocate for herself and her people. She inspires me so much. And I think one of the greatest contributions we can make is to make sure that those voices are given as much weight and ability to influence policy as the voices of an envoy from the United States or a U.N. special rapporteur who analyzes the situation from the outside. That's my ambition: to think of ways to elbow more space for those people to be centered in this movement. 
How do you keep a sense of optimism when you're dealing every day with crisis and tragedy?
A sense of optimism is necessary to be able to be in this line of work. You need to have a healthy degree of skepticism in order to be an effective researcher, in order to document, in order to analyze. But you also need to have a belief in the good that can be achieved and the fact that taking action can achieve good. I think a lot of people get paralyzed by how intractable things seem and then say, well, maybe the best solution is to just keep our hands off, and watch it play out. In order to be in the field of international human rights, you have to believe that engagement and caring about people, even if their interests don't immediately intersect with yours, is worthwhile. 
If only someone had told you . . . 
It would have helped me a lot as a 1L to know that there is a path for everyone. Just because there's a clearer track if you want to do a clerkship or if you want to go into the academy or if you want to do on-campus interviewing for a firm, that doesn't mean there isn't a path for people who are trying to do something different. 
This interview has been edited and condensed.