Presentation Honors Survivors of the Yazidi Genocide
Presentation Honors Survivors of the Yazidi Genocide
Amal Clooney, who teaches international law at Columbia Law School, joined Natia Navrouzov '23 LL.M. for a conversation centered around their quest for justice for the Yazidi community in Iraq.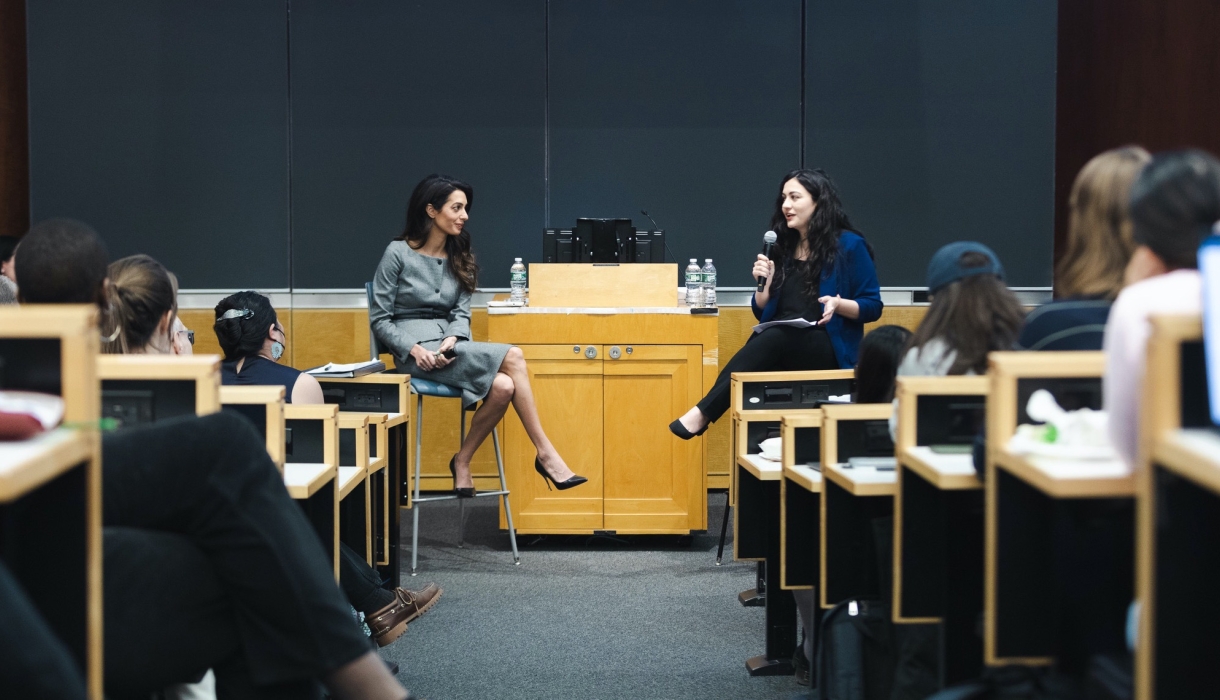 On International Women's Day, Adjunct Professor of Law Amal Clooney joined Human Rights Fellow Natia Navrouzov '23 LL.M. at Columbia Law School for a presentation, "Justice for the Yazidi Community," which was moderated by Leila Ghahhary '23 LL.M. and co-sponsored by the Columbia Society of International Law and the Davis Polk Leadership Initiative. They provided a poignant and moving account of the atrocities committed by the Islamic State group in Iraq against the Yazidi people, an ethnoreligious minority, but also a picture of hope in their work to document and prosecute the perpetrators of the genocide to ensure accountability, especially for the women who survived.
Clooney, a human rights barrister with Doughty Street Chambers in London, and Navrouzov, a French lawyer of Yazidi ethnicity, met in 2018. They worked together with Yazda, a global NGO that advocates for religious and ethnic minorities in Iraq to document and prosecute Islamic State group members.
Navrouzov began the lunchtime program by screening This Is Still Genocide: A Yazidi-Led Short Documentary and paying tribute to the late Jameel Chomer, one of Yazda's founders, who appears in the emotional nine-minute film. This Is Still Genocide features the stories of survivors of the assault on the Yazidi community in Sinjar, Iraq, on August 3, 2014, when Islamic State group militants massacred thousands of men and boys. According to Yazda, more than 2,700 Yazidi children were orphaned by the genocide; 6,000 Yazidis were kidnapped; and 3,500 women and girls were sold into sexual slavery and forced labor. Hundreds of thousands of Yazidis were displaced and remain so.
"I know many people remember what they were doing or where they were when 9/11 happened," said Navrouzov. "I think every Yazidi remembers the same for the third of August 2014." (Navrouzov was at home in Paris preparing for the French bar when her mother started shouting in front of the television while watching news of the attack.)
Pursuing Justice
Navrouzov then introduced Clooney, who co-taught International Law in the spring 2023 semester with Sarah Cleveland, Louis Henkin Professor of Human and Constitutional Rights. Clooney represented her first Yazidi client in 2016, when the former prosecutor of the International Criminal Court asked her to meet a survivor of the genocide, Nadia Murad, who had escaped to Germany from Iraq, where she had been a captive of the Islamic State group and a victim of sexual violence. 
"I heard her story, and she told me, 'My community doesn't want revenge; we want justice. Is there anything you can do?'" said Clooney, who found the case compelling not only on its merits but also as a test for the international system. "I said to myself, 'If we can't get justice when it's ISIS perpetrating the crime of genocide, then what are we doing?'" 
Together, Clooney and Murad traveled to refugee camps, met with survivors, and visited safe houses where Yazidi women were hiding in Germany. Murad became a powerful voice for her community and other refugees. In 2016, she was appointed the United Nations' first Goodwill Ambassador for the Dignity of Survivors of Human Trafficking, and in 2018, she became the co-recipient of the Nobel Peace Prize for her efforts to end the use of sexual violence as a weapon of war in armed conflict.
Although Iraq conducts trials of terrorists, it has no laws that criminalize genocide, crimes against humanity, or war crimes; therefore, there is no legal avenue for the survivors of the genocide to seek justice in their own country's courts. Instead, Clooney and Yazda have brought cases on behalf of Yazidi survivors in Germany under universal jurisdiction, which Human Rights Watch defines as allowing "domestic judicial systems of a state to investigate and prosecute certain crimes, even if they were not committed on its territory, by one of its nationals, or against one of its nationals." Universal jurisdiction covers a limited number of international crimes, including genocide, hijacking, torture, and war crimes. Clooney explained that the jurisdiction of the International Criminal Court (ICC) is limited to certain foreign fighters because Iraq and Syria are not state parties to it; neither state parties to the ICC nor the U.N. Security Council has intervened. 
Gathering Evidence
Current and future trials under universal jurisdiction depend on quality evidence, and Navrouzov has been instrumental in collecting it. When she moved to Iraq in 2018, Navrouzov took over the Yazda Documentation Project that Clooney and her team were already advising on. The project has so far collected testimonies of more than 2,300 survivors. "We have also documented hundreds of crime scenes, including mass graves, kill sites, and the destruction of Yazidi temples and shrines. Since the Iraqi authorities and UNITAD have started exhumations in Sinjar, we have also supported the families in this difficult process," says Navrouzov. 
The evidence the Documentation Project has collected has been "absolutely instrumental to all of the successful accountability efforts that we've had so far," said Clooney. "You have to make sure the evidence is gathered so you have the possibility of justice, because if the evidence disappears then that chance is gone."
One of the statements that the project collected was from a Yazidi woman who was enslaved by an Islamic State group militant along with her 5-year-old daughter, who died of thirst after being chained up outside in scorching heat as punishment by their captor. Navrouzov and her team spoke to the mother, and Clooney used that testimony at the German trial against Taha-A.J. for genocide and crimes against humanity. In the landmark case, he became the first Islamic State group member to be found guilty of genocide against the Yazidis and was sentenced to life in prison. 
"When the conviction was handed down, my team in Iraq and I stopped working and celebrated," remembers Navrouzov. "All my local colleagues at Yazda were affected by the genocide, and some still have missing relatives. Despite their own difficult situations, they work day and night for their community, which keeps amazing me. When you support your community to recover from genocide, the work seems endless, so when you reach milestones such as this one, you need to mark them." Since then, Yazda and Clooney worked to secure one additional genocide conviction (against Jalda A.) as well as five convictions for crimes against humanity and war crimes. An eighth alleged Islamic State group member is currently being prosecuted for genocide in Germany, and her trial is expected to conclude this year. 
Clooney encouraged Navrouzov to apply to Columbia's LL.M. program and wrote her a letter of recommendation. Having studied international business law as a student in France, Navrouzov chose Columbia to study transitional justice and human rights law for the first time after being exposed to those issues in Iraq for four years. "Also, Columbia was the only law school offering fellowships for students interested in human rights," she says. 
Many Yazidis are still unaware of the efforts of Yazda, Clooney, and other human rights lawyers and organizations on their behalf. Navrouzov, who is also a Davis Polk Leadership Fellow, has been using her fellowship to develop an online platform to keep survivors up to date about trials and other relevant issues. "What is meaningful justice if it doesn't come back to the survivors?" she said, asking members of the audience to volunteer on her project. "There's just so much work to be done."
After graduation, Navrouzov is returning to Iraq to finish some projects with Yazda, and she will continue to develop the online platform for survivors. In the fall, she will join the Clooney Foundation for Justice as a Columbia Law Global Public Service Fellow. "I am very excited about this opportunity," she says. "I think working even more closely with Amal in this capacity will help us to achieve important milestones in the coming months. We are already looking into ways to obtain meaningful compensation for the Yazidis and should be able to make some announcements on this soon."