Freya Jamison '21: 2021 Harlan Fiske Stone Moot Court Finalist
Freya Jamison '21: 2021 Harlan Fiske Stone Moot Court Finalist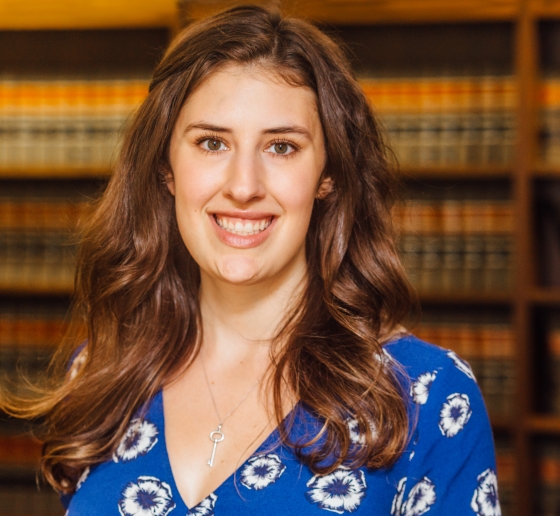 When Freya Jamison '21 was a 1L, her Legal Methods student mentor recommended she participate in the Columbia Law School Latinx Law Students Association (LaLSA) Moot Court competition because of her interest and experience in immigration law.
"In your first year of law school, there aren't a lot of opportunities to feel like you're excelling at something: You spend all semester studying and do not get a grade or feedback until the end," she says. "[My mentor] said moot court would be a way to do something tangible right off the bat—to feel like I've mastered some of the skills of being a lawyer."
The mentor—Jeremy Patashnik '19, who went on to win best brief and the Lawrence S. Greenbaum Prize for best oral presentation in the 2019 Harlan Fiske Stone Moot Court Court Competition—was right: Jamison did excel. 
She and her LaLSA Moot Court partner, Madeleine Durbin '21, won first place overall at the Asylum and Refugee Law National Moot Court Competition and were honored for third-best brief (Durbin also won second-place oralist). Now, Jamison is one of four finalists in this year's Harlan Fiske Stone Moot Court Competition. 
And she still feels like there's room to improve. 
"I'm learning more about it every round," she says.
Jamison grew up in the Seattle area and majored in government and Arabic/Middle Eastern studies at Dartmouth College. After graduating, she worked as a fellow at the International Refugee Assistance Project and enrolled in Columbia Law School to pursue her dream of being a civil rights lawyer. She chose Columbia Law in part because of its reputation in public and administrative law, including the work of Jessica Bulman-Pozen, Betts Professor of Law, and Gillian Metzger, Harlan Fiske Stone Professor of Constitutional Law. After taking Legislation and Regulation with Bulman-Pozen, Jamison served as a teaching fellow for the same class when it was taught by Olatunde C. Johnson, Jerome B. Sherman Professor of Law; she also served as a teaching fellow for Metzger's Federal Courts course. 
That experience came in handy when she was preparing for this year's fictional Harlan Fiske Stone Moot Court case, which involves the False Claims Act and COVID-19 relief fund legislation. Jamison and Durbin, who have been partners throughout the competition, represent a whistleblowing bank employee.
"The competition so far has taught me the importance of using your argument and brief to tell a story. . . . In law school classes we learn how to approach a legal problem issue by issue, but in oral argument it all has to come together into a coherent story."
—Freya Jamison '21
The case "ended up overlapping with the areas of the law I'm most interested in," Jamison says. "It's been a kind of capstone for my administrative law work."
After graduation, Jamison has clerkships lined up in the Southern District of New York and on the U.S. Court of Appeals for the 5th Circuit. 
She says she loves the collaborative nature of litigation, something she saw firsthand as an intern at the ACLU's Immigrants' Rights Project last summer.
"You're working as a team, editing each other's work to come up with the best product," she says.
Meanwhile, in moot court, Jamison says her goal is to reassure the judges. 
"I want to show them they can trust me as someone who is presenting the right answer," she says.