Beyond "Unprecedented": Essential—and Broke
Beyond "Unprecedented": Essential—and Broke
In episode one of Columbia Law's new limited podcast series, hosted by Professor Eric Talley, Professors Michael Graetz and Katharina Pistor discuss how the COVID-19 pandemic lays bare the ways law and public policy favor the wealthy and fail to protect the vast majority of the 99 percent.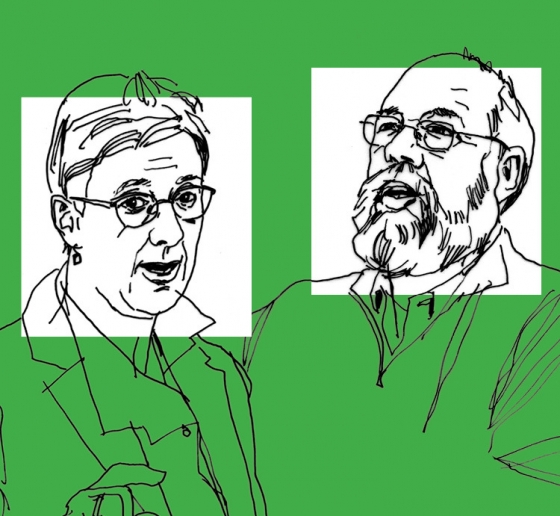 The pandemic has brought with it financial and emotional stress for tens of millions of Americans. Will the global health crisis cement what Professor Katharina Pistor calls "feudal type of levels of economic inequality," or will it be an opportunity to reshape wealth distribution in the United States?
In the first episode of Beyond "Unprecedented," host Eric Talley welcomes Pistor and Professor Michael Graetz, both authors of recent books that examine the foundations of economic inequality, to discuss how U.S. law and public policy favor the wealthy at the expense of the majority of the workforce (employed and unemployed) and potential remedies to create a more just economy. You can download the transcript here. 
Meet the Experts
Katharina Pistor is Edwin B. Parker Professor of Comparative Law at Columbia Law School, where she teaches corporations, law and development, and law and finance in theory and practice. Her most recent book, The Code of Capital: How the Law Creates Wealth and Inequality, was named one of the best books in 2019 by The Financial Times. In it, Pistor, explains the legal structures by which "ordinary" assets—land, private debt, business organizations, knowledge—are transformed into capital and wealth that are protected by legal rights bestowed by the government. She has degrees from the University of Munich, University of London, University of Freiberg, and the John F. Kennedy School of Government at Harvard University.
"We have reached feudal type of levels of inequality. And I think the legal institutions play a huge role in creating that kind of inequality in wealth." 
—Professor Katharina Pistor
Michael J. Graetz is Columbia Alumni Professor of Tax Law. He was assistant to the secretary and special counsel for the Department of the Treasury, and before joining the Columbia law faculty he taught at Yale Law School for 25 years. His recent scholarship has focused on U.S. legal history and problems around economic insecurity and inequality. In his new book, The Wolf at the Door: The Menace of Economic Insecurity and How to Fight It (with Ian Shapiro), he proposes realistic policy solutions and strategies to confront insecurity and writes about how the globalization of the workforce, outsourcing, and technological advances led pre-pandemic to millions of people losing their jobs and to financial hardship, which has been exacerbated by COVID-19. He earned his B.B.A. from Emory University and his LL.B. from the University of Virginia Law School.
"Even if the virus is controlled, the economic consequences are going to go on for a long time. . . . Focusing on the 1% is not an answer to get to that problem."
—Professor Michael Graetz
Eric Talley, Isidor and Seville Sulzbacher Professor of Law, writes and researches at the intersection of corporate law, governance, and finance. As a co-director of the Ira M. Millstein Center for Global Markets and Corporate Ownership, Talley shapes research and programs focused on the future of corporate governance and performance. Talley is a frequent commentator in the national media, and he speaks regularly to corporate boards and regulators on issues pertaining to fiduciary duties, governance, and finance. He is a graduate of the University of California, San Diego, and earned his J.D. and Ph.D. in economics from Stanford University.
"Widening gaps in wealth and income are now familiar trends. But the pandemic has not only underscored this phenomenon. It, by most accounts, has accelerated it." 
—Professor Eric Talley
About the Series
Beyond "Unprecedented": The Post Pandemic Economy is produced by the Columbia Law School Office of Communications, Marketing, and Public Affairs in conjunction with the Millstein Center for Global Markets and Corporate Ownership.