Professor Bert Huang Awarded the 2020 Willis L.M. Reese Prize for Excellence in Teaching
Professor Bert Huang Awarded the 2020 Willis L.M. Reese Prize for Excellence in Teaching
Students praise his pedagogy, intellect, charisma, and kindness. Huang will receive the honor, awarded annually by the graduating class, at graduation on May 20.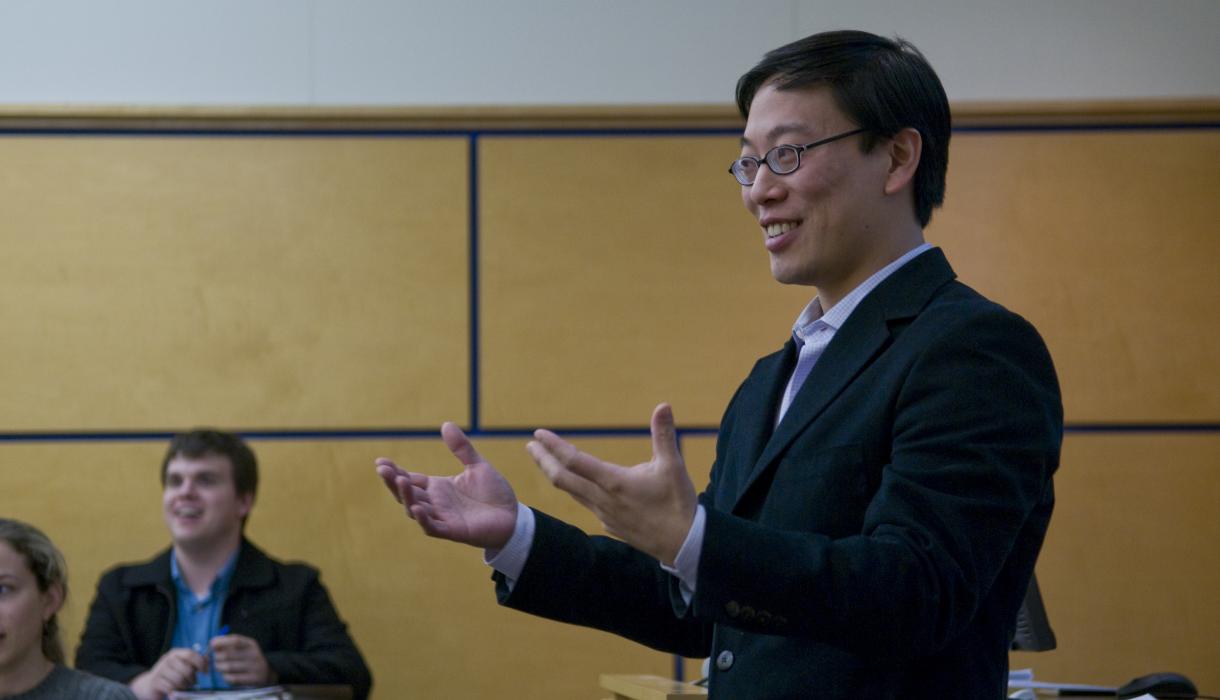 When Bert I. Huang teaches Civil Procedure and Torts to first-year students, he wants them to feel something, "whether it's joy about an insight they just had, curiosity about what a text might mean, or even anger about how a law fails someone in society," he says. His commitment to providing students with a compelling legal education is one of the reasons the Class of 2020 selected Huang, Vice Dean for Intellectual Life and Michael I. Sovern Professor of Law, to receive the annual Willis L.M. Reese Prize for Excellence in Teaching.
"I'm so deeply moved," says Huang, who has been a member of the Law School faculty since 2009. "I share this award with my marvelous teaching assistants over the years who have taught me so much."
Columbia University also announced that Huang will receive this year's Presidential Teaching Award, which is bestowed at commencement and honors the university's best teachers. (One of Huang's valued mentors, Olatunde C. Johnson, Jerome B. Sherman Professor of Law, was the first faculty member to receive both awards together in 2016.)
A second-generation American whose parents emigrated from Taiwan, Huang has academia in his DNA. His mother, Shwu-Yong Liou Huang, who earned her doctorate from the University of Houston, is a retired professor of education; his father, Wuu-Liang Huang, who has a doctorate from the University of Chicago, is a retired professor of geosciences. Both taught at National Taiwan University. "They are my earliest teachers and most profound influence," he says. "They've always been greatly admired by their students—including me! When I think about trying to bring imagination and compassion to my teaching, I think of them."
An Intellectual, a Mentor, and a Role Model
In their course reviews, students extol Huang's teaching style and his empathy. "He carefully curated every class, reading, and activity, turning the experience into an intellectual interactive performance," wrote one Civil Procedure student. "He has a remarkable talent for clarity and concision in presenting labyrinthine legal concepts," wrote another. "I have always felt like I had the best teaching my entire life, elementary through law school," another student reported, adding "Professor Huang is the absolute best of all of them, hands down."
One of his Torts students said he is "everything a 1L professor should be: brilliant, engaging, great at explaining fundamental concepts in plain language, and uncommonly kind." Another student observed that he "displayed unparalleled sensitivity to the unique backgrounds we all come from," and from another: "He's kind and patient with everybody and is a role model, not only in his work ethic, but how he acts toward other people."
Teaching That "The Law Is About Real People"
Before he was a teacher, Huang spent many years as a student. ("Probably too many," he says.) He earned his degrees from Harvard—an A.B., A.M., J.D., and Ph.D.—and served as president of the Harvard Law Review. He was a Paul & Daisy Soros Fellow and spent two years at the University of Oxford as a Marshall Scholar. His professional experience includes a stint as a staff economist for the White House Council of Economic Advisers and a clerkship with Judge Michael Boudin of the U.S. Court of Appeals for the 1st Circuit. About his clerkship at the U.S. Supreme Court, Huang says, "I had the incredible privilege of working for Justice David Souter, who is not only a scholar-judge in the truest sense but also a sterling model of leading with grace and humanity."
As a scholar, Huang has been writing about how the law influences beliefs and norms, including moral judgments. He recently published "Law's Halo and the Moral Machine" in the Columbia Law Review, in which he explores how humans will assess the morality of decisions made by artificial intelligence. In that study, as well as in "Law and Moral Dilemmas" in the Harvard Law Review, he finds evidence that our moral intuitions can be influenced by the presence of the law. Huang also writes about courts and remedies, which dovetails with Colloquium on Courts and the Legal Process, a workshop series that brings judges and justices together with students and faculty for in-depth conversations about the latest academic research.
Huang's ultimate goal is for students to become empathic and conscientious lawyers. "I want them to remember that the law is about real people," he says. "It's made by real people, it helps real people, it hurts real people."