Partners for Life: Marriages Made at Columbia Law
Partners for Life: Marriages Made at Columbia Law
For Valentine's Day, five alumni couples share their love stories and wedding photos.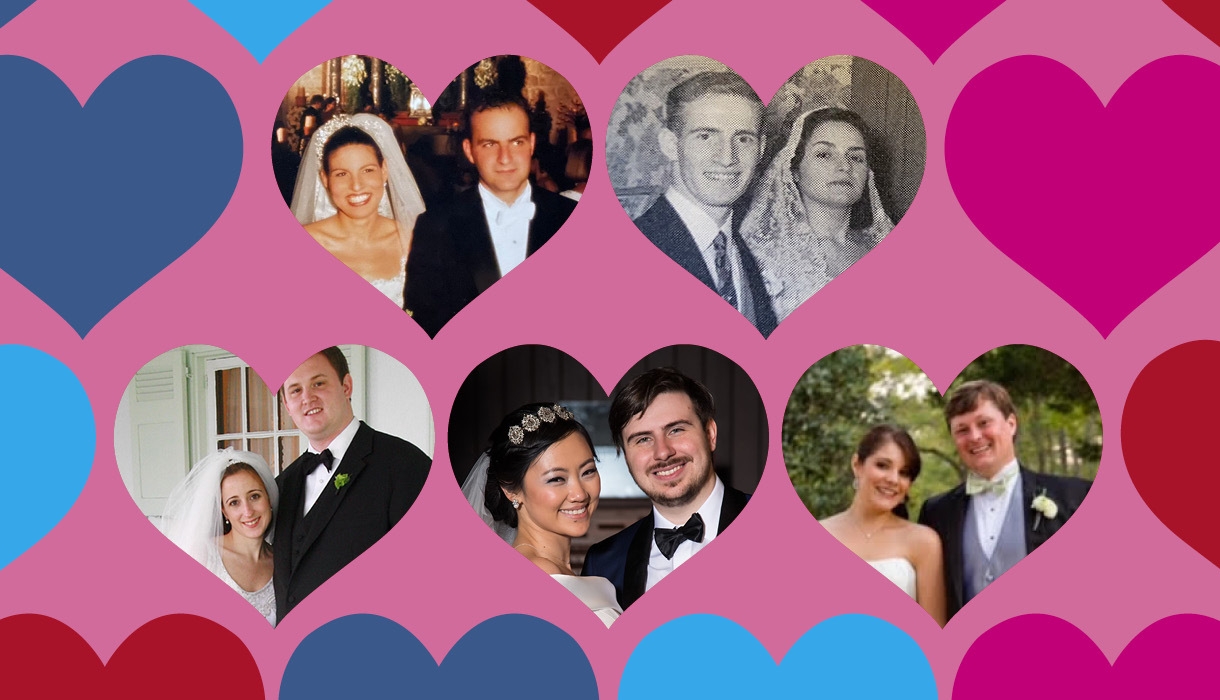 June M. Hu '15 and Joseph M. Kay '15
As 1Ls in the same Legal Practice Workshop section, June M. Hu and Joseph M. Kay became study buddies at the beginning of their law school careers. "At some point during the first semester, I asked him to be my best friend," recalls June. "I said, 'Law school is tougher than I thought, and I need a best friend to help me through it, and it's going to be you or somebody else.' And he said, 'It's going to be me.'"
Joe thought June was joking when she asked because she was too perfect. "In a school full of impressive people, June stood out," he says. "June had traveled the world, knew all about art and music, and was genuinely kind—always going out of her way to compliment everyone around her."
June had a good reason for choosing Joe. "He was the first person who made me feel confident that maybe I was meant to do the law," she says. June had studied art history and biology as an undergraduate at Duke University and then took off two years to explore career options before applying to law school on a whim.
They lived together for their second and third years of law school and got engaged the year after they graduated. "I wanted to propose on campus, but it was a parents' day or some other event and a total zoo," says Joe, who had hired a photographer for the occasion. "So we walked down Amsterdam, and I proposed in front of the Cathedral of St. John the Divine." 
For their wedding, in 2017, they chose a venue that was also a few blocks from the Law School: Morningside Castle at Union Theological Seminary. They had to limit the number of Columbia Law guests to one table. "Joe's mother is the youngest of seven sisters from a huge Catholic family that's within driving distance; her guest list really added up!" says June.
Joe, a litigation associate at Cleary Gottlieb Steen & Hamilton, and June, an associate in the general practice group at Sullivan & Cromwell, remain each other's best friend and most trusted counselor. "One of my favorite things about being in a relationship with a lawyer is having someone who understands what you do, understands your vocabulary, can be challenged by you, who can also challenge you and be proud of you because they know how far you've come," says June. "Obviously, there are a lot of mentors that I have, but no one knows me, knows my interests, knows why I'm doing what I'm doing, more than Joe. I try to take in all the advice I can, but he's my ultimate sounding board."
As the parents of a 15-month-old named Ava, they have a panoply of new subjects to address. "We have a lot of medical, scientific, and developmental discussions about what's best for Ava," says Joe. "We were just talking about how to raise a bilingual child."
Nonetheless, their conversations invariably lead back to the law. "Even if it's a topic that's in neither of our wheelhouses but we find interesting, we'll debate the hell out of it," says June. "That aspect of the relationship hasn't gone away."
María Isabel Castillo Báez '97 LL.M. and Jean Paul Farah Chajín '97 LL.M.
In the summer of 1996, after finishing their Introduction to American Law course, María Isabel Castillo Báez and Jean Paul Farah Chajín went on a Hudson River cruise with their fellow classmates. "The skyline was spectacular," recalls Jean Paul, who had taken a leave from his position at a Mexico City firm to study in New York. "I know this sounds corny, but I turned to María and said, 'With this view, if you were my girlfriend, I would ask you to marry me.'"
María, who came to Columbia Law School with plans to return to the Dominican Republic and work in her family's law firm, was amused by Jean Paul's declaration. "It was like he was a soap opera actor, and I was living in a soap opera," she says. But it was an opening line that worked. They soon began dating and have been together ever since.
After graduation, María continued her studies at Columbia's School for International and Public Affairs (SIPA), and Jean Paul went to work as an associate at Shearman & Sterling in New York. To celebrate the second anniversary of their meeting, they took another Hudson River cruise on the same boat, and this time Jean Paul did propose. He also asked her if she'd be willing to live in Mexico, and she agreed. "So my original plans to work at my family's law firm changed," says María.
They held their 1999 wedding in the Dominican Republic, with three orchestras and 500 guests—including 100 who flew in from Mexico and a global contingent of 30 classmates from the Law School. "I had thought if we were getting married in the Dominican Republic, it would be a wedding on the beach with everyone dressed in linen, but María told me, 'That's not the way we get married in the Dominican Republic,'" says Jean Paul. "She said it would be a formal wedding at the country club, and I had to wear a tuxedo." Jean Paul happily settled for a rehearsal dinner on the beach.
María had recently been a bridesmaid in Venezuela at the wedding of another couple who had met at the Law School and had loved the "carnival atmosphere" that took over midpoint at the reception. "There were hats and maracas, and the music changed, and I decided I'd bring the custom to the DR," she says. The "crazy hour" has become a mainstay of DR weddings when music and dance heightens, while props of all sorts are given to all the guests.
María, who is now the Dominican Republic's ambassador to Mexico, initially practiced IP law when the couple settled in Mexico City. "I had studied with Jane Ginsburg, who is the guru of copyright at Columbia," she says. In 2002, María accepted a position as counselor at the DR's embassy in Mexico City. "I have worked in diplomacy ever since," she says.
Jean Paul is a partner in Ritch, Mueller y Nicola, where his specialties include banking and finance, capital markets, energy, and infrastructure projects. They have three children, ages 19, 17, and 12.
The COVID-19 pandemic has changed how they see their future. "Jean Paul realized he could practice remotely," María says. "Now our plans are that I can eventually move on to a diplomatic post in another country." And Jean Paul is ready to follow: "She's supported me all this time in my career, so now it's my turn to support her."
Isaac Shapiro '56 and Jacqueline Weiss Shapiro '55
Isaac "Ike" Shapiro remembers clearly where he met Jacqueline "Jackie" Weiss Shapiro. "She was sitting in the library doing research, and a mutual friend—whose name we no longer remember because we're old—introduced us," says Ike. "And then everything took off from there."
Not long after, Jackie invited Ike to celebrate the Jewish holidays at her family's home in West Englewood, New Jersey. Although Ike had spent the first 15 years of his life as a stateless foreigner in China and Japan before moving to Hawaii in 1946 and immigrating to the U.S., the couple discovered that there were just two degrees of separation between them: Ike's parents had met Jackie's Uncle Joseph, a rabbi in the U.S. Army, at religious services in Japan, and they'd invited him to their house, where Joseph met young Ike. Jackie's father naturally called his brother to get the scoop on his daughter's boyfriend. "And I passed muster," says Ike.
Jackie was not surprised that her father was performing due diligence on his future son-in-law, who was a member of the Columbia College Class of 1954. "They were very strict in those days about what kind of background someone had when things got serious. It was a very important issue," says Jackie. Her father, a surgeon, also had high expectations. "My father said, 'Education is the most important thing in your life, and if you have ambition, you've got to start thinking about what you want to be.' I was 16 when I started college. I thought I'd become a doctor but found out quickly I couldn't manage that, so I decided I would become a lawyer."
When they were married, in 1956 at the Teaneck Jewish Community Center in New Jersey, Uncle Joseph officiated at the ceremony. Jackie wore a gown of ivory silk taffeta with a bodice of heirloom princess lace and a veil of the same lace reimbroidered with seed pearls. "We had a year-long honeymoon in Paris, where I had a Fulbright at the University of Paris," says Ike. "When we returned, I went to work at Milbank, Tweed, and Jackie worked for the legal publisher Matthew Bender and then went to a law firm before retiring."
The couple settled in Manhattan and had a son and two daughters. They moved to Japan in 1977 for two years so Ike could open Milbank's Tokyo office. In 1986, Ike left Milbank for a partnership at Skadden, Arps, Slate, Meagher & Flom to open its Paris office, where the Shapiros happily spent a great deal of time. In 2009, he published a memoir, which was reissued in 2017 and retitled Edokko: Growing Up a Stateless Foreigner in Wartime Japan.
Their daughter Alexandra A.E. Shapiro '91 followed in their footsteps by attending Columbia Law School. After graduation, she clerked for Justice Ruth Bader Ginsburg '59, and when Alex married lawyer Jonathan Paul Bach, Ginsburg was an officiant at the ceremony. Alex and Jonathan, along with one of her classmates, Cynthia S. Arato '91, are now partners in their own boutique firm, Shapiro Arato Bach.
The Shapiros say being married to another lawyer is a wonderful thing. "We were never competitive with each other," Jackie says. "We could discuss any legal issue and get another viewpoint. It's also helped us with our alumni activities." In 1985, the couple established the Isaac and Jacqueline Weiss Shapiro Fellowship in Japanese Law, which supports a recent graduate to study in Japan. Says Jackie, "It makes us happy to give back to Columbia, which gave us so much."
Adam M. Sparks '09 and Stefanie Ramirez Sparks '07 
As members of the Columbia Law Revue, the student group that puts on satirical productions, Adam M. Sparks and Stefanie Ramirez Sparks performed together in a show Adam directed, but they formed a more lasting bond over college football because, well, they are Southerners. "It felt like home to meet someone who actually cared about football," says Stefanie, who earned her bachelor's and master's degrees from the University of Alabama, where she rooted for the Crimson Tide. "Adam also had a very thick Southern accent, so there was an immediate sense of familiarity," she says.
Adam, a graduate of the University of Georgia (UGA) and a diehard Bulldogs fan, recalls they were part of a group of Southerners who watched football "on Saturdays instead of Sundays, which was confusing to the majority of our class, but it just made sense to us," he says. Adds Stefanie, "Even as bitter rivals, we still liked to watch games together."
However, they did not start dating until after Stefanie graduated and was working as an associate at Proskauer Rose in New York. "I had a rule when I was in law school that I wouldn't date other law students," she says. "The last thing I wanted to talk about at the end of the day was the Crim Law final." For their first date, Adam evinced Southern chivalry: "He told me he'd booked dinner reservations at 7 p.m. and 10 p.m. because he said he wasn't sure how late I'd have to work. I thought it was the sweetest thing I'd ever heard."
After Adam graduated and took a job at Goodwin Procter in Washington, D.C., he and Stefanie continued dating long distance. "I did a lot of document reviews on Amtrak and BoltBus," says Stefanie, who eventually moved to D.C. to work on class action cases in the consumer protection department of Cohen Milstein Sellers & Toll.
When they decided to get married, there was no question the 2011 wedding would be held down south, and they chose Athens, Georgia, home of Adam's undergraduate alma mater. "Our goal was to make sure that our guests left feeling like they'd had the best time, so we focused on good music and good Southern food, with a biscuit bar and hot Krispy Kreme doughnuts served at 10 o'clock," he says. Stefanie arranged for a surprise VIP guest: Hairy Dawg, UGA's costumed football mascot. "Adam danced with him," she says. "It was hilarious. People acted as if we'd invited the world's biggest celebrity." 
In 2014, they returned south for good, settling in Atlanta, where they are raising their children, Sloane, 7, and Everett, 4. Adam is now a partner at Krevolin & Horst, which he describes as "a small but mighty, quickly growing firm" that does both litigation and transactional work. He devotes most of his practice to election law, so the past 18 months were especially busy. The firm represented a number of voters and campaigns, including Biden for President and Jon Ossoff for Senate.
Stefanie is the managing attorney of the health law unit at Atlanta Legal Aid Society, which provides general legal counsel for people with AIDS, cancer, and ALS. "My work can be gut-wrenching, so I try to compartmentalize when I am home," she says. Nevertheless, politics and the law are fair game at the dinner table. "We talk about the housing crisis and Georgia's failure to expand Medicaid—all of the things that directly affect my clients," says Stefanie. "The future of politics and the state of Georgia are sometimes difficult and upsetting, and we try to bring each other up as much as we can."
They stay connected to the Law School through the growing Atlanta alumni group and to their core group of former classmates through a text chain. "Lately, it's mostly been memes and discussions about our children, which is fun," says Stefanie. "That's so much what our lives are about now."
Alexandra Carter '03 and Greg Lembrich '03
When Alex Carter and Greg Lembrich were 1Ls in Professor Louis Henkin's constitutional law class, Alex says, she did not initially see long-term relationship potential in her classmate, who'd received his undergraduate degree from Columbia College in 2000. "I used to call him 'Frat Guy' behind his back because he wore the same beat-up Columbia Lions baseball cap and a different fraternity-themed T-shirt to class every day," she says. "But what I specifically remember is the day he raised his hand in class and said something really intelligent. I nudged a friend sitting next to me and said, 'Check out the brain on Frat Guy.'"
Alex and Greg became friends, and in the spring of their 2L year, when Greg learned that Alex was sick the night before the finals of the Harlan Fiske Stone Moot Court Competition, he wrote her an email titled "Chicken Soup for the Oral Advocate's Soul," which she found touching. But it was not until the next year, at a graduation party, that a romantic relationship seemed possible. "We had this long discussion, and it was sort of flirty, but she was dating someone else, and I thought, 'All in good time,'" says Greg. "And then she broke up with her boyfriend, and we started dating three weeks before taking the bar." Alex says of that time, "I remember sitting down to take the bar exam and thinking, 'I am not that prepared, but I am very happy.'"
Their first year together was long distance because Alex had a clerkship in Boston and Greg was an associate at Cravath, Swaine & Moore in New York, where she, too, would work the following year. When they got engaged in 2005, their Cravath colleagues threw them a surprise in-office engagement party, and even after their 2006 wedding on Cape Cod, they stayed on at the firm. "We were far from the only dating, engaged, or married couple there," says Greg.
Alex joined the faculty at Columbia Law in 2008, and since then, she has been the director of the Columbia Law School Mediation Clinic; in 2019, she was honored with Columbia University's prestigious Presidential Award for Teaching. In 2020, she published Ask for More: 10 Questions to Negotiate Anything. Greg moved on from Cravath, too, and he is now an in-house litigator at New York Life Insurance Company. "Although we work in different areas, Greg is the first person I come to for advice on a number of different topics," says Alex. 
Now living in Maplewood, New Jersey, with their 11-year-old daughter, Caroline, they agree that sharing "a common vocabulary" allows them to "think out loud together," says Greg. "We're always talking things through, both personal and professional." And pre-COVID, they'd join forces twice a year to host end-of-the-semester parties for Alex's students. "I always make 30 pounds of lasagna, and Greg makes like 15 pounds of prime rib on the smoker," says Alex. "You can't believe how much students who are in the middle of finals can eat. We're eager to cook for them again."