Legally Binding: Marriages Made at Columbia Law
Legally Binding: Marriages Made at Columbia Law
For Valentine's Day, meet five alumni couples who met and fell in love as students at the Law School.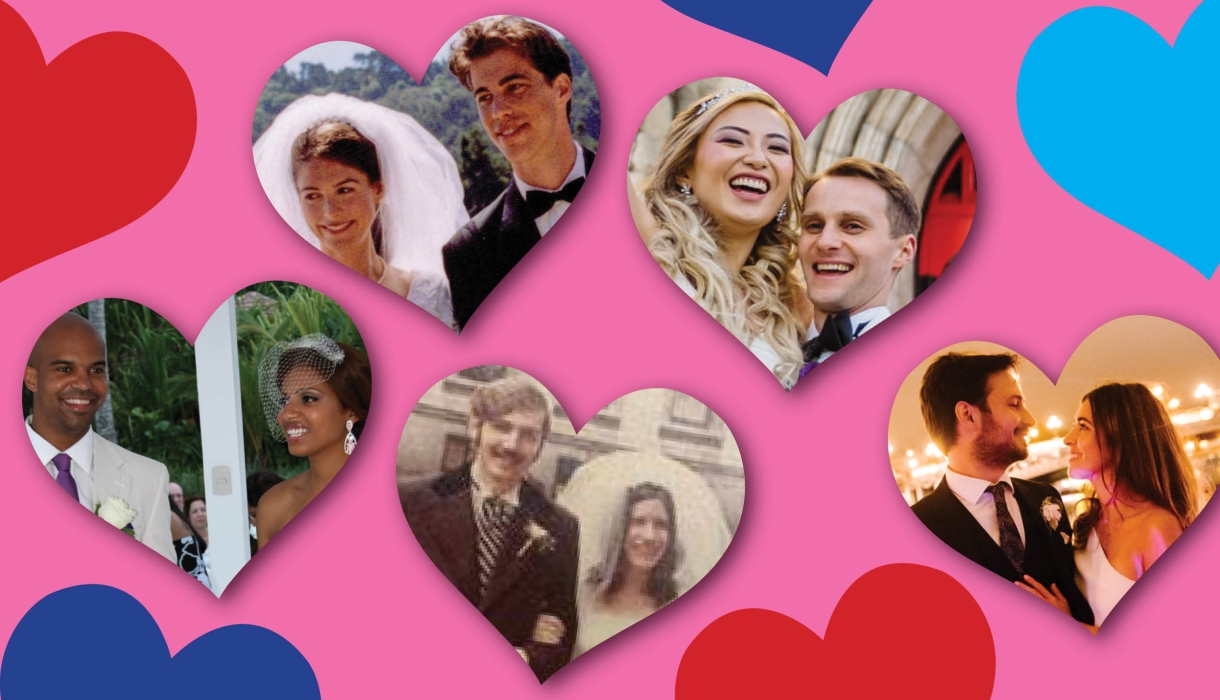 Darren Cooke '99 and Julie Harkness Cooke '99
Darren Cooke '99 distinctly remembers the first time he spoke with Julie Harkness Cooke '99, although she doesn't. "There was a new-students reception, and I looked around and thought there was one person who was very pretty and looked interesting to talk to, so I gravitated toward her," recalls Darren. "I am sure I introduced myself super clumsily because that's the way I would normally do things."
Julie offers a defense for her memory gap. "I was dating somebody else when I got to law school, so I wasn't looking to meet men," she says. Still, they became friends as 1Ls because they were in the same section and chose each other as moot court partners.
In the spring of their first year, Julie broke up with the man she'd been dating. "My former boyfriend was allergic to cats, and I didn't want to get back together with him, so I thought I would interpose an insuperable obstacle in the form of a couple of cats," she says. "Darren and I weren't dating yet, but he was very helpful in helping me source cats from a shelter. He went with me on the subway to Queens to adopt them, which helped bring us together."
By their 3L year, they were sharing an apartment; then Julie was offered a clerkship in Phoenix. "Darren said, 'I guess I'm moving to Phoenix too,'" she recalls. "I had this image of Arizona as being conservative, and I said, 'OK, but then we'll have to get married.'" Darren interjects: "I don't know if you missed it, but that was the proposal." 
Their wedding, however, wasn't impromptu. They were married the summer after graduation in Tilden Park in the East Bay section of the San Francisco Bay Area, where Darren grew up. "It was a 'real' event with 60 guests, a strolling guitarist, and catered food," he says.
After her clerkship, Julie received a Gates Cambridge Scholarship for the Master of Law program at the University of Cambridge. Darren did not accompany her to England because he was working on a big case for his Phoenix firm and thought he was indispensable to the litigation (which was settled and never went to trial). "That was one of the dumbest decisions I've ever made," he says. "It was a very generous scholarship that would have paid for me to go with her, and I could have spent a year drinking coffee or something."
After Phoenix, it was Darren's turn to decide where they should live. He chose San Francisco and joined Covington & Burling as a life sciences patent litigator. He also worked in the intellectual property department of a midsize public company and as a consultant to start-ups before joining the full-time faculty of the University of California, Berkeley; he is now executive director of the Berkeley Life Sciences Entrepreneurship Center and teaches at the Haas School of Business. Julie, who initially practiced corporate law at Morrison Foerster, is now a managing director and senior counsel in the legal and compliance group at Farallon Capital Management.
Darren and Julie's legal training has naturally rubbed off on their daughter, Elsa, who is a high school junior and a member of a competitive mock-trial team. "She's picked up Darren's well-cultivated skills and is recognized as an expert cross-examiner," says Julie. "I think it comes from her being cross-examined every morning of her life." (Darren and Elsa have breakfast together every day, while Julie, who works "finance hours," is already at her desk by 6 a.m.) Of course, Elsa's teenage legal prowess is occasionally vexing. "Sometimes at dinner," says Julie, "I feel like I am trying to pry information out of a recalcitrant witness."
Hanoi Veras '03 and Brendon Pinkard '02
When Hanoi Veras '03 arrived at Columbia Law School as a 1L in the summer of 2000, Brendon Pinkard '02 took notice, as did two of his friends. "All of us liked her, and we were all kind of angling to figure out who could win her affection," he recalls. Hanoi, however, wasn't interested in any of them romantically (and she was still in a relationship with her college boyfriend), but that did not deter Brendon from wooing her. "I tried all the lame tactics, like asking her if she wanted to use my notes, borrow my books, or get my advice on different professors," he says. 
One morning at the beginning of the spring term, Brendon and the newly single Hanoi bumped into each other at the Law Library and struck up a conversation. "We were well into it when she looked up at me and said, 'Don't you need to go to class?' And I looked back at her and thought, 'Have you lost your mind? I've been waiting months to get this conversation going, and I'm not leaving to go to Administrative Law!"
Their two-hour talk was life-changing. "I remember thinking, 'I'm going to marry him,'" says Hanoi. Adds Brendon: "I thought the same thing. That's really how it went down. I connected with her on every level. We made each other laugh a lot, and we had similar values and worldviews."
They became romantic and study partners, taking the same labor law class and overlapping in Professor Philip M. Genty's Prisoners and Family Clinic. During Brendon's 3L year, they played hooky together. "We went on a vacation to Spain but not during spring break," says Brendon. "We took some liberties, but we still got our work done."
After he graduated and moved to Washington, D.C., they maintained a long-distance relationship until Hanoi moved there the following year. They began living together in the capital in 2003, became engaged in 2006, and got married in 2010.
They invited more than 300 guests to their wedding at a resort in the Dominican Republic, where they exchanged vows in a gazebo by the sea. "I always wanted to have a beach wedding," says Hanoi. "I was born and raised in New York, but my parents are from the Dominican Republic, so that's my culture and background. Our wedding was fun."
Now parents of a daughter, Sloane, 9, and a son, Gavin, 7, the couple is firmly rooted in Washington, where Hanoi is director of compliance at Capital One and Brendon is an associate corporate counsel at Google Fiber. Though their practice areas are quite different, they help each other strategize about work matters. "We're careful about betraying any confidentiality," says Brendon. "We'll bounce ideas off each other. It is nice to have in-house counsel literally in house."
Camila Escobar '17 LL.M and Arnaud Bernard '17 LL.M
It was early in the summer of 2016 when Camila Escobar '17 LL.M. and Arnaud Bernard '17 LL.M. met in the English for Advanced Legal Study course at Columbia University, which preceded the LL.M. program. They quickly discovered they were the only two single people in their class. "Everyone was married or in a couple," says Camila, who'd come to New York from El Salvador, where she'd practiced law for six years. By the time the LL.M. program started in August, she and Arnaud were a couple too.
Their whirlwind romance began with a concert in a museum followed by a late-night party with friends. Two days later, when Camila mentioned to Arnaud she was going to SoHo to pick up a dress, he concocted a reason to accompany her, claiming he needed to visit his bank's SoHo branch. "He was very smooth," recalls Camila. "He said, 'Oh, I know this tiny French restaurant around the corner.' We can't remember the name of the restaurant, but I do know we drank two bottles of a rosé called Bisou."
Later that July night, on the rooftop of the apartment building where Camila was living, they had their first kiss. "We've been together ever since," she says.
As students, Camila and Arnaud were enamored of the collaborative nature of the Columbia Law pedagogy. "The American mindset is very positive," says Arnaud, who was born in France and studied law in Paris, where he was a litigator at a firm before enrolling in the LL.M. program. "In the U.S., especially at Columbia, people give you a lot of energy. They are sending you good vibes and helping you to be your best."
One of the couple's fondest memories of their year in New York was studying together for the bar exam. "We were locked in a tiny studio for a month, and it was a really great experience," says Arnaud. "We're both geeks, so we like to work."
After graduation, they decided to settle in Paris because Camila spoke French (she'd gone to a French school in El Salvador), and Arnaud did not know any Spanish. Camila had also earned a bachelor's degree in law and a master's degree in business law in Spain, so she was qualified to work as a lawyer in Europe. But it wasn't an easy transition. Camila only had a tourist visa, so she enrolled in an English school to qualify for a longer student visa. "We were jobless and broke," says Arnaud. "We restarted our lives together."
After a year in Paris, they got married, in September 2018. Their original plan was to have a small civil ceremony in France and later have a big wedding in El Salvador, but Arnaud's parents insisted that they have a proper "Parisian wedding," which was arranged to coincide with an already planned visit from Camila's parents and siblings.
They were married on the afternoon of September 22, 2018, on the outskirts of Paris in Auvers-sur-Oise (once home to Van Gogh, Cézanne, Pissarro, and other 19th-century painters). They celebrated with friends and family on a "bateau mouche" dinner cruise on the Seine. Their plans to have a wedding in El Salvador were scuttled by COVID-19 and two pregnancies: They are now the doting parents of Rafaela, 3, and Diego, 1. "Family life in Paris is just incredible," says Camila. "I love the life we have here."
Today, Camila combines her career as a legal recruiter at Lincoln Group with her work as a representative of the Chamber of Commerce and Industry France El Salvador. Arnaud is a partner at Arc Paris Avocats, where he handles the corporate, business litigation, and mergers and acquisitions practices.
Both of them being lawyers, they say, is fundamental to their marriage. "It's good to have someone who understands what you do and that you like working," says Arnaud. "We both like to be right, but we don't really argue. We negotiate."
Joan Murtagh Frankel '72 and Michael I. Frankel '72
Joan Murtagh Frankel '72 and Michael I. Frankel '72 were a pair before they became a couple. "The moot court board assigned us as moot court partners our first year," says Joan. "I always say our meeting was not voluntary." Nor was it a match of scholarly temperaments. Early on, Michael remembers inviting Joan to one of the big parties he and his three roommates would hold on Saturday nights at their apartment on West End Avenue; he was taken aback when Joan said upon leaving, "I'll see you tomorrow in the library." 
So Michael says he "dragged" himself to the library on Sunday. "I was a little shaky," he recalls. "When I got there, she was busy as a bee, flitting all around. She said to me, 'I've set you up in a carrel over there and taken down the cases that are relevant to our topic and marked what you need to read.' And I thought, 'This is not going to work out,' because I liked to work a bit closer to the deadline." But it did work out. They won their case, and they began dating. 
In November of their 3L year, Joan and Michael got engaged. "Planning our wedding was no mean feat because my family was Catholic and Michael was Jewish," she says. "Churches and synagogues didn't want to marry us, and we needed neutral territory, so we chose St. Paul's Chapel at Columbia."
Unfortunately, St. Paul's was not air-conditioned, and they got married in the late afternoon on a blistering-hot and humid day in August 1972 (a month after taking the bar exam and a few weeks before moving to Washington, D.C., where Michael had a clerkship at the United States Tax Court and Joan had a job with the Civil Aeronautics Board). "St. Paul's warned us that someone in the wedding before ours passed out," says Joan. "I remember the perspiration running down Michael's face and feeling it running down mine and thinking, 'This is not how a bride is supposed to look!' Nonetheless, it was a wonderful wedding."
After two years in Washington, they returned to New York and took jobs in Big Law, and they ultimately specialized in the same field. Joan has spent her entire career at Cahill Gordon & Reindel and leads its trusts and estates practice. After stints at Cleary Gottlieb Steen & Hamilton and Simpson Thacher & Bartlett, Michael joined Carter Ledyard & Milburn, where he is co-chair of the trusts and estates department.
For more than 40 years, they've lived in Short Hills, New Jersey, where they raised their three children: Sarah Frankel, a clinical psychologist at the Columbia University Clinic for Anxiety and Related Disorders; Jonathan Frankel, a paralegal at Google and co-owner (with his cousins Brendan and Kevin Byrnes) of The Commissioner, a neighborhood bar in Park Slope, Brooklyn; and Elizabeth Frankel, a lawyer who passed away in 2021 and who, as associate director of the Young Center for Immigrant Children's Rights, dedicated her life to advocating for unaccompanied immigrant children from all over the world and reunifying families.
The Frankels continue to work full time, commuting three days a week to their lower-Manhattan offices and working from home on other days. Before the pandemic, they took overseas trips every year, and people from other countries would always ask them if they were retired. "We'd say, 'No, we're still working.' And they'd feel bad for us," says Michael. "I tried to explain that it's not like that." He pauses. "We're lucky. We love the law."
Jenny Q. Becker '20 and Tyler Becker '20
On the Saturday night before Law School orientation in August 2017, Jenny Q. Becker '20 and Tyler Becker '20 were introduced when a group of classmates met to eat Korean fried chicken at Bonchon near Times Square. By the end of the evening, they had learned two crucial facts about each other: They both wanted to have careers in Washington, D.C., and they both planned to attend church services the next morning. "The idea that we were both people of faith was a big deal," says Tyler, who grew up as part of a Lutheran congregation in New Hampshire.
"I definitely had a checklist when I dated guys, and he checked off every box," says Jenny, who attended an Assemblies of God church growing up in Virginia.
On the day before classes started, Jenny suggested they go with her friends to Brighton Beach in Brooklyn. "I later learned that Jenny wanted me to see her in a bathing suit," Tyler says. "Her friends were in on it. I had no idea. I was just the driver."
A few days later, Jenny and Tyler went on their first real date. But they did not have to make an effort to see each other that fall; as fate would have it, they were both not only in Professor Philip C. Bobbitt's Legal Methods section but also in the same six-person preceptor group.
Over winter break, they took their first vacation together, traveling to Miami, where Tyler had lived during his two years with Teach for America, from 2014 to 2016. They had such a good time that they returned there for spring break. "We actually studied," says Tyler. "I had studied for the LSATs there, so I knew all the good places to go." 
"Miami was an inflection point for us," says Jenny. "That's when we officially decided we were in a committed relationship." The couple subsequently traveled to Mexico, Canada, Taiwan, China, Hong Kong, and France. "I found that traveling together was a crucial part of why we were so sure we could be happily married," she says.
On the day after Thanksgiving in 2019, they went back to Brighton Beach, where Tyler got down on one knee and proposed. A few months later, when the pandemic hit and Columbia Law classes went remote, they left New York for good and moved to a condo in suburban Virginia to finish their 3L year. Because of COVID-19 restrictions, they had no idea when they would be able to have a big, in-person wedding. So they decided to get married in a remote civil ceremony on September 9, 2020, the third anniversary of their first date. "It was nice because it was on Webex, and some of my family in China was able to watch it," says Jenny.
Meanwhile, they launched their careers. Tyler clerked for Judge Steven M. Colloton of the U.S. Court of Appeals for the 8th Circuit and for Judge A. Raymond Randolph of the U.S. Court of Appeals, D.C. Circuit; he is now an associate at Williams & Connolly, where he devotes much of his time to Supreme Court and appellate litigation. Jenny is an associate at Sidley Austin's Washington D.C., office; she works in the firm's food, drug, and medical-device group, where she focuses on investigations and enforcement.
In April 2022, they finally had their dream wedding at Washington's historic Church of the Holy City, followed by a black-tie reception in the State Room of the venerable Mayflower Hotel. "We invited a lot of friends from law school," says Tyler. "Some people joked that we were hosting our class reunion."