Professor Alexandra Carter '03 Wins Presidential Award for Teaching
Professor Alexandra Carter '03 Wins Presidential Award for Teaching
Columbia University honors the Law School's Mediation Clinic director and dispute resolution guru.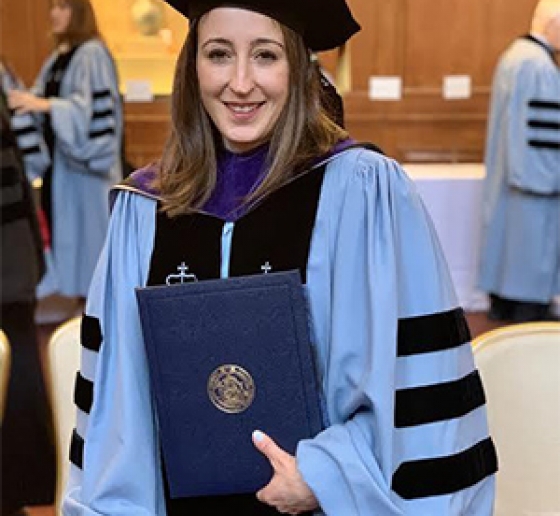 Alexandra Carter '03, a clinical professor of law whose students laud her as a mentor and role model, was honored by Columbia University president Lee C. Bollinger '71 with the university's Presidential Award for Teaching at commencement on May 22. The award recognizes the university's best teachers for their commitment to excellence and innovative teaching.
"When I teach, it is my mission to really see each student and help them to develop into the very best person and lawyer they can be," says Carter, who has led the Mediation Clinic since 2008. "I strive to create in the classroom the same environment we create in a mediation: a place where everyone knows they can be heard, where their voice matters, and they have the power to decide what their future looks like."
Students in the clinic mediate in federal, state, and New York City courts with cases ranging from disputes among the owners of a family business to complaints filed with the U.S. Equal Employment Opportunity Commission. Carter, who sits on the mediation roster of the U.S. District Court for the Southern District of New York, provides students with the 40-hour training that New York State requires for mediators and serves as their "coach" while they apprentice.
Since 2016, clinic students have worked with the United Nations Institute for Training and Research. "We are the exclusive provider for mediation training for the New York diplomatic corps, and I'm proud to say the trainings are conceived, designed, and led by Columbia Law students," she says. "To date, we've trained diplomats from more than 80 countries."
'This Is What I Was Supposed to Do With My Life'
As a student at Columbia Law, Carter was a member of the Mediation Clinic, which was taught by Carol Liebman, now a clinical professor emerita of law. "The first time I walked into court for a mediation, I knew that this is what I was supposed to do with my life," she says. "I remember feeling that we had provided an incredibly valuable service that could be used for any kind of dispute anywhere in the world. And I spent the next five years trying to get back to that moment."
Carter's five years away from Columbia included a clerkship at the U.S. District Court for the District of Massachusetts and a stint as a litigator at Cravath, Swaine & Moore LLP, where she kept in a desk drawer the student evaluations she had saved from her time as a teaching assistant for the late Professor Louis Henkin. "I would pull them out from time to time and think about teaching," she says.
During Carter's time at Cravath, Liebman approached her about the prospect of teaching the Mediation Clinic and joining the Law School faculty. "She took a chance on me and saw promise in me that I myself didn't see," Carter recalls. "She nurtured that potential, and I am thankful for her every day. And it is especially meaningful to receive the teaching award because Carol was also a recipient and I am going to spend the rest of my life living up to her example."
Connecting With Students
Carter's students offer ecstatic praise for their teacher. "Professor Carter facilitated my best law school opportunities and guided me through them," says Baldemar Gonzalez Jr. '19, who was Carter's teaching assistant twice and is collaborating with her on a journal article. "Despite my fear of public speaking, she supported and prepared me to deliver an important oral presentation to a large audience at the United Nations. Professor Carter is kind, humble, and cares deeply about her students. She is brilliant, but she does not carry that brilliance with an inflated sense of self."
Argemira Flórez '19 says the lessons Carter provided were personal as much as they were professional. "Professor Carter is a beacon of hope for students who have lost the desire to speak up after too many wrong answers spoken out loud during cold calls," says Flórez. "She trains students to be active listeners and effective communicators, and she empowers them to believe in themselves by highlighting their strengths, helping them work through their weaknesses, and showing them their light within."
Carter's holistic take on mediation is the subject of her general-interest book Ask for More: 10 Questions to Improve Your Negotiations, Your Relationships, and Your Life, which Simon & Schuster will publish in 2020. "It's a book that I hope a lot of non-lawyers will pick up as well as those in our profession," she says.
Meanwhile, Carter is busy on Instagram chronicling her students' work, which they also highlight themselves on their CLSMediation Instagram page. "I talk to my students on Instagram all the time. I've gotten requests for clerkship recommendations over Instagram direct messaging," she says. "These days, we are fully connected."
Carter's concern for her students extends beyond her classroom and their fieldwork. Every semester right before finals, she invites all of her students to her home in Maplewood, New Jersey, for what she's dubbed "MediationFest," a celebratory home-cooked meal. (She makes lasagna, and her husband, Greg T. Lembrich '03, makes a standing rib roast.) "One of the things that I'm most proud of about the mediation clinic is that it becomes a lot of people's home within the Law School, and they find a lot of support there."
Read more
Sarah Knuckey Wins 2017 Presidential Award for Outstanding Teaching
# # #
Published on May 23, 2019