Supporter of Japanese Legal Studies Isaac Shapiro '56 Publishes Illuminating Memoir
Supporter of Japanese Legal Studies Isaac Shapiro '56 Publishes Illuminating Memoir
Supporter of Japanese Legal Studies Isaac Shapiro '56 Publishes Illuminating Memoir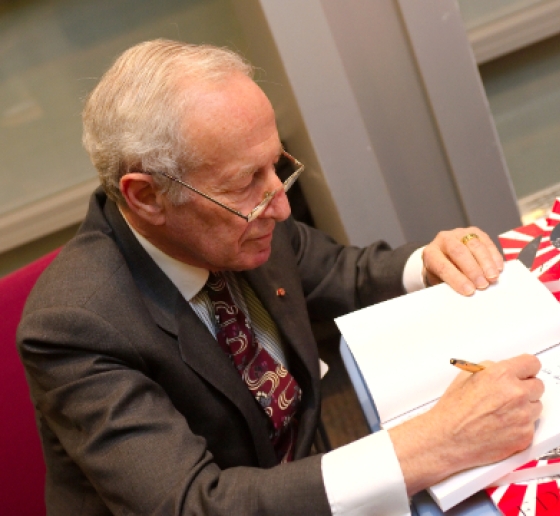 Isaac Shapiro '56 signs a copy of his memoir, Edokko.  Shapiro discussed the experience of being a foreigner in wartime Japan at an event sponsored by the Center for Japanese Legal Studies at Columbia Law School. (David Wentworth - Nov. 2009)
Any long-term friend of Isaac Shapiro '56 could tell you that he has led an fascinating life.
Born in Tokyo in 1931 after his Russian-Jewish parents fled from Europe's growing anti-Semitism, Shapiro spent several years as a foreigner in both China and Japan before moving to Hawaii at 14 under the patronage of an American Marine colonel. He attended Columbia College, served in the Korean War, returned to Morningside Heights to attend Columbia Law School, and then embarked upon a long, illustrious career in law.
His memoir, Edokko, however, was not intended to simply retell an interesting life, said Shapiro during a recent gathering at Columbia Law School in celebration of the book's release. "My motivation for writing the book was the feeling that I had been a witness to an extraordinary period in human history," Shapiro said.
Shapiro's wife, Jacqueline Weiss Shapiro '56, whom he met while attending Law School in the fifties, was at his side as he read from the book and shared anecdotes from his life with fellow alumni, students, faculty, professors, and even some of those long-term friends.
The event was hosted by the 
Center for Japanese Legal Studies
, which is the first and only center in the United States dedicated to research on Japanese law.  Professor Curtis J. Milhaupt, director of the center, introduced Shapiro. "Ike Shapiro is an iconic figure in Japanese legal circles," Milhaupt said.  "He and his wife Jackie have supported the study of Japanese law at the Law School for decades, going back to the founding of the center."
Shapiro offered an intimate view of an era many in attendance had only read about in history books. He described moving to inland Japan to escape U.S. fire bombings in Tokyo, becoming an honorary midshipman aboard the USS Iowa, and what he calls the seminal moment of the era: Japan's signing the unconditional surrender on September 2, 1945.
Despite—or perhaps because of—his worldliness, Shapiro seemed right at home at the Law School. "Morningside Heights was my first experience on what we from Hawaii referred to as the Mainland," Shapiro recalled fondly. His memoir, Edokko: Growing up a Foreigner in Wartime Japan, is published by iUniverse.
Written by Christopher Gomes.