Columbia University Honors Olatunde C.A. Johnson With Faculty Service Award
Columbia University Honors Olatunde C.A. Johnson With Faculty Service Award
The expert on civil procedure, legislation, and anti-discrimination law is recognized for her extraordinary and creative voluntary service that significantly contributes to the university's diversity, equity, and inclusion efforts.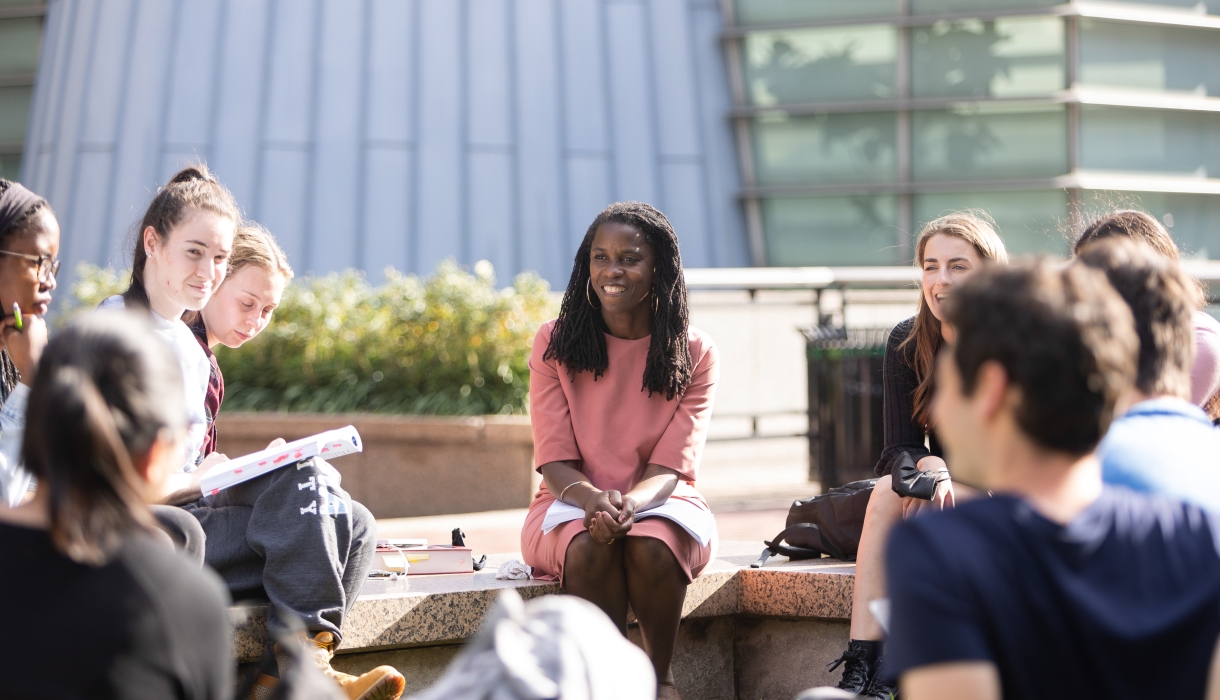 Olatunde C.A. Johnson, Ruth Bader Ginsburg '59 Professor of Law, has been named one of the five recipients of the 2023 Columbia University Faculty Service Award, which honors full-time faculty who engage in volunteer activities that impact students, faculty, or both in furthering the university's diversity, equity, and inclusion efforts. "I appreciate that the university recognizes service to advance equity," says Johnson, who writes and teaches about civil procedure, legislation, and anti-discrimination law and serves on the Provost's Advisory Council for the Enhancement of Faculty Diversity.
Johnson has recently launched several significant projects at the Law School. As faculty director of the Constitutional Democracy Initiative, she co-created the Beyond the Casebook lunch series with David Pozen, Charles Keller Beekman Professor of Law, who at the time served as vice dean for intellectual life. In its first year, the initiative offered students an opportunity to meet with professors outside the classroom setting to discuss readings on timely, relevant issues.
In August 2022, Johnson collaborated with faculty, students, and staff to launch Through the Gale, a podcast funded by the Center for Constitutional Governance (which Johnson co-directs) and an anti-racism grant from the Law School, which explored the role of public- and private-sector lawyers in the wake of the pandemic and the protests of 2020. 
"Olati's extracurricular contributions to the Columbia Law School community are innovative, meaningful, and boundless," said Gillian Lester, Dean and Lucy G. Moses Professor of Law. "She is dedicated to her students, generous with her colleagues, and a tireless advocate for diversity, equity, and inclusion at the Law School and beyond. The faculty service award is a justly deserved honor."
Johnson also co-founded and co-chairs the Law School's Committee on Teaching with Bert Huang, Harold R. Medina Professor of Procedural Jurisprudence. They have conducted workshops for faculty on race in the curriculum, how to build inclusive participation, and how to handle difficult conversations and cases. "Our core goal," she says, "is to build a culture and a set of strategies to advance effective and inclusive teaching at the Law School." 
The Faculty Service Award is not the first time the university has honored Johnson. In 2016, she received Columbia University's prestigious Presidential Award for Outstanding Teaching. She also received the Law School's Willis L.M. Reese Prize for Excellence in Teaching in 2016, which made her the first member of the Law School faculty to receive both awards in the same year.