Columbia Journal of Transnational Law Honors Climate Change Diplomat Christiana Figueres
Columbia Journal of Transnational Law Honors Climate Change Diplomat Christiana Figueres
The former executive secretary of the United Nations Framework Convention on Climate Change receives the 48th annual Wolfgang Friedmann Memorial Award.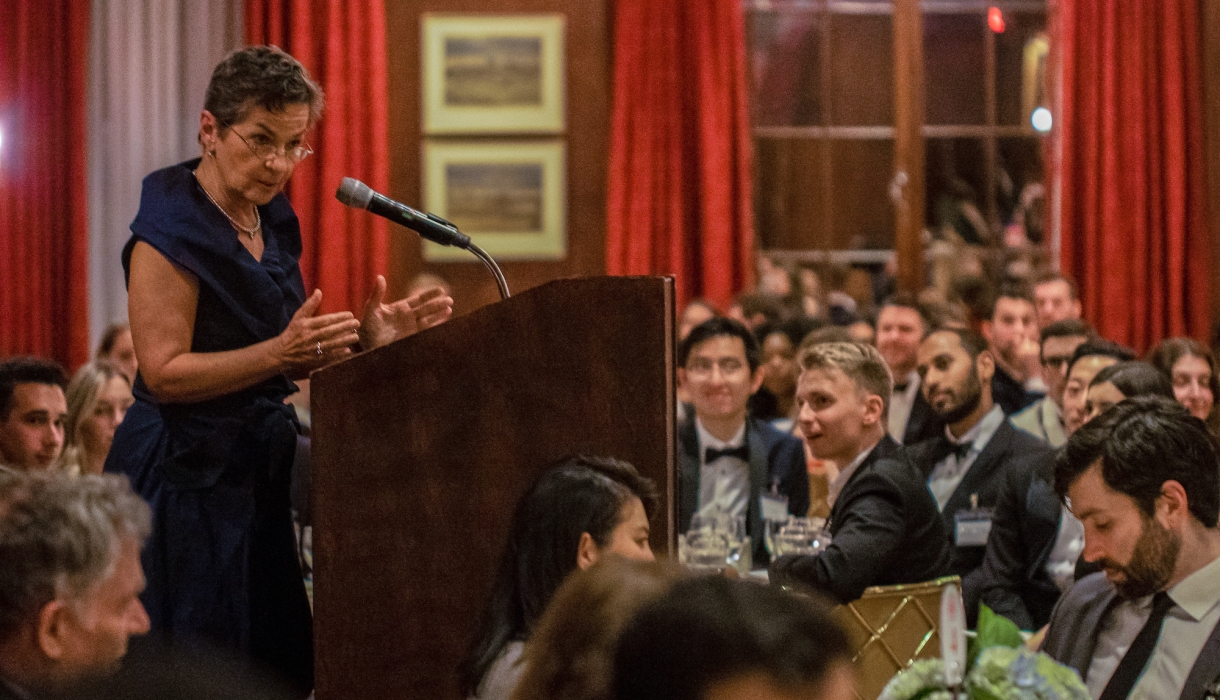 Members of the Columbia Law School community gathered on April 9 to honor Costa Rican climate change diplomat Christiana Figueres at the 48th annual Wolfgang Friedmann Memorial Award Banquet. The award was established in 1975 by the editors of the Columbia Journal of Transnational Law to commemorate Friedmann, an émigré from Nazi Germany who was a leading advocate for the practical realization of an international rule of law. Friedmann was instrumental in the 1961 founding of the student-run journal, which was originally called Bulletin of the Columbia Society of International Law; he was a member of the faculty from 1955 until his death, in 1972.
After opening remarks by Gillian Lester, Dean and Lucy G. Moses Professor of Law, and an introduction by P. Nicholas Kourides '71, chairman of the board of the Columbia Journal of Transnational Law, the 2022 Friedmann award was presented to Figueres by Michael Gerrard, Andrew Sabin Professor of Professional Practice and founder and director of the Sabin Center for Climate Change Law. (Previous award recipients include Supreme Court Justices Stephen Breyer, Ruth Bader Ginsburg '59, and Sandra Day O'Connor; Columbia Law Professors Lori F. Damrosch, Richard N. Gardner, and Louis Henkin; Secretary of State James A. Baker III; and Sen. Daniel Patrick Moynihan.)
Gerrard praised Figueres for a career devoted to transnational public service. In addition to serving as executive secretary of the UN Framework Convention on Climate Change (2010 to 2016) and leading the process that secured the landmark Paris Agreement on climate change, she has been the director of the Renewable Energy in the Americas and of the Center for Sustainable Development of the Americas. She is also co-founder of Global Optimism, which works with individuals and organizations to take action and face the climate crisis head on, and is the co-author of The Future We Choose: The Global Optimist's Guide to Climate Change. 
The banquet, which was held at the Harvard Club of New York City, also honored students on the journal's masthead. Editors, including Editor in Chief Tim Wang '22, announced the winners of the Neil McDonnell Memorial Prizes for outstanding service to the journal, the Debevoise & Plimpton Best Note Award, the Sullivan & Cromwell Outstanding Note Award, and other staffer awards. The banquet was organized by Daimiris Garcia '22 and Megan Liu '22—the journal's public affairs editors—and Jacob Nikituk '22, the financial and technical editor.
Read more about the banquet and see a full list of the student winners.