The 29th Annual Paul Robeson Conference and Gala
The 29th Annual Paul Robeson Conference and Gala
The Columbia Law School Black Law Students Association honored Judith Browne Dianis '92 and Marcia Sells '84 at this year's gala and hosted a two-day conference on Black political power.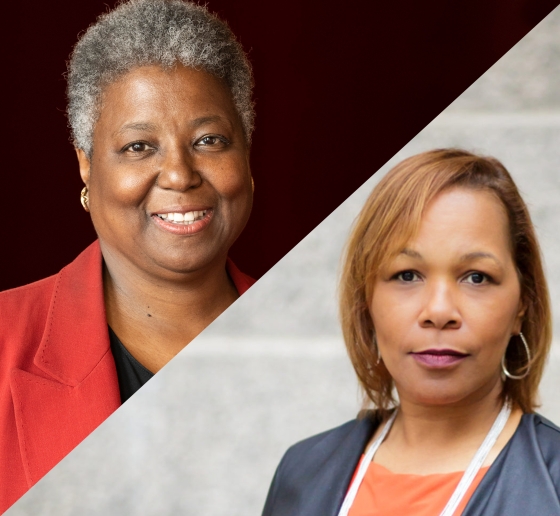 Approximately 250 students, faculty, alumni, and friends gathered at Capitale in Lower Manhattan on February 23 for the Black Law Students Association's (BLSA) annual Paul Robeson Gala, which celebrated two Columbia Law graduates: Marcia Sells '84, chief diversity officer at the Metropolitan Opera, was the distinguished alumni honoree, and Judith Browne Dianis '92, executive director of civil rights organization Advancement Project, was the keynote speaker.
The annual event recognizes the life and legacy of Paul Robeson 1923, the influential actor, singer, and progressive activist. "It is a great pleasure to be back here and to see the BLSA Paul Robeson event still going and thriving for the 100th anniversary of his graduation," Sells said in a brief thank-you. "I am deeply, deeply honored that you recognize me, but I stand on the shoulders of so many other people."
In her remarks, Dianis recalled that during her tenure as BLSA president, she organized a sit-in in the office of then-Dean Barbara Aronstein Black to press for the hiring of more Black faculty members at the Law School. She also served as president of BLSA's national organization. "BLSA has always been in my heart and in my soul, and important to me," she said. 
Dianis also addressed current challenges, saying that today, the nation is facing a wave of new state legislation that makes voting more difficult, a rise in local book bans, and new state restrictions on schools teaching about racism under the rubric of prohibiting critical race theory. Quoting Robeson, she called Black Americans "the decisive force" in causing change. "Our collective action and our show of political force has undeniably helped us, as Bob Moses used to say, lurch forward. But when Black people win, the forces of white supremacy step in to remind us of the racial hierarchy upon which this country was built."
She recalled Robeson's work on behalf of Black civil rights, saying that he "recognized that his own activism was the result of impatience. . . . So tonight, I challenge everyone in this room for us—the decisive force—to be impatient."
Earlier in February, from February 17–18, BLSA held its annual Paul Robeson Conference, with the theme "Black Politics and the Future of American Democracy." The event kicked off with a conversation between the 82nd Attorney General of the United States Eric H. Holder Jr. '76 and Columbia Journalism School Dean Jelani Cobb. Other speakers included Olatunde C.A. Johnson, Ruth Bader Ginsburg '59 Professor of Law; Leah Aden CC '01, deputy director of the NAACP Legal Defense and Educational Fund (LDF); and Karl Racine, former attorney general of the District of Columbia.
Photo credit: Jonathan Tichler, Metropolitan Opera