The 27th Annual Paul Robeson Conference and Gala
The 27th Annual Paul Robeson Conference and Gala
The Columbia Black Law Students Association honored New York City mayoral candidate Maya Wiley '89 and Missouri Judge Lisa White Hardwick at its annual gala and hosted a virtual conference entitled "Reimagining Justice."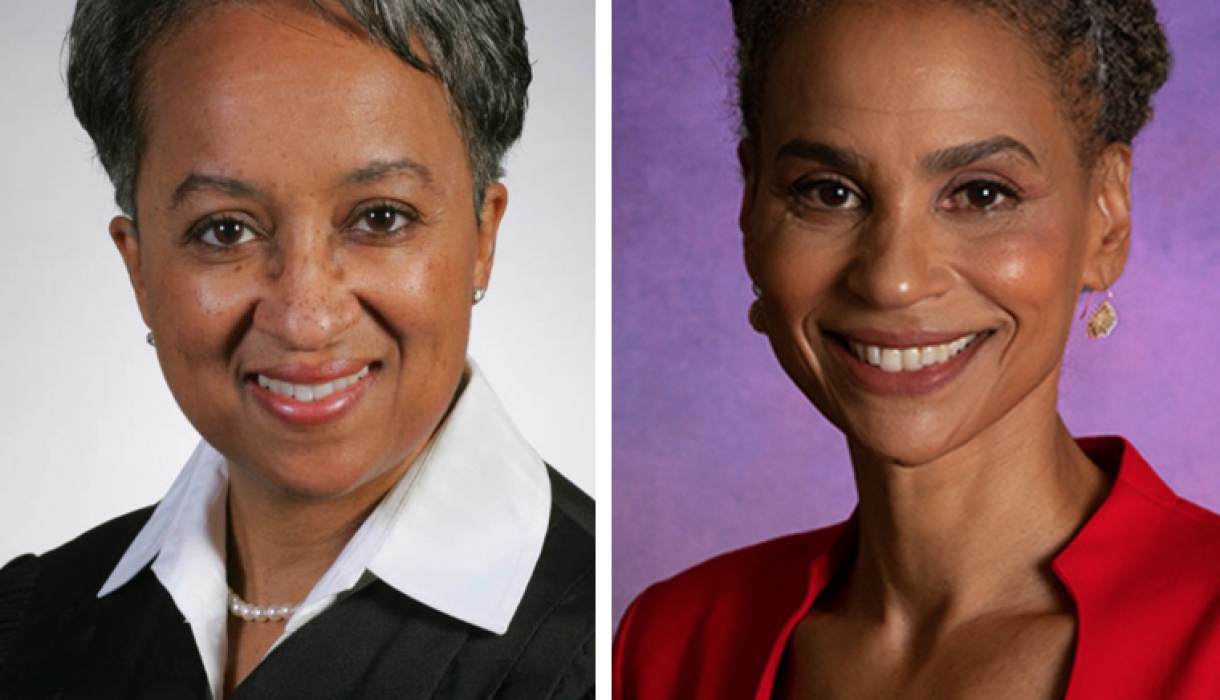 Pictured: Lisa White Hardwick (left) and Maya Wiley '89 (right), this year's Paul Robeson Gala honorees.
On February 11, 2021, Columbia Law School's Black Law Students Association (BLSA) held the first-ever virtual Paul Robeson Gala. More than 220 alumni, students, and friends joined the Zoom festivities, which included "cocktail hour" breakout rooms, presentations and speeches, and a virtual after-party with online games. Attendees received specially curated gift bags in the mail—including items from Black-owned businesses in Harlem—and were delivered a three-course meal to help them celebrate the evening.
Now in its 27th year, the gala recognizes the life and legacy of Paul Robeson 1923, the influential lawyer, actor, singer, and civil rights advocate. This year's guests of honor were alumni honoree Maya Wiley '89, a nationally renowned racial justice and equity advocate and New York City mayoral candidate, and keynote speaker Judge Lisa White Hardwick, the first Black woman to serve on an appellate court in Missouri.
In her remarks, Wiley acknowledged that the world has been forever changed by a global pandemic and how her connection to the Law School has helped her get through this challenging moment. "I recognize that this year's event comes at a time we have never experienced in our collective lives. We sit at an important crossroads, holding both grief for what we have lost and hope for what is to come," she said. "I can truly say that what has reinforced my own hope in the midst of great turmoil this year is the resilience of the Columbia BLSA community."
Before her keynote address, Judge Hardwick received a special introduction from her son, Zachary Hardwick '22, who said, "I can honestly say that this is one of my favorite moments of law school and certainly one of one of my proudest." 
Hardwick, who sits on the Missouri Court of Appeals, Western District, went on to speak about resilience in the face of challenge and defeat. "There's a longing to hear about how one rises, recovers, and thrives against the forces that would impede your success," she said. "It's important to remember that we sit under the shade of trees planted by our ancestors. We have come this far not only by faith but by the vision and fortitude of those who planted seeds to ensure that we could walk the hallowed halls of state universities and Ivy League campuses. . . . In this place, I urge you to find purpose and passion from the struggles of today that will drive you to meet the challenges of tomorrow."
A week later, BLSA hosted its conference centered on the theme "Reimagining Justice." Typically a daylong affair, this year's virtual event was divided over three days and included discussions on educational justice and the eradication of the school-to-prison pipeline, the abolition of the death penalty, reimagining the role of police in society, economic equity, and Afrofuturism.