Taban Victoria Modong '20 LL.M. Awarded Leebron Fellowship at African Union, Peace and Security Department
Taban Victoria Modong '20 LL.M. Awarded Leebron Fellowship at African Union, Peace and Security Department
She will pursue accountability for human rights violations against children in South Sudan and Africa at large.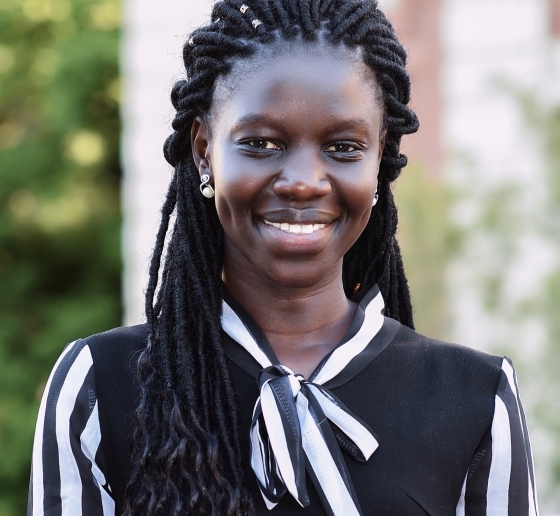 Born in South Sudan, Taban Victoria Modong '20 and her family fled to Kenya in the early-1990s after civil war intensified in Sudan. She studied law in Kenya at Moi University and the Kenya School of Law and worked as a researcher for South Sudan Human Rights Observatory and as a legal assistant at Muthoga Gaturu and Company Advocates. During her year at Columbia Law School as an LL.M. Human Rights Fellow, she joined the Black Law Students Association and enrolled in the Human Rights Clinic, where she participated in the Central African Republic project on war crimes and accountability.
Why the African Union: "I want the opportunity to participate in establishing mechanisms for war crimes committed in South Sudan. My desire is to contribute towards justice and accountability efforts for human rights violations committed against children in South Sudan and Africa at large."
Fellowship Goals: "I will work with the African Union Peace and Security Department on a child protection framework that will support the ongoing, long-term efforts of the department to create a Children's Protection Unit. I will work tirelessly to ensure past injustices are not overlooked and to help develop laws and policies that will give the war-affected children of South Sudan and Africa the opportunity to realize their dreams, just as I have."
The Office of Social Justice Initiatives (SJI) guides Columbia Law School students who want to pursue public interest work throughout their academic careers and after graduation. SJI also assists in the process of applying to prestigious postgraduate fellowships. Read about other 2020 fellowship recipients.