Fighting for a More Just Society: Meet the 2019–2020 LL.M. Human Rights Fellows
Fighting for a More Just Society: Meet the 2019–2020 LL.M. Human Rights Fellows
Every year, the Columbia Law LL.M. Program, in conjunction with the school's Human Rights Institute, recruits and awards fellowships to jurists who demonstrate extraordinary potential in the field of international human rights.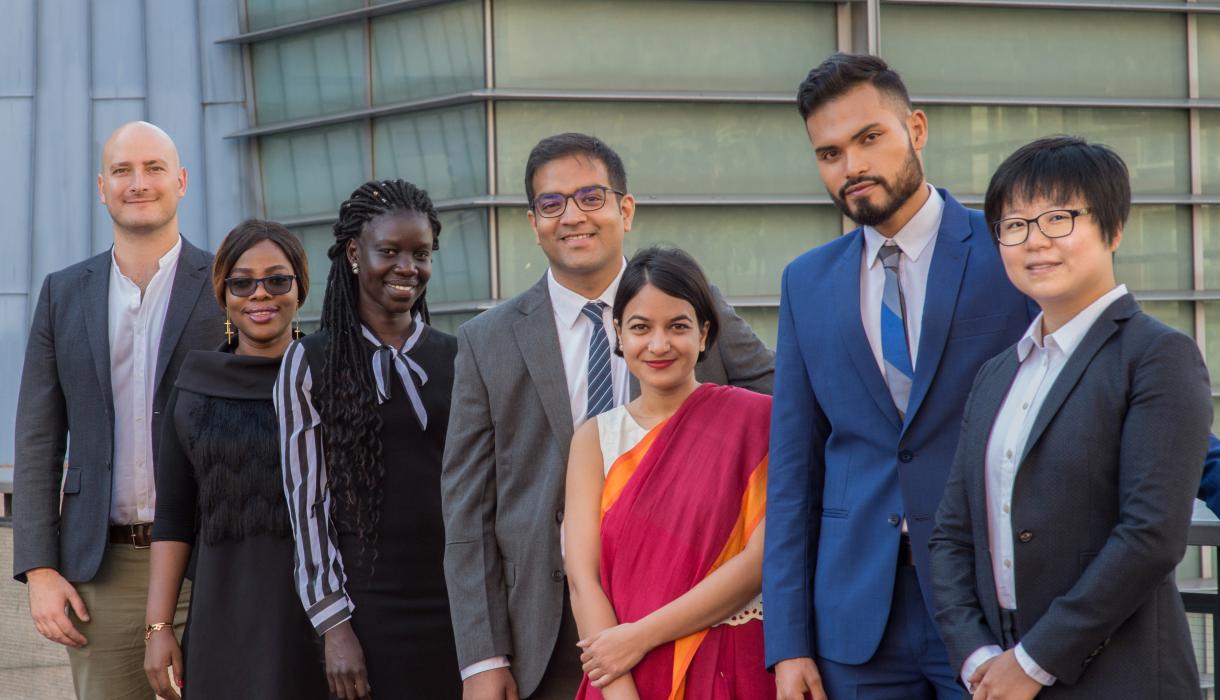 In a moment when human rights abuses are the focus of national and worldwide discourse, empowering the next generation of human rights advocates and scholars has never been more important. Columbia Law School has long been a leader in this area, and the LL.M. Human Rights Fellowship program supports that commitment. Hailing from China, Ecuador, India, Nigeria, South Africa, and South Sudan, this year's cohort of LL.M. Human Rights Fellows represents a wide range of interests and experience.

"This is a remarkable group of lawyers, and we are proud to welcome them to the Columbia community," says Sylvia T. Polo, dean of Graduate Legal Studies. "These fellows come from diverse backgrounds, are interested in a plethora of issues, and have shown deep dedication and a sharp instinct for the moral, political, and social issues surrounding human rights law. We are eager to contribute to their education and to help them take their practices and careers to the next level."
 
Bamisope Adeyanju '20 LL.M.
Nigeria
Using the Law for Social and Political Change

Growing up in Nigeria, Bamisope Adeyanju saw firsthand how widening poverty can affect a community. Whether it was the misappropriation of public funds, a lack of basic infrastructure, high unemployment, or exploitation of the environment, Adeyanju was aware of the issues surrounding inequality. "I realized that I was interested and determined to discover specific solutions to change this narrative," she says. "My experiences molded me into an enthusiastic young woman with a tenacity of purpose not only to learn the law but also to also fully understand how it can be used as an instrument of positive change."Adeyanju received a Bachelor of Laws (LL.B.) from Adekunle Ajasin University in Ondo, Nigeria, and became a Barrister at Law (B.L.) at Nigerian Law School in Abuja in 2015. In 2017, she achieved one of her life's goals when she was hired by a leading human rights organization, the Socio-Economic Rights and Accountability Project (SERAP), in Lagos. As a human rights attorney, Adeyanju worked to enforce economic and social rights and hold public institutions accountable on behalf of underrepresented citizens of Nigeria.
Although the job was a dream come true, it did not lessen her distress and frustration when human rights violations came across her desk. "I made up my mind to dedicate my human rights practice towards advocacy for policies that promote social welfare, increase citizen participation in their government, promote more openness in government spending, and ensure sustainable use of our environment."
Adeyanju plans to use her time as an LL.M. Fellow to prepare for frontline advocacy in the defense of freedoms, including the right to live in a healthy environment. She hopes to advocate for the adoption and expansion of access to information laws across Africa in order to empower citizens to demand more accountable institutions that deliver better services and reduce poverty.
Chinmay Sudhirkumar Kanojia '20 LL.M.
India
Protecting the Rights of All Citizens

As a lawyer in New Delhi, Chinmay Kanojia works on behalf of the most marginalized members of the community. Through both research and litigation, he is contributing to India's advancements in prison reform, the rights of caste minorities, and inequity in sentencing, including the death penalty. The clients he has represented include mental health practitioners who challenged the antiquated sodomy law in India targeting individuals in the LGBT+ community; workers living under precarious conditions who have been taken advantage of by labor law abuses; and individuals from religious minorities targeted by what he calls "draconian" anti-terror legislation.
Kanojia gained an academic and practical understanding of social justice issues through his work on research projects while at National Law University Delhi. His contributions to the Death Penalty Research Project under Dr. Anup Surendranath helped him realize that "the coercive impact of criminal law is felt more acutely by the marginalized."
While assisting some of the leading criminal defense advocates in New Delhi— including Jawahar Raja, Rebecca John, and Vishal Gosain—Kanojia grew "convinced of the importance of resisting any form of dilution of criminal procedural safeguards." During his time with Raja, he became deeply affected by the plight of prisoners incarcerated on charges of terrorism and the dangers and human rights abuses they encountered. He says that during one prison visit, an incarcerated client "covertly passed me his blood-soaked vest, imploring me to tell his family about the custodial torture he faced." Kanojia was shocked and angry, but not surprised.
At Columbia Law School, Kanojia is working with the Human Rights Clinic on a project on counterterrorism and armed conflict in Yemen and assisting defense advocates on a federal death penalty case as part of a practicum. He plans to return to India where he hopes to build an independent law practice focused on ensuring access to justice in the areas of anti-terror regimes and the criminal justice system and use his education to give back to the disempowered and marginalized. 
Jacob Taylor '20 LL.M.
South Africa
Standing Against Power Imbalances                         

As a trial advocate, British barrister Jacob Taylor (who is originally from South Africa) undertakes complex criminal and human rights cases with a focus on international and transnational legal issues. "I defend those accused of committing mass atrocities," he says. "Challenging the reach of state power over the individual has been a key theme throughout my career."
Born and raised in apartheid South Africa, Taylor is well aware of the human cost of social inequity, and he is interested in the complex, sociopolitical issues at play in cases where there may be a power imbalance. He has defended individuals accused of attempted murder, preparation of terrorist acts, international drug trafficking, and modern slavery. "My most rewarding cases are those that have afforded me the opportunity to work collaboratively with practitioners from all around the world, and to produce tangible advancements in my field," he says. In one groundbreaking civil action, he helped clients win a suit against the British government for colonial-era torture in Kenya, extending the limitation period by 60 years in the process.
Taylor, who practices in the U.K. and internationally, has also developed an interest in the intersection between law, technology, and internationally recognized fair trial protections. During his time at Columbia, he plans to prepare for what he sees as the next big battle in human rights law: the impact of digital evidence gathering. Future international prosecutions, he contends, are likely to involve eyewitness accounts as well as video footage shot by those on the ground—including documentation by NGOs and journalists—without forensic expertise.
"As a trial lawyer, I am acutely aware that these issues are capable of leading to miscarriages of justice," he says. "The issues on the international stage are more multifaceted and complex; the risks equally high."
Jorge Fernandez '20 LL.M.
Ecuador
Fighting for LGBTQ Rights

Jorge Fernandez is the co-founder of Pakta ("equal" in Kichwa), an NGO that provides legal advice for LGBTQ persons who have suffered discrimination or violence based on their identity. Through Pakta, he successfully litigated marriage equality in Ecuador and continues to advocate for human rights issues.
"My colleagues and I were pleasantly surprised to have won before the Constitutional Court," he says about the landmark marriage equality victory. "Our country is very conservative, and our judiciary often reflects that mindset. . . . Every hearing was an incredible challenge, especially because the private lives of the same-sex couples we represented were being scrutinized by our counterpart and the judges. No one should have to go through that to be entitled to exercise their rights. I know that to some people a marriage certificate is nothing but a paper, but marriage equality is not really about marriage, it is about dignity. The dignity of being equal under the law."
Fernandez has also handled other cases that have tested him. "I was incredibly lucky to be the attorney for the first trans child in Ecuador to successfully petition for her documents to reflect her true identity. Queer children [in Ecuador] are believed to not exist—they are forced to silence their identities. That must stop."
Fernandez has worked for international organizations, including the United Nations High Commissioner for Refugees, the United Nations Population Fund, and the Inter-American Commission on Human Rights. At Columbia, he hopes to rethink his understanding of the law and create new ways of advancing human rights. "When I first took a human rights class back in Ecuador, it was taught by a Columbia graduate," Fernandez says. "That class was the first class in which I felt my identity was not a burden but a tool I could use to fight for dignity and justice. And now I am here at the law school where Professor Louis Henkin created the study of human rights as a matter of law. I know that studying here will change the way I perceive law and myself."
Mingke Liu '20 LL.M.
China
Building an Inclusive Society

After graduating from Peking University Law School in 2014, Mingke Liu knew she wanted to focus on promoting equal rights for LGBTQ people in China. She went to work for Common Language, an NGO that builds a deeper understanding of LGBTQ issues among the public, and researched and wrote about topics including LGBTQ-related employment discrimination, domestic violence, and LGBTQ impact litigation in China. She also worked as part of the litigation team that won China's first transgender employment discrimination case, an event she calls "the unparalleled highlight of my growing career."
In 2017, Liu joined the Paul Tsai China Center at Yale Law School as a visiting scholar and focused her research on sexual orientation and gender identity and expression-based school violence. "It gave me the chance to work with renowned American LGBTQ rights advocates and legal experts, which led to an immersive experience of how social movements and academia can work in symbiosis," she says. "I also gained a deeper understanding of U.S. law, and I strategized on how I can utilize my newly gained knowledge to contribute to my advocacy in China relevantly."
As an LL.M. Human Rights Fellow, she'll be able to continue those efforts. "One of the most efficient (and contextually relevant) ways to advocate for LGBTQ rights in China will be through legal means, and the legal education and human rights community at Columbia will definitely catalyze my career in LGBTQ rights in China," she says.
"I long for an inclusive society where everyone can be valued and treated with equal dignity, and everyone has the opportunity to access to justice. That is what human rights really means."
Namrata Mukherjee '20 LL.M.
India
Creating Systemic Change

"As a beneficiary of decades of activism by the women's rights and queer rights movement, I have deep faith in the potential of collective action to bring about systemic reform," says Namrata. "I hope to use my education to responsibly engage with social justice movements by using the tools of academia and legal advocacy, specifically in the areas of gender and sexuality and socioeconomic rights."
Namrata developed an interest in rights-based work when she volunteered with the Legal Aid Society while in law school. She contributed to projects including those dealing with labor rights, domestic violence, queer rights, and anti-trafficking. She subsequently served as the student president of the Legal Aid Society at the National University of Juridical Sciences and, along with her peers, established the student-led Legal Aid Clinic and the Queer Lawyering Project in collaboration with local LGBT+ organizations.
After law school, she joined a think tank in Delhi, where she developed projects in the area of queer rights. She also worked in the area of socioeconomic rights—specifically education law and disability law. All of her work was largely located in the communities that it represented. "Working closely with queer and disability rights communities was and continues to be an important lesson for me, particularly when it comes to thinking deeply about legitimacy and privilege," she says.
Namrata hopes to continue to grow into a responsible community lawyer who supports broader movements and collective action. During her year at Columbia, she plans to get involved with projects off campus and learn from the vibrant grassroots social justice movements that characterize New York City.
"Columbia Law School's focus on an interdisciplinary approach to the law, politically active campus, and institutional support for gender-sexuality rights work and social justice lawyering makes it the ideal institution for me," she says.
Victoria Modong Taban '20 LL.M.
South Sudan
Putting an End to Human Rights Violations

To go to the Kenya School of Law, Modong had to go to court. Originally from South Sudan, Modong and her family fled to Kenya in the early-1990s after civil war intensified in Sudan. However, after completing her undergraduate in Kenya, Modong was barred from joining the Kenya School of Law because of her nationality.
Her determination to become an Advocate of the High Court of Kenya drove her to fight for her rights and her petition to the High Court was ultimately successful. "The judgment in my case paved the way for non-Kenyans to be admitted to the Advocates Training Programme at the Kenya School of Law," she says. Modong earned her law degree from Moi University School of Law and completed her postgraduate diploma course in law at the Kenya School of Law. She is currently awaiting admission to the Kenyan Bar. "I am grateful for and committed to advancing the values behind the human-rights based Constitution of Kenya and the independent judiciary that interpreted and applied its law. These institutions gave me the opportunity to further my dreams of becoming an advocate," she adds. 
Immediately after South Sudan seceded from the North, Modong was struck by an urgent call to human rights work. The breakout of conflict in December 2013 further inspired her to pursue human rights "as a powerful tool for change-making legal advocacy on behalf of the women, children, and people of South Sudan," she says.
As part of that work, Modong serves as a volunteer researcher with the South Sudan Human Rights Observatory—a local NGO that researches, documents, and reports on human rights violations in South Sudan. She has helped write two human rights reports detailing violations and calling on government officials to take action against perpetrators. 
Modong is eager to use her time as a Human Rights Fellow to make the transition from academic-researcher to practitioner-lawyer. "My vision of human rights for South Sudan is based on transitional justice, constitutionalism, rule of law, and an independent judiciary," she says. "After honing my skills as a practitioner here at Columbia Law, I am determined to use this experience to help drive a permanent solution for South Sudan that is centered on an independent judiciary, as this is crucial to the realization and enforcement of international human rights law, and, more importantly, the promulgation of a human-rights based constitution."
# # #
Published October 22, 2019