Students Volunteer to Protect the 2020 Election
Students Volunteer to Protect the 2020 Election
The pro bono work of Columbia Law students is helping to make sure everyone who is eligible to vote is able to vote.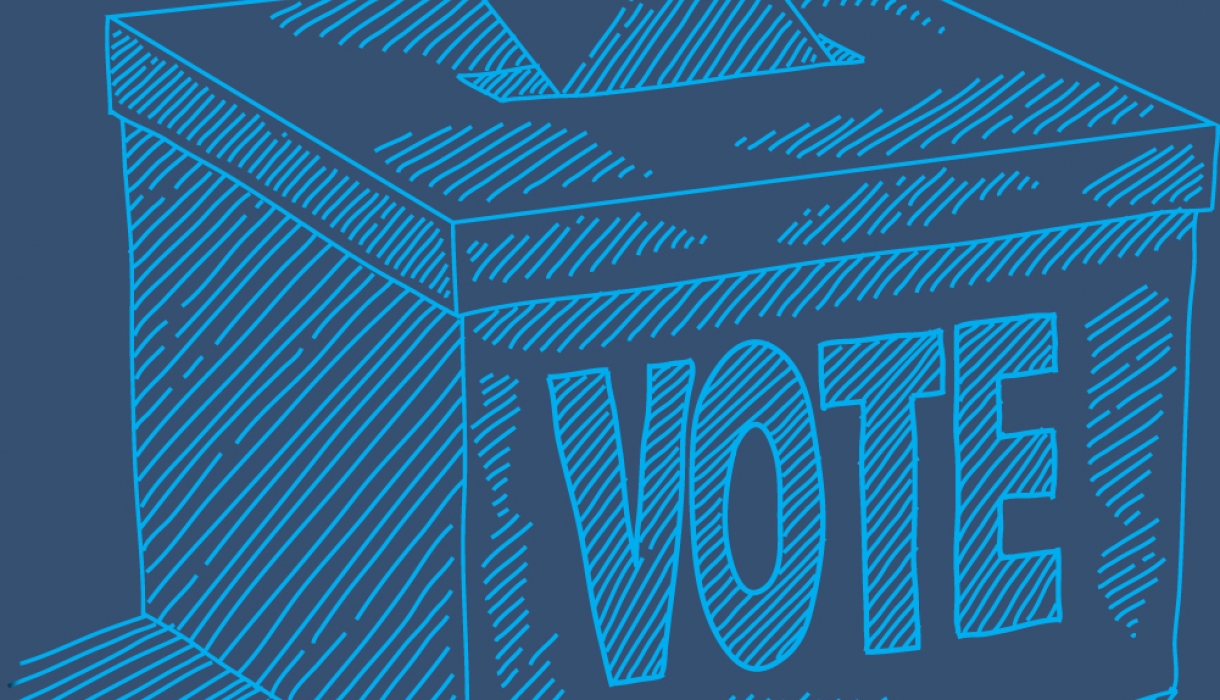 Dozens of Columbia Law School students are lending their legal know-how to projects to safeguard a fair election and access to the ballot box for all voters. Some are volunteering at nonpartisan voter hotlines, where they use research skills and decipher legal jargon to answer callers' questions about myriad issues that vary state by state—registration requirements, for example, and alternatives to in-person voting. Others are working with organizations that monitor access to the polls and assisting attorneys to ensure compliance with applicable laws. And with guidance from the Office of Social Justice Initiatives, many students have found election-oriented volunteer opportunities that count toward their Columbia Law pro bono service requirement.
Michael John Kutz '21 is one of several Columbia Law students who have been volunteering with the nonpartisan Election Protection hotline, administered by the Lawyers' Committee for Civil Rights Under Law. (The organization's president and executive director, Kristen Clarke '00, is also a member of the Columbia Law community.) "People call us if they are having trouble getting an absentee ballot, cannot find their polling place, or need information about early voting," says Kutz. "If they are intimidated, there are lawyers who are prepared to file lawsuits or take other decisive action to secure people's voting rights."
Kutz says Columbia Law's culture of public service inspired him to get involved. "As a developing lawyer, I realize I have a civic duty to make a difference where I can—such as securing a fair election," he says. "Volunteering with Election Protection is very satisfying work."
Every Vote Counts
Daimiris Garcia '22, the social justice chair of the Latinx Law Students Association (LaLSA), arranged for Columbia Law students to participate in an election-protection initiative called Cada Voto Cuenta (Every Vote Counts), through the legal nonprofit Latino Justice.
Thirty-six LaLSA members signed up for the program, which trains bilingual volunteers to monitor polling places in several states (with a focus on Florida, Georgia, New York, and Pennsylvania). They're learning how to identify voter suppression tactics, which might include denying people with English language difficulties or a physical disability from getting assistance in order to cast their vote.
"Students monitor the action, and they can take pictures or record what they see on their phones and upload it to a voting app in real time," says Garcia. "They will also work with Latino Justice attorneys who will be on site. They can contact the county or state board of elections to intervene."
For some students, volunteering also provides academic insights. Stephanie Nnadi '22 is using her time as a volunteer for the Election Protection hotline to think critically about election law. She is taking Law of the Political Process with Richard Briffault, Joseph P. Chamberlain Professor of Legislation, and working with him on an election law project. Through her work at the hotline, Nnadi is learning first hand how complicated it is for some American citizens to vote. "I shouldn't have to do 20 minutes of research into the depths of some website to help someone find out how to register," she says. "I would like to see our elected officials remove a lot of the barriers to voting that prevent people from participating in the democratic process."
On the Watch
On November 3, Sana Singh '21, who has been volunteering with Election Protection, will take up her post in the Chicago suburbs as an "election judge" (the official name for a poll worker in Illinois) as she has for the past eight years. "My parents are immigrants, and they raised us to really value civic duty because they didn't have opportunities to participate in the political process back in their home countries," she says. Singh will help sign in voters and make sure their ballots are properly fed into the machines that count them. Her duties also include enforcing electioneering rules. 
"Election judges need to make sure that people are not posting advertisements for a candidate within 100 feet of the polling place," she says. "We are the ones who have to make sure that people don't enter the polling place wearing political T-shirts or anything like that, and we are the first responders if the machines break down and the ones trying to get them back up and running."
Leading the Charge
As the assistant director of pro bono and summer programs in Columbia Law School's Office of Social Justice Initiatives, Nadine Mompremier has encouraged students to fulfill the school's pro bono requirement by volunteering for nonpartisan voting rights groups. (There is no credit for working for a political party or a candidate's campaign.) She also believes in leading by example: Mompremier lends her support to the Election Protection hotline and was featured in a recent ABC News segment on securing the vote.
"I've been volunteering with Election Protection since 2012," she says. "I thought it was important to use my engagement to help recruit new volunteers, especially with a nonpartisan organization where I did pro bono work when I was a law student."
Mompremier notes that some students hope to continue their voting rights work after November 3. Michaela Bolden '21, a volunteer with the Election Protection hotline, is one of them. "There are going to be a lot of challenges about whether people were legally voting or whether their rights to vote were infringed upon," says Bolden. "I am interested in helping to investigate these claims on a pro bono basis after Election Day."