Student Spotlight: Phillips Fellow Damonta D. Morgan '22
Student Spotlight: Phillips Fellow Damonta D. Morgan '22
Morgan is one of only two law students in the nation to receive the prestigious Phillips Fellowship in the Office of the Solicitor General.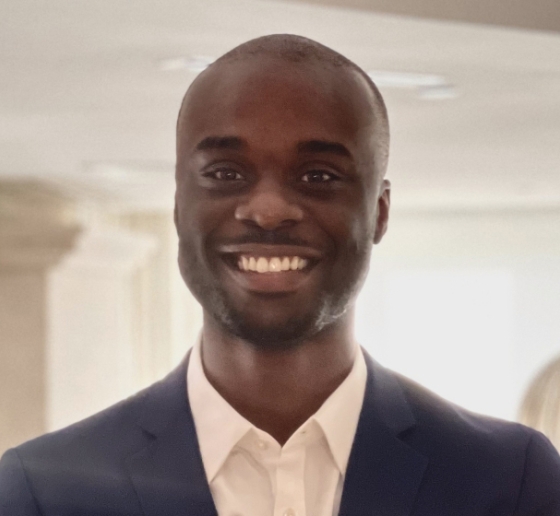 Damonta Morgan TC '19, LAW '22 grew up in a small town in Mississippi; success stories, he says, were few and far between, but it often meant you either became a doctor or a lawyer. After graduating from Vanderbilt University with a B.A. in history and political science, he moved to New York to work for the New York City Department of Education and pursue a master's degree in education policy at Teachers College. "I had always known that I wanted to go to law school—and to Columbia, in particular—but when I was graduating from Vanderbilt, I thought, 'Maybe I'm not ready, so let me pursue some other interests first,'" he says. "Once I got into Teachers College, I thought, 'I'm halfway there. I just need to make it across the street.'"
His career aspirations have evolved during his three years at Columbia Law School. He originally wanted to be a prosecutor, but he is now focusing on pursuing a career as an appellate litigator. This year, Morgan was selected as a Phillips Fellow in the Office of the Solicitor General (OSG), a prestigious fellowship awarded to only two law students a year. His work supporting OSG attorneys—including assisting with the preparation of briefs on the merits in Supreme Court cases—will enable him to refine his research and writing skills and put him closer to his goal of becoming an appellate litigator. 
As he begins his final semester of law school, Morgan looks back on his experiences, what's next, and the mentors he credits with helping him succeed. 

Why did you want to become a lawyer?
I grew up in a majority Black community, and it seemed like the people who were doing the most to advance our community were local politicians, preachers, and lawyers. The lawyers that I came into contact with were small solo practitioners or civil rights lawyers who were either visiting or who lived in neighboring big cities like Memphis or Jackson. They would come to the area to do some background work for their cases, and I would get to speak with them because my teachers encouraged me. I was the first person in my family to go to college, let alone law school. And so I looked to my teachers and mentors—Scott Colom, my high school mock trial coach, was a huge mentor of mine—to put me on the path to getting the information I needed to go to college and law school. 
I have wanted to go to Columbia since I was 12. Columbia makes some appearances on Law and Order, and all I knew growing up was that it's an Ivy League school, it's in New York City, and it seems impressive. That was enough to gain my loyalty at that time.
What interests you about appellate law?
I took a class called The Roberts Court, which wasn't an appellate litigation class per se but gave me relevant experience and confirmed my interest in the field. It was taught by Professor Gillian Metzger and former U.S. Solicitor General Donald B. Verrilli Jr. '83, and it got us in the habit of reading Supreme Court opinions in full. That class also had us looking behind those opinions at the briefs and oral arguments in many of the cases, which is something that we don't ordinarily do in law school. It was almost 300 pages of reading a class, which was incredible because that's what appellate litigators have to do. You're reading so much all day and then trying to condense it into the most important parts and make an argument. 
What are you looking forward to about the Phillips Fellowship? 
I felt like I was coming late to appellate litigation, so I wanted to get as many experiences as possible and to do it with people who are in the trenches and very smart. I'm looking forward to thinking through some of the biggest issues that the country is dealing with, many of which are at the Supreme Court right now—abortion, gun rights, voting rights, affirmative action. The solicitor general's office argues the position of the United States, so one of the things I'm very excited about is how they think about creating arguments to reach a court that may initially be unreceptive to their position. 
I've started to become really reflective of all of these experiences and of my time at Columbia. For the most part, none of us got here by ourselves. And I think it's important to realize and think about that because it helps to keep you grounded. 
Following your fellowship, you have clerkships lined up with Judge Carlton W. Reeves of the U.S. District Court for the Southern District of Mississippi and Judge Candace Jackson-Akiwumi of the U.S. Court of Appeals for the 7th Circuit. Why did you decide to pursue clerkships and what interests you about these judges?
I've long known that I wanted to be a litigator of some sort, so I thought clerking would be good preparation for that. I consider myself very fortunate to be clerking for these judges particularly. 
I was president of the Columbia chapter of the American Constitution Society last year, and one of the first programs we did was on qualified immunity. We invited Judge Reeves to talk about his decision in a case called Jamison v. McClendon, in which he detailed the history of qualified immunity and how it operates in the state of Mississippi. That was a very fascinating conversation because that was also at a time when the entire country was trying to deal with the repercussions of law enforcement officers being able to violate people's civil rights with no recourse. I realized then that I really liked Judge Reeves' energy and the way that he thinks about the law, so I decided I was going to apply to be a clerk for him in 2022. 
I had admired Judge Jackson-Akiwumi since watching her confirmation hearings. I could tell she was very thoughtful and deliberate and that we share some of the same values. Some of my professors were helpful in getting me in front of her, and from there it just worked out, and I will be clerking for her in 2023.
What do you think it will be like clerking for Judge Reeves in your home state?
Mississippi is always going to be part of my life. I had decided after high school that I'd never go back because I was very disillusioned with the politics in the state, and there was a bunch of hypocrisy around what we learned in church and how we acted out of church, which I didn't like. But I really do love that state. I think it's partly because all of my family is there and because I think there is something magical about the experience that I grew up with, which is so different from that of a lot of people. 
Last year, you and Paul Riley '22 co-founded The Black Men's Initiative @ CLS as part of Columbia Law's Anti-Racism Grantmaking Program. Why was it important for you to develop it?
The Black Men's Initiative brings a big smile to my face every time I talk about it. We realized that there was a lot of diversity in the Black male population here: Some of us come from very modest backgrounds, while others come from the upper class; there are members who identify as LGBT+ and others who are just allies; and there are folks whose families are newer to the country, while other families, like mine, have been here since slavery. We all look at culture from different perspectives. Breaking down these many traditional barriers is one of the things that makes this space so great. And we get to start breaking down some of these barriers with our alums as well. For example, we had a conversation about what Black male political leadership looks like and how to transition between the public and private sector, and we have conversations coming up about financial security and mental health. It's a space that people don't have to necessarily be "on" all the time but can come back to for support when needed. 
How have mentors played a role in your legal journey? 
I've been so fortunate to have a number of different mentors, mostly those I've connected with through Columbia. Professor Verrilli helped me learn more about how to get appellate litigation experiences and which firms might be a good fit. Several professors have provided recommendations and encouragement in the clerkship and job process, and for that I'm grateful. One of my most influential mentors is Kannon Shanmugam, who is the managing partner of the Washington, D.C., office of Paul, Weiss, Rifkind, Wharton & Garrison. He invested a lot of time with me thinking about clerkships and other opportunities to help me improve. Appellate litigation is one of these fields that can be quite credential obsessed, so he has helped me think through that aspect in the sense of identifying opportunities that would give me meaningful experience. 
I've started to become really reflective of all of these experiences and of my time at Columbia. For the most part, none of us got here by ourselves. And I think it's important to realize and think about that because it helps to keep you grounded. I'm very aware that everything that I've achieved is because somebody else helped me. And I'm very appreciative of that. 

This interview has been edited and condensed.