Student Spotlight: Julia Konstantinovsky '24
Student Spotlight: Julia Konstantinovsky '24
Konstantinovsky is a finalist in the 2023 Harlan Fiske Stone Moot Court Competition.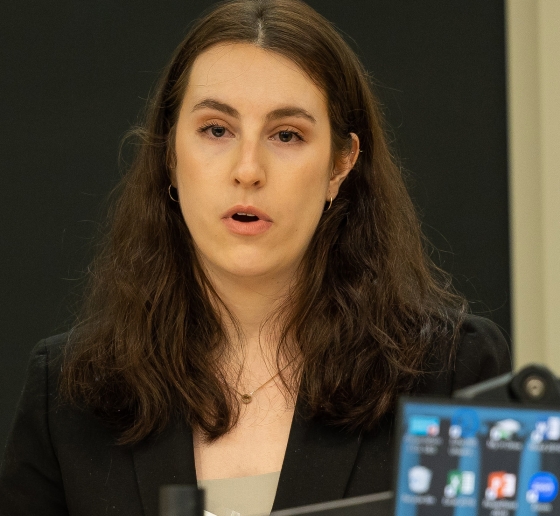 Prior to Law School, Julia Konstantinovsky '24 worked at Google, where she co-founded a diversity, equity, and inclusion committee within her department. Now, she is the only 2L finalist in the Harlan Fiske Stone Moot Court Competition. With finals on the horizon (as of March 2023), Konstantinovsky talks about her experience at Google, motivations for attending law school, and what she hopes to do next.
Hometown: Los Angeles 
Education: B.A. in political science, University of California, Berkeley
Before Columbia Law: Spent three years as a legal assistant at Google
At Columbia Law: Columbia Journal of Gender and Law submissions editor, Immigrants' Rights Clinic, Clerkships Diversity Initiative Scholar, teaching assistant to Professor Thomas P. Schmidt, First-Year Moot Court student editor and teaching fellow, First Generation Professionals
Career Goals: Summer (2023) associate at Munger, Tolles & Olson; future litigator
Tell us about your work at Google, including the DEI committee you co-founded.
I knew I wanted to get some work experience before law school, and I wanted to be doing projects that were meaningful. That's exactly what I got to do at Google. I worked on DEI pipeline and talent development for groups that are underrepresented in STEM or tech fields. I would help with contracting the programs, including classes at certain universities and summer programs to teach folks how to code.
The committee was formed during summer of 2020 after the start of the pandemic and the murder of George Floyd. My colleague and I were hearing that certain DEI efforts were not doing enough, and we decided we could do something about that. We developed management accountability schemes [and] planned monthly events for our entire team to discuss certain issues as a group. A big part of DEI is having empathy for one another, and those conversations were geared toward building empathy and community. 
Why did you choose to pursue the law?
I took a high school class where the teacher did a whole unit on the U.S. Supreme Court. I found that incredibly interesting, and the law seems like a great vehicle to make some change in society. I was also coming into my own understanding of the problems we face. My parents are from Ukraine, which at the time was part of the Soviet Union. They experienced a lot of discrimination and fled to Israel, where I was born. We moved to the United States when I was a baby. Watching them navigate an entirely new system—learning a new language and how to make their way in another country—I understood the difficulties of that, even as a child. I also grew up with a younger sister who has certain learning disabilities, and that gave me insight into the importance of advocacy.
Which Columbia Law professors have been particularly influential to you?
I have really enjoyed working with my clinical professor, Elora Mukherjee [director of the Immigrants' Rights Clinic]. She is a fantastic person to learn from. She's so knowledgeable and demonstrates the power of strong advocacy in a lot of different ways. 
What kind of work have you done in that clinic? 
I have an individual asylum case I work on with a clinic partner. Professor Mukherjee is also involved in litigation over the Irwin County Detention Center, a former U.S. Immigration and Customs Enforcement facility in Georgia that severely mistreated the women staying there, and I've contributed to that work. We also went out to the current mega shelter [for migrants] in Red Hook [in Brooklyn, New York] to interview people and learn more about the situation there. 
What made you want to sign up for the Harlan Fiske Stone Moot Court Competition?
I remember as an admitted student watching the Stone finals on Zoom. I thought it was amazing but didn't think I could ever do it. Then, I really enjoyed the Foundation Moot Court my first year, so I thought, "What the heck? Let me just throw my brief into the ring, and we'll see how it goes." 
What do you think your strengths are in the competition? 
I'm actually really shy, so public speaking is difficult for me. I enjoy the brief-writing process. That feels a lot more comfortable because I've always enjoyed writing and research. The oral argument was a harder challenge, but I learned a lot from hearing the judges' feedback over and over again and practicing with my partner. 
This interview has been edited and condensed.