Sparsha Janardhan '21 LL.M. Awarded Jagdish Bhagwati Fellowship
Sparsha Janardhan '21 LL.M. Awarded Jagdish Bhagwati Fellowship
The fellowship sponsored by the government of India honors University Professor Jagdish Bhagwati, the influential trade theorist.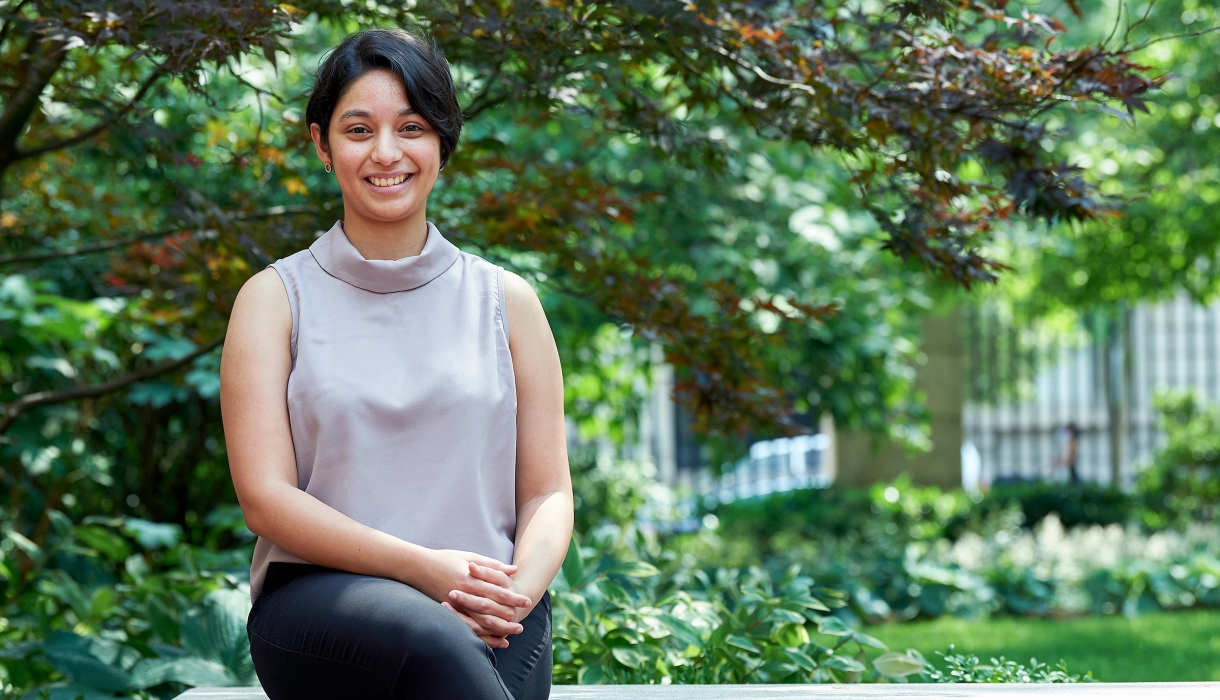 Sparsha Janardhan '21 LL.M. chose agricultural trade as her specialty long before COVID-19 temporarily halted the worldwide flow of goods, and the disruption caused by the pandemic has only reinforced to her the importance of her area of expertise. 
Agricultural policy is a critical issue in India. The nation has been negotiating at the World Trade Organization (WTO) to continue support for farm prices intended to ensure its food supply, but some WTO members want India to cut farm subsidies. New laws the Indian government passed last year, intended to liberalize agricultural trade, have been controversial with Indian farmers. 
"Agriculture was a thorny and important issue before, and the pandemic has just exacerbated that and made it even more important to find a resolution," Janardhan says.
Janardhan has worked on trade talks and WTO disputes as a lawyer for the Indian government's Centre for Trade and Investment Law (CTIL). Now, as a 2020–2021 Jagdish Bhagwati Fellow, Janardhan is studying the law, politics and history of U.S. trade policy, international trade law, and international investment law and arbitration. The fellowship, underwritten by the Indian government, supports graduate students specializing in international trade, trade law, public interest, and human rights. It honors University Professor Jagdish Bhagwati, the influential trade economist. 
Janardhan began her LL.M. year in January 2021, when she was able to be in residence on campus in Morningside Heights. "One advantage, I think, of being here in the U.S. and at Columbia is the opportunity to understand different perspectives to international trade law." 
"The most surprising thing has been how everyone has been so enthusiastic, despite having half of our classes on Zoom and having Zoom fatigue," she says. "The professors are really going out of their way to make it as fruitful for us as possible. That keeps me motivated." Still, she says she's looking forward to attending most classes in person in her second semester.
Her interest in food supply and agriculture doesn't mean Janardhan spends her free time visiting New York's reopening restaurants. Instead, she crisscrosses the city thanks to her habit of daily walks and runs. "I've done half of Central Park and I want to do the rest," she says. "It helps me clear my mind and makes me more relaxed. I enjoy it."
After graduating from the National Law University in Jodhpur, India, Janardhan worked on customs issues and tax law at a law firm in Bangalore, India. That experience "gave me a little bit of insight into how the private sector approaches trade issues," she says. 
She then moved to CTIL, which she describes as "very challenging" and "a lot of work, which I completely enjoyed doing." Janardhan has participated in trade negotiations between India and other countries. Her research has focused on how developing countries can effectively design their domestic support policies under the WTO agriculture agreement and on the "special and differential treatment" provisions of the WTO for developing nations. 
"As of now, the WTO rules don't have that much flexibility for certain countries to provide more support to their farmers. India and other developing countries have been pushing for reform at the WTO in order to ensure that food security objectives can be met," Janardhan says.
Working on WTO and trade issues is complex and technical, but that is what Janardhan finds engaging. "There's also a lot of room for interpretation. My experience has really shown me that most legal provisions can be interpreted in two or three different ways. And that's a really interesting thing to be doing." 
Moving into public service at CTIL has been "the best thing that has happened to me," she says. "Working in this field has really exposed me to the deep impact WTO law has on domestic policy. I want to use this fellowship to work with developing countries to aid them in formulating trade policy in a beneficial manner."