Meet Jagdish Bhagwati Fellow Devranjan Mishra '21 LL.M.
Meet Jagdish Bhagwati Fellow Devranjan Mishra '21 LL.M.
The Law School's Jagdish Bhagwati Fellowship, underwritten by the Indian government, supports graduate students specializing in international trade, trade law, public interest, and human rights. 2020–2021 recipient Mishra is devoting his year at Columbia Law to developing his expertise in multilateral trade treaties and international trade dispute settlement.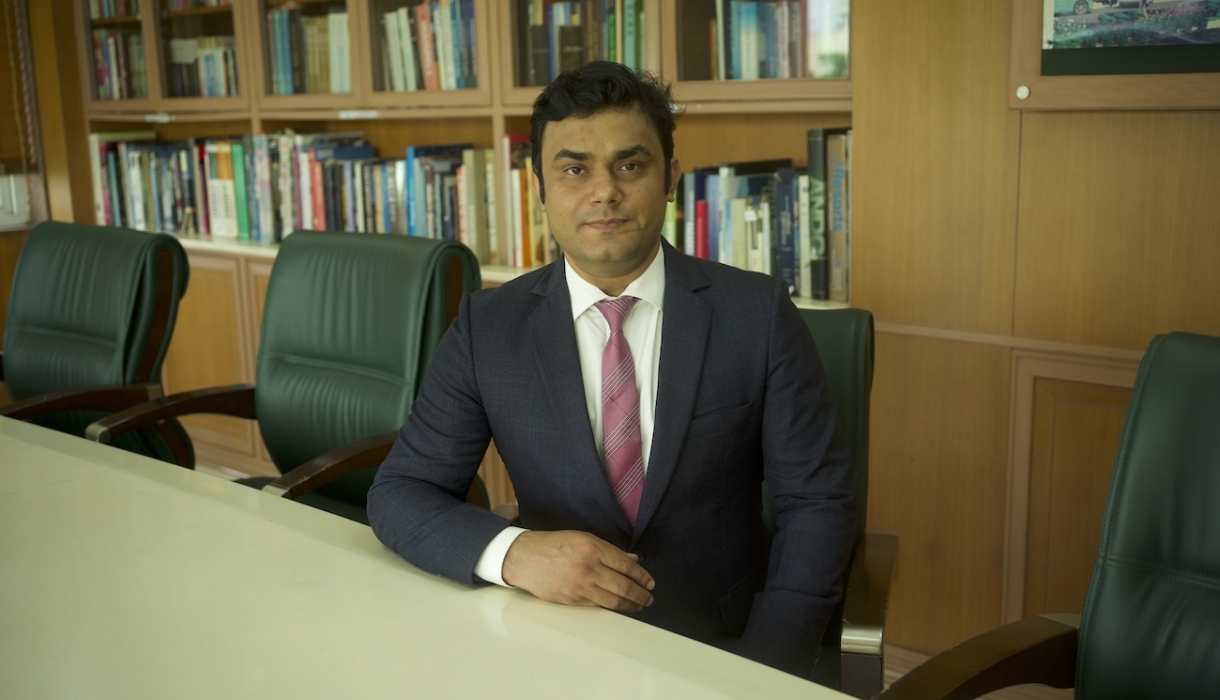 As a student at the National Law School of India University in Bangalore, Devranjan Mishra '21 LL.M. took several courses in international law and participated in international negotiation and moot court competitions. "I began to realize the centrality of international trade and its regulation to the modern economy," he says. So after graduating with his law degree in 2010, he took and passed the highly selective Indian Civil Service Examination and was appointed an assistant commissioner in the Indian Revenue Service (IRS), which is involved with the formulation and implementation of Indian tax and foreign trade policy. 
"I have gained experience at the IRS as an administrator, lawyer, policymaker, and investigative officer," says Mishra. "Through these roles, I became aware of the immense transformative power of law."
Mishra wanted to attend Columbia to gain expertise in international trade dispute settlement and multilateral trade treaties and to study with University Professor Jagdish Bhagwati, an economist and renowned trade theorist, and Petros Mavroidis, the Edwin B. Parker Professor of Foreign & Comparative Law, who has been a legal adviser to the World Trade Organization since 1996.
Mishra had been looking forward to living in New York City, but because of the COVID-19 pandemic, the U.S. consulates in India did not begin accepting visa applications until August, so Mishra decided to begin the program in September from Nagpur as he awaits his visa. He plans to move to New York as soon as he can. "I'm very excited to arrive there," he says. 
Despite studying remotely, Mishra has found a community with the international cohort of lawyers in the LL.M. program and reports that Mavroidis's class, Law of the World Trade Organization, has surpassed his expectations. "The course is phenomenal. The professor is outstandingly warm and a treasure trove of knowledge," says Mishra. "The fact that the professor is situated in Switzerland and all the students spread the world over makes it just the perfect setting to discuss international trade."
Nagpur is 9.5 hours ahead of New York, but even that provided unexpected benefits. "It presents a slight difficulty with the evening classes, but in general, it allows me to have a normal day life in India," he says. "And the time difference gives me more hours to meet any deadline!"
"The fact that the professor is situated in Switzerland and all the students spread the world over makes it just the perfect setting to discuss international trade."
In addition to classes, Mishra has participated by Zoom in Columbia Law mindfulness seminars, virtual yoga sessions, wine tastings, and startup accelerators. "I am in the process of joining student groups," he says. "And I have been able to make friends with many people from across the world in the short time I have been at Columbia already. I further look forward to meeting them as soon as we all move to the campus."
After he completes his LL.M. degree, Mishra plans to return to the IRS, where he thinks he can play an important role in advancing the Indian economy. "In a country like India—which seeks to unshackle millions from the claws of poverty and want through development—proper use of policymaking tools and rule-based implementation of programs remain the foremost modes of bringing about societal change," he says. "I wish to be an agent of such change."