Reunion 2023: A Weekend to Reconnect and Recharge
Reunion 2023: A Weekend to Reconnect and Recharge
Alumni returned to campus to celebrate, reminisce, and engage with current issues in law.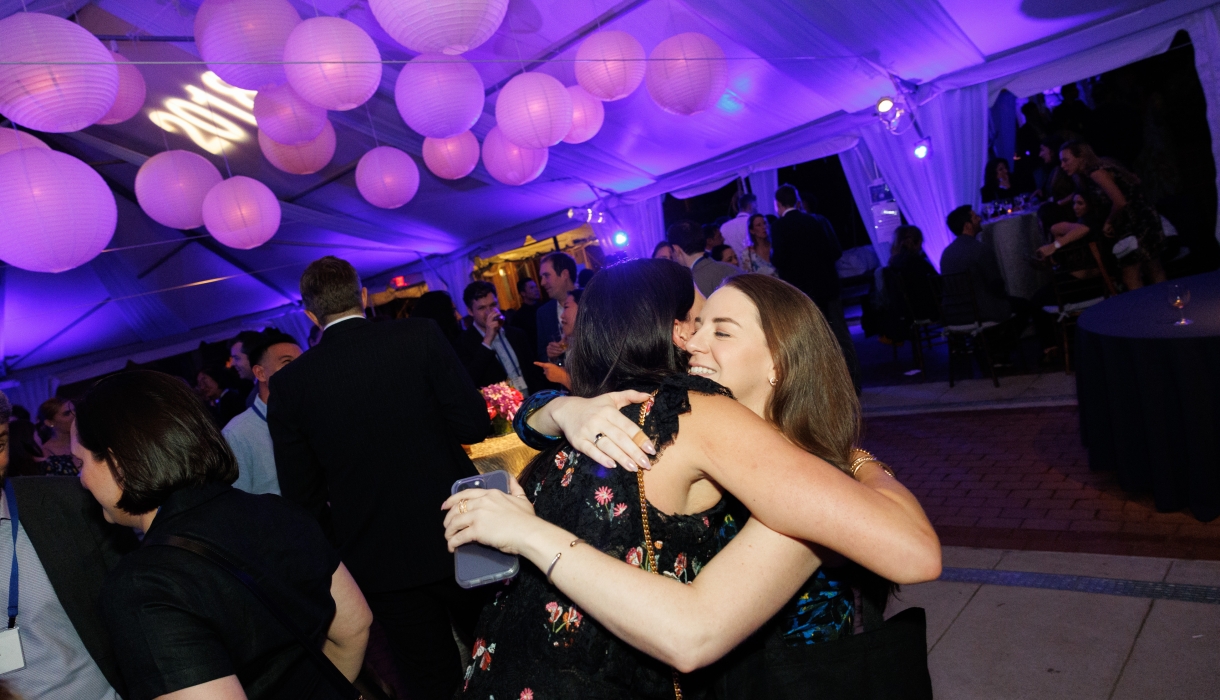 Kicking off with an all-class reception at Cipriani 42nd Street, Reunion 2023 brought together nearly 1,000 alumni and their guests from 38 countries for a weekend filled with festivities from June 9-10. 
Over two days, alumni celebrated at a robust schedule of events that included affinity group afterparties, discussion panels, and festive meals.
A highlight of the weekend was a conversation between Gillian Lester, Dean and Lucy G. Moses Professor of Law, and former U.S. Attorney Preet Bharara '93. Welcoming alumni to the event, Dean Lester remarked that she was, "so delighted that we're all here together to do the thing we love the most, which is knitting our community together in such indelible ways."
She also praised celebrants for their generosity and announced that reunion giving had achieved a fundraising record. As of July 7, giving from members of class years ending in 3 and 8 had reached $22.9 million (and still counting). Competition was fierce for highest overall giving by a class, with the Class of 1988 at $6.8 million and the Class of 1983 a "hair's breadth" away at $6.3 million, with fundraising continuing. The Class of 1973, celebrating its 50th reunion, achieved the highest percentage of donors. 
Bharara served as the top prosecutor for the Southern District of New York from 2009 to 2017, becoming nationally known for his prosecutions of official corruption and insider trading until he was famously fired by incoming President Donald Trump. The author of Doing Justice: A Prosecutor's Thoughts on Crime, Punishment and the Rule of Law, Bharara now practices law at WilmerHale, as well as teaching and podcasting. Speaking with Dean Lester, he said the task of preparing lawyers for the future goes beyond teaching doctrine. 
"It is great and necessary and important and foundational for people coming to law school to learn doctrine," Bharara said. "[But of] the hardest questions I had to deal with and the most difficult decisions I had to make, none of those were answerable based on the wording of a statute or the perspicacious reading of an opinion. Because the answer was not clear. And what really matters in life, to go from being just decent and competent to excellent and great and doing something important, is discretion and judgment."
Bharara said his time at Columbia included serving on the Law Review and devotedly attending trial practice class taught by Michael Mukasey, later U.S. Attorney General under President George W. Bush. Now, giving graduation speeches—as he did at the Law School in 2013—is a high point, he said. 
"The most optimistic I feel is when I'm standing in front of 300 or 400 or 500 freshly minted J.D.s," Bharara said. "If they understand the power of the degree they have, and they understand the problems that we face, they can do a better job than maybe some of their forebears did. And there's no limit to what they can do.
More law students are seeking degrees to "help change the world for the better. 'Make my community better, make my country better,'" Bharara said. "They're coming because they have a passion for democracy, the rule of law and lifting up people. … I don't presume to tell them how and why to do it. If they have a degree from this place, and their heart is in the right place, their mind is in the right place, they know what to do."
Other Reunion 2023 events included a CLE panel on recent trends in white collar prosecutions led by John C. Coffee Jr., Adolf A. Berle Professor of Law in discussion with Deirdre McEvoy-Cappock '98, Gary P. Naftalis '67, and Adjunct Professor of Law Judge Jed S. Rakoff of the U.S. District Court for the Southern District of New York. The panel covered the current increase in antitrust enforcement and the incursion of AI into the judicial process. 
In a second panel, "Perspectives on Negotiation," Clinical Professor of Law Alexandra Carter '03 discussed negotiating climate change and fair labor practice agreements with Daniel F. Feldman '93, partner and co-chair, Environmental, Social, and Governance Practice, Covington & Burling and a former diplomat in the Clinton, Obama, and Biden administrations. 
Updated September 17, 2023.
See photos (below) and videos from Reunion 2023: