'Notorious RBG' Exhibition Opens at New-York Historical Society
'Notorious RBG' Exhibition Opens at New-York Historical Society
To kick off the blockbuster show celebrating the life and legacy of Ruth Bader Ginsburg '59, Dean Gillian Lester moderated a panel discussion featuring Weil partners Ira Millstein '49 and Zack Tripp '05.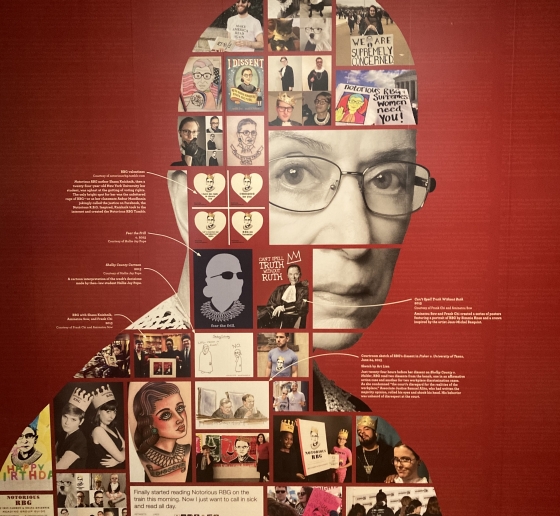 Even if you think you know everything worth knowing about Ruth Bader Ginsburg '59, you are bound to learn something new by visiting the blockbuster exhibition Notorious RBG: The Life and Times of Ruth Bader Ginsburg at the New-York Historical Society  (NYHS) through January 23, 2022. 
You will learn that the Supreme Court justice, Columbia Law School professor, and alumna studied literature with Vladimir Nabokov as an undergraduate at Cornell and credited him with teaching her "to think carefully about where each word should go." You will learn that as the youngest child at her family's Passover seder, she enjoyed asking the Four Questions and spending "the whole rest of the evening" providing the answers. You will learn that it was Justice Sandra Day O'Connor who suggested that Ginsburg wear gloves because she was immunocompromised while undergoing chemotherapy for colon cancer in 1999. "So, I wore gloves, and liked them so much, I decided to keep wearing them," said Ginsburg, according to the exhibit label above one of her trademark fishnet gloves that's on display.
You will also see familiar items: her judicial robe and a jabot she wore with it, the oil painting of her by Everett Raymond Kinstler from the National Portrait Gallery, a photo of Ginsburg and her Supreme Court colleague Antonin Scalia riding an elephant together in India. There are surprises, too, like the whisk belonging to her husband, Marty Ginsburg (the cook in the family), and one of the scrunchies she used to pull back her hair. 
Organized by the Skirball Cultural Center in Los Angeles while Ginsburg was still alive, the traveling exhibition has been updated and augmented by curators at the NYHS. They have added material that focuses on the ways the public mourned her death last fall and on her life in New York City, where she was born and lived until she became a judge on the U.S. Court of Appeals for the D.C. Circuit, in 1980. Other representations of her New York connections include a photo from the 2018 naturalization ceremony she conducted for 201 new citizens at NYHS.
During a preview of Notorious RBG on September 30, Ira M. Millstein '49, a lifelong friend of the Ginsburgs and founder of Columbia Law's Ira M. Millstein Center for Global Markets and Corporate Ownership, waxed rhapsodic about her. He offered insights into Ginsburg's personal and professional lives in a panel discussion that Gillian Lester, Dean and Lucy G. Moses Professor of Law, moderated and that also included NYHS curator Anna K. Danziger Halperin and Weil, Gotshal & Manges partner Zack Tripp '05, who clerked for Ginsburg on the Supreme Court. The late justice's daughter, Jane C. Ginsburg, Morton L. Janklow Professor of Literary and Artistic Property Law at Columbia Law School, also reminisced about her mother at the beginning of the program.
Millstein became friends with the Ginsburgs in 1958 when Marty Ginsburg, a tax lawyer, joined Weil. The firm is the lead sponsor of the exhibition and hosted the virtual event. "[Ruth] was shy, she was quiet, she was reserved, she was extraordinarily beautiful," said Millstein. "It was beautiful to be with her and beautiful to watch her in action." Millstein also emphasized that despite Ginsburg's stellar intellect, her success as a lawyer and judge was heroic because of the roadblocks she faced as a Jew and a woman in her profession. "She had the hard knocks of growing up in a highly discriminatory atmosphere, and that shaped her, and she overcame it all," he said.
Millstein, who makes an appearance in the NYHS exhibition via a video of him testifying at her Supreme Court confirmation hearing before the Senate Judiciary Committee in 1993, explained during the webinar why he was asked to testify. After President Bill Clinton nominated her to the Supreme Court, Marty heard grumblings that members of the committee considered Ruth a militant feminist and would block her appointment. So Marty asked Millstein, who was acquainted with conservative Utah Sen. Orrin Hatch, the ranking Republican on the committee, to set up a one-on-one meeting so Hatch could get to know Ruth. 
"I said, 'Orrin, you have to meet her. She's not a flaming liberal. She happens to be a very brilliant lawyer who happens to call shots the way they are. And we should all be proud that she's been nominated, not because she's a woman but because she's an outstanding lawyer who happens to be a woman,'" recalled Millstein during the panel. The secret meeting was a success, and Hatch enthusiastically endorsed her.
At the end of the program, Dean Lester asked the panelists what advice they thought Ginsburg might offer today to young people as well as to lawyers and non-lawyers. Tripp cited the sign above the door of Ginsburg's office quoting the Torah that read, "Justice, justice, thou shalt pursue." Danziger Halperin suggested Ginsburg might say, "Work hard for things that you believe in, and don't be afraid to take charge. . . . Follow your instincts, and do what you believe. But also pick your battles, and don't burn your bridges."
Millstein said, "She would tell everybody to listen, that it's important to hear what the other guy has to say. . . . See if there is some common ground between you."