Judge Ketanji Brown Jackson and Erika E. Vera Livas '16 Honored at 2021 Constance Baker Motley Gala
Judge Ketanji Brown Jackson and Erika E. Vera Livas '16 Honored at 2021 Constance Baker Motley Gala
Cultivating Resilience: From Uncertainty to Revolution served as the theme for the sixth annual event hosted by Empowering Women of Color.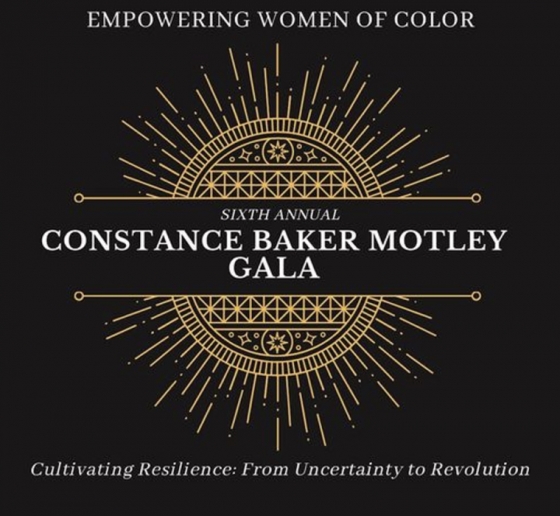 On March 12, more than 120 members of Empowering Women of Color (EWOC), the intersectional Columbia Law School student group now celebrating its 11th year, gathered on Zoom for its annual Constance Baker Motley Gala. This year's theme, "Cultivating Resilience: From Uncertainty to Revolution," recognized the challenges women of color have faced during the pandemic and will continue to face going forward. "From being angry to sad to frustrated to relieved to feeling grief, last year left many of us feeling a bit directionless and uncertain of our future paths," the organizers wrote. 
That theme—and the spirit driving it—was integrated throughout the program, in the inspirational speeches by the honorees, a moving performance by spoken word poet and artist Kelly Tsai, and the messages of encouragement and congratulations that streamed in over chat all evening.
Erika E. Vera Livas '16, supervising attorney at The Door, a nonprofit that provides services to young people in New York City, received the Young Alumni Award, the first presentation of the evening.
In her introduction, Elora Mukherjee, Jerome L. Greene Clinical Professor of Law, recalled how Vera Livas went above and beyond as a member of the Immigrants' Rights Clinic. In 2016, she was part of a team that spent a week at a detention center in Dilley, Texas, working 12-hour days on behalf of asylum-seeking mothers and their children. "For most clinic students, that would have been enough for an entire semester," said Mukherjee. "But when Erica got back to campus, she worked extremely diligently on behalf of an asylum-seeking mother and child from Honduras. . . . Eventually, her work led to [the] mother and child being granted asylum in the United States." 
As part of The Door's removal defense team, Vera Livas is heading up a new project to provide representation to unaccompanied children at risk of being deported. "These are among the most vulnerable children in the system," said Mukherjee. "She helps these kids and teenagers seek asylum, special immigrant juvenile status, visas for trafficking victims and crime victims. . . . And I can't think of a more deserving honoree of the Young Alumni Award."
As a child, Vera Livas immigrated from Mexico and witnessed the challenges immigrants face in the United States. Her decision to come to Columbia Law, for example, was inspired in part by connecting with a member of EWOC when she toured the school. "Finding community is something that's immensely important to me because I've been a bit of a nomad my entire life," she said. 
Vera Livas also spoke about the challenges women of color encounter, which have been exacerbated over the past year. "Many of us are very aware of the social, economic, and political factors that preceded this pandemic and have caused people of color and, more specifically, women of color to bear the brunt of the pandemic's effects," she said. "As women of color, we're often tasked with creating space for ourselves in places where our presence isn't reflected and where our advancement is uncertain." She finished her speech by encouraging the audience to do two things: "Fight the impulse and the belief that you're not good enough. . . . [And] reach out to others and give them that push. . . . It takes someone like you, like me, to see ourselves and encourage ourselves." 
Ketanji Brown Jackson, who was recently nominated by President Joe Biden to the U.S. Court of Appeals for the District of Columbia Circuit, was presented with the Constance Baker Motley Award, which honors an attorney who is a woman of color, who demonstrates a commitment to creating pathways for lawyers who are women of color, and who has a legacy of giving back to the community. (In a nice twist of fate, Jackson and Baker Motley also share a birthday.) In 2009, President Barack Obama appointed Jackson to serve as vice chair and commissioner on the U.S. Sentencing Commission, and in 2013, she was confirmed as a U.S. District Judge for the District of Columbia. Jackson is a member of the Judicial Conference Committee on Defender Services, the Board of Overseers of Harvard University, and the Council of the American Law Institute. 
In her address, Jackson reflected on how Motley made her own path possible. "I'm especially thrilled to receive this award in her name because one of my professional goals has been to try to inspire young women, young women lawyers, and lawyers of color, just as Judge Motley and other brilliant Black female jurists have inspired me," she said. "I often reflect upon the fact that my professional journey really has been smooth sailing compared to the challenges that Judge Motley faced and the obstacles that she had to overcome in order to do the job that we have both been blessed to have.
"The good news for all of you is that you, too, are an inheritor of the same legacy of strength and hope and perseverance," she continued. "There are many obstacles still for people of color in this country and in this society today. But it should be at least somewhat encouraging to know, based on our history, that change does happen and that even the most dire circumstances can be overcome." 
Jackson then urged the audience to take up the mantle of Motley and others and to do "the work that is necessary to protect the rule of law and to promote equality and justice for all." To do so, she advised law students and those just starting their careers to make the most of this moment in their legal journeys. "This is the time to learn to try new things, to make mistakes, and to grow. . . . Legal analysis and the practice of law is nuanced. It's difficult to master this craft, but good mentors can help, so you should strive to find them," she said. And Jackson had one final piece of advice: "The key to success in this business, or any other business for that matter, is believing in yourself and your own ability to do good work, no matter what others might think or say."
EWOC President Sera Idoko '22 ended the evening by reflecting on a tumultuous year and how it has affected and strengthened the community. "We have lived through more major events in the past year than many of us could have imagined or would have liked to," she said. "But even when we couldn't predict what would come next, we knew we could lean on and learn from each other and that within ourselves we are resilient enough to handle whatever came our way. This year is a testament to the resiliency that women of color [have] showed time and time again." 
About Constance Baker Motley '46
Constance Baker Motley '46 was one of the first Black women to graduate from Columbia Law, the first woman president of the Borough of Manhattan, and the first Black woman to be appointed to the federal bench. Prior to her judicial service, Motley was a member of the NAACP Legal Defense and Educational Fund team that litigated the civil rights cases decided in the U.S. Supreme Court's landmark desegregation decision in Brown v. Board of Education. The Constance Baker Motley Gala is held "to recognize the accomplishments of other amazing women of color that come after her. Motley embodies the very idea of being resilient as one navigates . . . an uncertain path to become a revered historical and revolutionary figure."