Former U.S. Attorney General Loretta Lynch Honored at Constance Baker Motley Gala
Former U.S. Attorney General Loretta Lynch Honored at Constance Baker Motley Gala
The event marked the 10th anniversary of the founding of the intersectional student group Empowering Women of Color.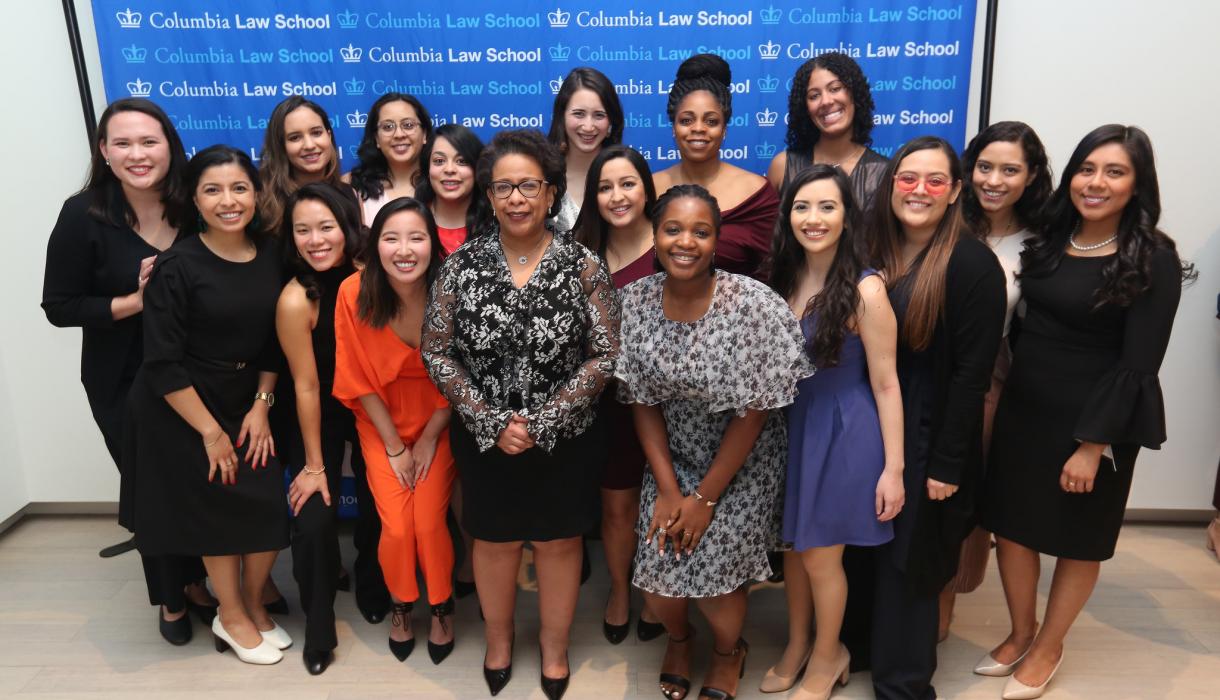 More than 100 current and former members of Empowering Women of Color (EWOC), the intersectional Columbia Law School student group, gathered on February 21 for the annual  Constance Baker Motley Gala, which was held at Columbia University's new Lenfest Center for the Arts. The event's theme—"Lifting As We Climb"—was exemplified in the soaring speeches given by Constance Baker Motley Award winner Loretta Lynch, Young Alumna Award honoree Keerthana Nimmala '16, EWOC co-founder Adelle Fontanet '12, and Dean of Students Yadira Ramos-Herbert.
Motley, Class of 1946, was the first African-American woman appointed to the federal bench. Prior to her judicial service, Motley was a member of the NAACP Legal Defense and Educational Fund team (along with Jack Greenberg '48 and Thurgood Marshall) that litigated the civil rights cases decided in the U.S. Supreme Court's landmark desegregation decision in Brown v. Board of Education. 
"Thank you for giving me an award in the name of one of my heroes," Lynch said in her acceptance speech. Now a partner at Paul, Weiss, Rifkind, Wharton & Garrison, Lynch previously served as U.S. Attorney General under President Barack Obama from 2015 to 2017 and as the U.S. Attorney for the Eastern District of New York from 1999 to 2001 and 2010 to 2015.
When Lynch took the Eastern District job in Brooklyn for the first time, Motley was serving across the river in Manhattan as a judge in the Southern District of New York. She asked Lynch to tea with all the women judges in the Southern District. "They invited me into their community of women who were holding up the rule of law," she said. "We talked freely, openly about the challenges that women, especially women of color, face in the law and law enforcement . . . And they were supportive of each other. They were supportive of me. It was literally one of the warmest and most welcoming things anyone's ever done for me. And I still think of it often. That was Constance Baker Motley."
Motley was a role model who never rested on her laurels, Lynch said. During her career at the NAACP, Motley argued 10 cases before the Supreme Court and won nine of them, including the ruling that allowed James Meredith to become the first student of color to attend the University of Mississippi. (Meredith would go on to earn a degree from Columbia Law School in 1968.) Motley later became the first African-American woman to serve in the New York State Senate, to be elected the Manhattan borough president, and to serve as a chief judge on a district court. 
"She knew that the journey towards equality does not end with the title that is granted, with the position that's gained, with the school admission that's achieved," said Lynch.  "She knew that the fight for equality is an ongoing thing. . . . Winning the case is just the beginning. Then you have to make the promise of the law real. And that's what [Motley] did."
Lynch suggested to the audience that they should draw strength from Motley, who encountered racism at every stage of her career. "There are people who look at us and cannot conceive of our place in the world, and yet we are here," she said. "Don't ever mute your voices just because [others] refuse to listen. We can never stop speaking because they don't want to hear."
The Next Generation

Young women of color, Lynch reminded her audience, have a special role in pushing society forward. "[They've] always been the activists. They've always been the rabble-rousers," she said. "We have the power in all of us. And combined, we are unbreakable, unstoppable, unbeatable."
The evening's Young Alumna Award recipient, Keerthana Nimmala '16, is one of those women. As a Columbia Law student, she was a member of the Human Rights Clinic and an articles editor of the Columbia Human Rights Law Review. She is currently an immigration staff attorney on the Youth and Communities Team of Brooklyn Defender Services. In her acceptance speech, she told students to maintain their EWOC connections as they progress in their careers. 
"We're the ones telling each other things that no one else will tell us [and] because of this, I would recommend using your CLS network to find work at places that do lift women of color up," she said. "Working with other women of color teaches you how to advocate for yourself and others. How to use your power is tantamount to lifting as we climb."
The Evolution of EWOC

Fontanet, an EWOC co-founder and associate director for the Tribal Justice Exchange at the Center for Court Innovation, also delivered an emotional speech commemorating the student group's 10th anniversary. "This is such a beautiful, wonderful group of individuals, and to see how the organization has grown is flabbergasting," said Fontanet. EWOC, she explained, came together organically as women of color discussed after classes how they saw many cases differently than other student populations. They studied together, preparing arguments in order to offer another perspective during class discussions. Their goal was to teach "fundamental concepts about humanity, racism, oppression, and history to our classmates," she said.
Fontanet recalled that when EWOC submitted a seven-page brief to the Student Senate asking to become an official student organization, they were asked to explain what made its mission distinct from those of the Black Law Students Association, the Latinx Law Students Association, the Asian Pacific American Law Students Association, and the Columbia Law School Women's Association. EWOC members, they replied, are "intersectional human beings." 
Ramos-Herbert said that as a woman of color, she shares the same concerns and challenges as EWOC members. "So stay together," she exhorted them. "Rely on each other. Trust each other. Together, we will shape the face of our culture and shape the face of our profession."