Joshua Simmons '10: An Intellectual Property Superhero
Joshua Simmons '10: An Intellectual Property Superhero
A partner at Kirkland & Ellis and IP lawyer with name-brand clients, Simmons was recently awarded the Judge Deborah A. Batts Award for Queer Visibility by the Columbia OutLaws and Queer and Trans People of Color student groups at their annual gala.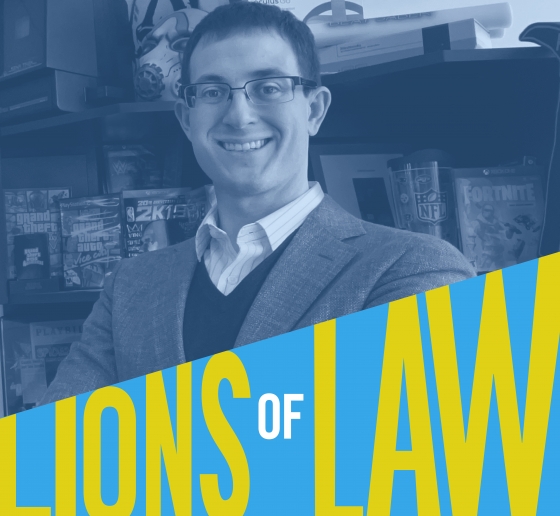 Intellectual property for Joshua Simmons '10 is serious business—and fun and games. On the credenza of his midtown Manhattan office, with its sweeping views of Brooklyn and Queens, he keeps an antique pack of Lawson's Patent Game, Base Ball With Cards, the earliest known baseball card game ever produced, patented in 1884. On the bookshelves, he has mementos from some of his cases, including an NFL mug, circuitry of a Motorola radio, and Take-Two Interactive video games. On the sofa, he has pillows made with the exuberant Chiang Mai Dragon fabric from Schumacher, the interior design company whose IP portfolio he manages. On the walls, he has original drawings of Daredevil, his favorite Marvel Comics superhero. 
"You may not know this, but Daredevil is a Columbia Law School graduate, a blind Catholic who lives in Hell's Kitchen," he says. "Daredevil may fight crime in the streets, but his alter ego, Matt Murdoch, has litigated cases all the way to the Supreme Court—often struggling with questions of the law and justice. I've collected a huge amount of Daredevil art because I think he is a fascinating character, and I love the Columbia Law School connection."
Simmons began practicing IP law in 2010, when he joined Kirkland & Ellis; he became a partner in 2016. Law 360 has named him a Top Attorney Under 40 in media and entertainment, and Chambers and Partners has included him on its list of leading copyright, trademark, and trade secret lawyers. He has litigated on behalf of clients including Fox News, Motorola Solutions, Oracle (in a Supreme Court case against Google), Thompson Reuters, the producers of the Broadway musical Spider-Man: Turn off the Dark, and the creators of the hit TV show Modern Family.
"IP is fascinating and never boring," he says. "Every case is so wildly different."
Arts and Science
Simmons's litigation practice reflects his keen interest in the arts and passion for technology. "Intellectual property is the main legal point of inflection for the two," says Simmons. At Brandeis, he minored in computer science and received a B.A. in political science. As a summer associate at Kirkland after his 2L year at Columbia, he worked on the firm's IP team, representing the Associated Press in a case against the artist Shepard Fairey's unlicensed use of an image for the iconic Barack Obama "Hope" poster. "I loved the work and the group," he says.
When he returned to the Law School for his 3L year, Simmons immersed himself in the study of IP. He was a research assistant at the Kernochan Center for Law, Media, and the Arts, working closely with Executive Director and Lecturer in Law June Besek, and for Clarisa Long, Max Mendel Shaye Professor of Intellectual Property Law, who was studying various patent issues at the time. Simmons also participated in a reading group organized by the Society for Law, Science and Technology. "Columbia was a great place to get an education on the intellectual property world," he says. "So when I came back to Kirkland, I decided to be an IP lawyer full time."
It was sheer coincidence that one of his first assignments as a full-time associate at Kirkland was representing the creators of Modern Family. Simmons had never seen the Emmy-winning sitcom whose major characters included a gay male couple. "I was very excited to watch it, but I didn't charge the client for the time!" Simmons says with a laugh. The Modern Family creators had been sued for allegedly basing elements of their show on a writer's script for a proposed TV show pilot called Loony Ben that had been circulating in Hollywood. "We won on a motion-to-dismiss brief that I helped write, and then again at the 2nd Circuit Court of Appeals and all the way up to the Supreme Court," he says. 
"I was a computer programmer, and there are not that many people who do software copyright work. It's sort of my specialty."
In addition to his media and entertainment work, Simmons takes on many tech cases. "I was a computer programmer, and there are not that many people who do software copyright work. It's sort of my specialty," he says. In 2020, he was on the legal team that won a $764 million verdict representing Motorola in a four-month trial in the U.S. District Court for the Northern District of Illinois. He was also on the legal team that won an $855 million jury verdict last year for TriZetto, a tech company serving healthcare providers. "In both cases, it was about software and what was copied out of the software. I love getting into technology and understanding it," he says.

Proud to Be an OutLaw
When Simmons was a law student applying for jobs, some students chose to omit references to involvement with LGBTQ+ organizations on their résumés. Simmons, however, included his membership in OutLaws on his. "It wasn't a foregone conclusion," he says. "But I did. I was very upfront about it." (It's since become standard practice for members of OutLaws to put the organization on their résumés, which can provide a jumping off point for discussing a hiring firm's LGBTQ+ initiatives.)
"I've never felt shy about being out at Kirkland, but that's not true for all law firms."
Before Simmons interviewed at Kirkland, a law school friend introduced him to Kirkland's affinity group coordinator. "We went to a Liza Minnelli concert in Coney Island together, so I got a good sense of their community," he says. After being offered a summer associate position, Kirkland arranged for Simmons to have dinner with the four other LGBTQ+ students the firm wanted to hire for the summer in the New York office. "I remember looking around the table and thinking, 'This feels right,' and that this group of people make me comfortable and happy," he says.
Today, Simmons serves on Kirkland's Diversity & Inclusion Committee and is coordinator of the New York Kirkland Pride affinity group, which is devoted to both internal and external engagement. The group arranges events ranging from cocktail parties for new associates to presentations from organizations like Lambda Legal and pro bono partners like the New York Civil Liberties Union. They have a partnership with the Williams Institute Moot Court, which is devoted to advocacy around sexual orientation and gender identity. "We have an LGBTQ mentoring program that is not just about you as a person but you as a lawyer," he says. "I love that Kirkland invests the time and resources to think about the next generation of lawyers, which is weird for me to say because I feel very young though I have been doing this work for more than a decade."
In Simmons's pro bono practice, he has handled IP matters for the American Theatre Wing, the Comic Book Legal Defense Fund, the Fashion Law Institute, and LGBTQ+ nonprofits such as Heritage of Pride Inc., which organizes the annual Pride parade in New York. He also has taken on several pro bono asylum cases for LGBTQ+ people. "I've won all of them—knock wood," he says.
"Representing asylum seekers," he continues, "really opens your eyes to the experience of people in other countries because you don't necessarily understand that living in Mexico as a gay person or even more so as a transgender person could wind up getting you killed. Trying to help people escape that and stay in the U.S. legally is a huge thing, and it makes you feel really good when it works out."
In April, at the annual Out in the Law Gala organized by the OutLaws and Queer and Trans People of Color student groups, he received the Judge Deborah A. Batts Award for Queer Visibility, named for the first openly gay federal judge in the United States. "It was a surprise because I don't think of myself as someone whose focus is on queer visibility, and to be recognized by my school and a club that I think of fondly, that was really quite special," he says. 
"I've never felt shy about being out at Kirkland, but that's not true for all law firms," he says. "It's something we need to continue to work on."