Defending the Planet: The Climate Refugee Crisis
Defending the Planet: The Climate Refugee Crisis
In episode five of Columbia Law School's limited podcast series—hosted by Michael B. Gerrard—University Professor Michael W. Doyle and Ama Francis, non-resident fellow at the Sabin Center for Climate Change Law, discuss what's at stake for people around the world when their homes are no longer habitable due to climate change.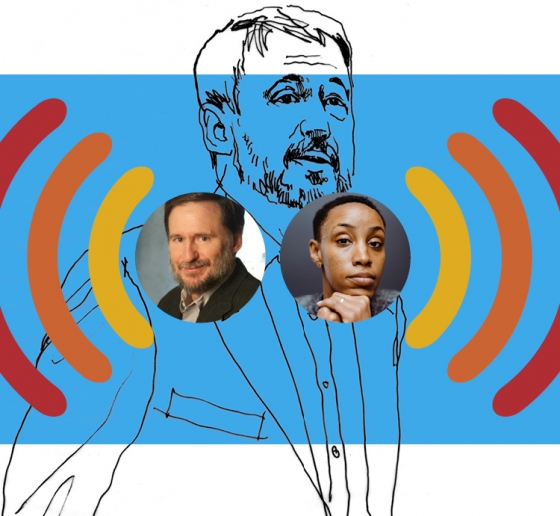 The Marshall Islands sit six feet above sea level. As oceans rise, this tiny nation-state in the Pacific Ocean is at the highest risk of being wiped off the map. Literally. Is a country still a country if it's underwater? What happens to people if their homeland is no longer habitable? Where will they go? Will they be able to transfer their citizenship? Will their passports be valid? Migration of people as a result of climate change is happening already on almost every continent, and the challenge is presenting new legal questions on a nearly constant basis. 
University Professor Michael W. Doyle and Ama Francis, non-resident fellow at the Sabin Center for Climate Change Law, delve into climate migration with host Michael B. Gerrard and discuss how existing human rights law and international cooperation can protect people fleeing the destructive forces of climate change. Download the transcript here.
Read Doyle's op-ed in Newsweek: An Economic and Humanitarian Win-Win: Using Jobs to Resettle Refugees
Stay tuned for new episodes of Defending the Planet. Subscribe on Apple, Spotify, or wherever you get your podcasts and learn more about the series. 
Meet the Experts
Michael W. Doyle is University Professor at Columbia University and specializes in international relations theory, international security, and international organizations and is senior fellow at the Carnegie Council. In 2013, he was appointed director of the Columbia Global Policy Initiative and served as a co-director of its International Migration Project until 2018. In 2015, Doyle helped develop the Model International Mobility Convention, which aims to create a holistic, rights-respecting governance regime for all aspects of international migration. Doyle has been a member of the Council on Foreign Relations since 1992. From 2006 to 2013, Doyle chaired the board of the United Nations Democracy Fund. Previously, he served as special adviser to Secretary-General Kofi Annan and as assistant secretary-general for Policy Planning at the United Nations. He was also a vice president, senior fellow, and a member and chair of the board of directors of the International Peace Institute. He is an elected fellow of the American Academy of Arts and Sciences, the American Philosophical Society, and the American Academy of Political and Social Science. His most recent books are Liberal Peace: Selected Essays (Routledge, 2011) and The Question of Intervention: John Stuart Mill and the Responsibility to Protect (Yale University Press, 2015).
"One of the striking things about climate change is it gets the attention of those who were well-off in addition to those who were much less well-off. And that makes me, as a cynical political scientist, a little bit more hopeful of change." 
—Michael W. Doyle
Ama Francis is a non-resident fellow at the Sabin Center for Climate Change Law at Columbia Law School and the Climate Displacement Project strategist at the International Refugee Assistance Project (IRAP), where they are developing its strategy, in collaboration with the Natural Resources Defense Council, to expand legal protection for climate displaced people. Francis is also a consultant to the Open Society Foundation's International Migration Initiative. Francis joined the Sabin Center in 2018 as the Climate Law fellow to develop legal solutions to internal and cross-border climate-induced migration. They served as a steering committee member of the Climigration Network, executive board member of the Climate Action Alliance, and Sabin Center representative on the Platform on Disaster Displacement Advisory Board. Francis is the author of academic and policy papers on climate displacement. They currently sit on the Executive Board of the New York Climate Action Alliance.
"While our legal structure is set up to deal with people who are fleeing political persecution or war, we don't really have the same legal architecture for dealing with people who are fleeing climate related disasters." 
—Ama Francis 
Michael B. Gerrard, Andrew Sabin Professor of Professional Practice, is the founder and faculty director of the Sabin Center for Climate Change Law. He writes and teaches courses on environmental law, climate change law, and energy regulation. He was the chair of the faculty of Columbia University's Earth Institute from 2015 to 2018. 
Before joining the Columbia Law School faculty in 2009, Gerrard practiced as the partner in charge of the New York office of Arnold & Porter Kaye Scholer, where he remains senior counsel. As an environmental lawyer, he tried cases and argued appeals in federal and state courts and administrative tribunals. Gerrard has written or edited more than a dozen books, including Global Climate Change and U.S. Law (co-edited with Jody Freeman, ABA Book Publishing, 2014), the first and leading work in its field (co-edited with Jody Freeman). He is the former chair of the American Bar Association's Section of Environment, Energy, and Resources. He also has chaired the New York State Bar Association's environmental law section. 
"If we are going to be moving millions of people, tens of millions of people, where are they going to go? This is really what I think is going to be one of the major policy and legal challenges in the decades to come." 
—Michael B. Gerrard