Columbia Law School to Advise Ukraine on International Claims and Reparations
Columbia Law School to Advise Ukraine on International Claims and Reparations
Through the new project, a team of scholars and experts will examine and propose legal frameworks for the management of international claims and reparations.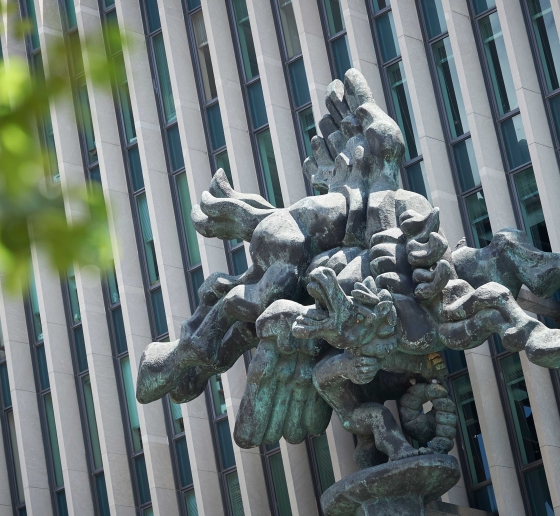 On May 18, Columbia Law School announced the establishment of the International Claims and Reparations Project (ICRP), which will examine and propose legal frameworks for the management of international claims and reparations. The government of Ukraine has invited the ICRP to offer advice on these issues in light of the principles and practices of international law. In addition, scholarship generated by the ICRP will enrich the field of public international law and make lasting contributions to the peaceful settlement of disputes.
"Columbia Law School has a long and proud tradition of leadership in the areas of transnational law, diplomacy, and international dispute resolution," said Gillian Lester, Dean and Lucy G. Moses Professor of Law. "The opportunity to contribute to the reemergence of a peaceful, prosperous Ukraine is a solemn one, one that underscores the ways in which the law directly affects the lives of individuals around the world."
The president of Ukraine appointed Patrick W. Pearsall '05 as an academic adviser on these issues. In addition to Pearsall, who will serve as the ICRP's director, five senior fellows will guide the project: Columbia Law School Professors George A. Bermann, Lori F. Damrosch, and Matthew C. Waxman, as well as Professor Chiara Giorgetti from the University of Richmond School of Law and international law expert Jeremy K. Sharpe. Dozens of international scholars acting in their personal capacities will assist the ICRP.
"Supporting the rule of law and the peaceful settlement of disputes is the work of our generation," Pearsall said. "We are humbled by the responsibility of advising the government of Ukraine on these important questions and are hopeful that the project's impact will resonate far beyond the present circumstances. We are very grateful to Columbia Law School for its leadership."
"The ICRP affords Columbia Law School a precious opportunity to help address the realities of loss in the wake of the invasion and, while doing so, to promote justice at the international level," said Bermann. "The Law School intends to involve in this work both the law faculty and a select group of students engaged in the relevant research and study."
For more information, email [email protected].