Brad Smith '84: Ambassador From the Realm of Big Tech
Brad Smith '84: Ambassador From the Realm of Big Tech
As vice chair and president of Microsoft, Smith navigates the often choppy waters "where technology and society meet." He will receive the 2022 Columbia Law Medal for Excellence on October 28.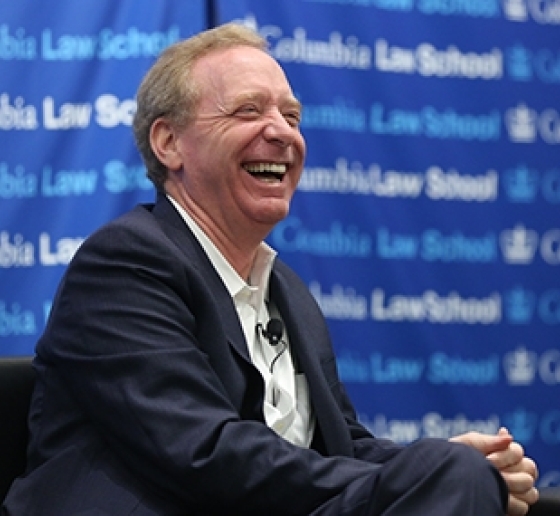 Before he agreed to start work at his first law firm job, in 1986, Brad Smith '84 told his new bosses at Covington & Burling he had to have one thing: a personal computer on his desk, not just on his secretary's. He got one.
What Smith didn't tell them was that he would immediately delete the word processing software used by the firm and instead buy and install his preferred program, Microsoft Word 1.0—a switch that was discovered by his supervising partner when Smith was on vacation and a brief he had written needed tweaking ASAP.
The partner was less than excited, but when the firm started representing Microsoft a few years later, everyone at Covington knew Brad Smith was the guy who was into computers. 
The software switch was a move characteristic of his career, Smith says. "I repeatedly pushed the edge of the envelope. But not so far as to fall off the ledge." 
Now, after nearly 30 years at Microsoft, Smith leads a 1,900-person legal, business, and corporate affairs team located across 54 countries. He has become as much diplomat as counsel: He represents the company in Washington, D.C., in the media, and around the world. He speaks on behalf of Microsoft on issues including immigration policy, climate change, human rights, and the responsible use of artificial intelligence. He met with Ukrainian officials to try to protect the embattled nation's cyberspace and combat "cyber influencing" disinformation campaigns. He's co-written a book, Tools and Weapons: The Promise and the Peril of the Digital Age (Penguin 2019), and now hosts a podcast. 
"When I got to Microsoft, I took to heart the notion that I was being given a job and an opportunity to identify new areas for creativity and innovation," he says. He tells new hires, "You get a job description that defines where your job begins. You define where it ends."
The foundation of Smith's work, however, is his Columbia Law School training. "Even if I'm supposedly acting as a diplomat or in the political sphere or just as a spokesperson, law is woven into everything," he says. "People call it law, they call it policy, they call it regulation. It always plays a role."
In turn, Smith has been a champion of Columbia Law, its students, and its faculty. This year, he and his wife, Kathy Surace-Smith '84 (who is a trustee of Columbia University), endowed the Smith Family Human Rights Clinic; they also serve as co-chairs, with Alison S. Ressler '83, of the successful five-year, $300 million Campaign for Columbia Law. In 2004, the couple created The Smith Family Opportunity Scholarship, which supports students from countries underrepresented at the Law School. And, in 2019, Microsoft funded TrialWatch, founded by the Law School's Human Rights Institute and the Clooney Foundation for Justice. 
For his achievements and his service to Columbia, the Law School will present Smith with the Medal for Excellence, its highest honor, on October 28 at Cipriani 42nd Street in New York City, along with fellow honoree Ellen V. Futter '74.
Challenging Tech's Positions 
Smith joined Microsoft in 1993 as leader of the firm's European corporate and legal affairs team during the company's decade-long battle with antitrust lawsuits. He became general counsel of the company in 2002, when he famously distilled his job pitch to one line: "It's time to make peace." In 2015, he became Microsoft's president and added the title vice chair in 2021.
"When I showed up at Columbia Law School, I thought I would become a lawyer or a politician or a diplomat," Smith says. "I have a job that really encompasses all three. . . . I have an opportunity at Microsoft to combine the breadth of an enormous range of issues with an ability to make decisions and marshal resources and use our voice and stick with it." 
Smith and Microsoft have been prominent voices in favor of government regulation for the tech sector, including antitrust investigations, limits on facial recognition software, and rewriting a law known as Section 230, which shields tech platforms from liability for content created by their users. 
Those aren't popular positions with his competitors. 
"There are people in other tech companies who would just love to persuade me to go do something else," he says. "But we feel very comfortable at Microsoft playing this role."
That's partly because "healthy markets in the world today are healthy, in part, because they have a dose of regulation," he says. Europe, for instance, has already imposed privacy regulations on Internet providers. "It's not something that needs to spell disaster for the future of technology innovation." 
"I see, in this next generation of people, individuals who are well trained to think like lawyers but also have a real sense of purpose. They want to contribute to a better world. They want to take what they've learned and find a way to apply it. And they know that they're needed." —Brad Smith '84
Another reason for speaking up: it's simply who he is. 
"I've tried always to be thoughtful," he says, "but I've tried also to be comfortable in my own skin, advocating for what I think the world—or our company, or a local community—needs." 
Debating With Mom
Speaking up for his ideas started with the delighted encouragement of his mother, Barbara, when he was growing up in Appleton, Wisconsin. "From the time I was 13, four evenings out of seven, I was having vigorous debates on one thing or another with my mother. She loved to engage in those kinds of conversations. I was the oldest of three kids, and the two younger ones would say, 'Stop it! Stop arguing with mom!' And my mother would say, 'We're not arguing! We're just having a vigorous debate,'" he says. "I was encouraged to exercise my mind and use my voice. But always to try to listen and not just talk." 
As an undergraduate at Princeton University, he met Kathy Surace, and the two came to Columbia Law together, marrying after their second year. The couple have two children: Gregory, who graduated from Columbia Law in 2021, and Julia. 
Smith's law school experience, he says, "is an 'us' story" with Surace-Smith. The two spent a year at the Geneva Graduate Institute; at Columbia Law, they took courses together with Professors Hans Smit, Willis L.M. Reese, Richard N. Gardner, and Lori F. Damrosch. The couple were so in sync that they tied for the top score on an international public law exam. "That captures something that was maybe a little bit unique about the partnership that she and I had."
Sticking to the Job 
In an industry known for star turns and flameouts, Smith is a rare example of someone who lasts: He's the longest-serving member of Microsoft's leadership. 
"You have to love what you're doing," he says of his longevity in the business. "You have to love the people you're doing it with. You have to have a sense of humor. You have to keep yourself sane. And then you have to love it so much that you want to keep doing it even when you could afford to sit around and do nothing at all."
Sitting around is not on the agenda for Smith's fourth decade leading a global technology company. 
"A.I. and quantum computing are going to advance more quickly than most people currently predict. They're going to be transformative in the world before this decade ends," he says. "There are huge opportunities and problems that we can use this technology to solve and huge risks if we fail to put the right guardrails around them. If I can contribute to this transition for the world . . . if I'm fortunate enough to be in good health and people want me to stay here, this is a decade where I hope I can have a real impact."