Ellen Futter '74: A Shining Star in New York's Cultural Firmament
Ellen Futter '74: A Shining Star in New York's Cultural Firmament
As the longtime president of the American Museum of Natural History and former president of Barnard College, Futter, one of this year's Medal for Excellence recipients, has devoted her career to expanding and burnishing the reputations of two of New York City's most prominent institutions.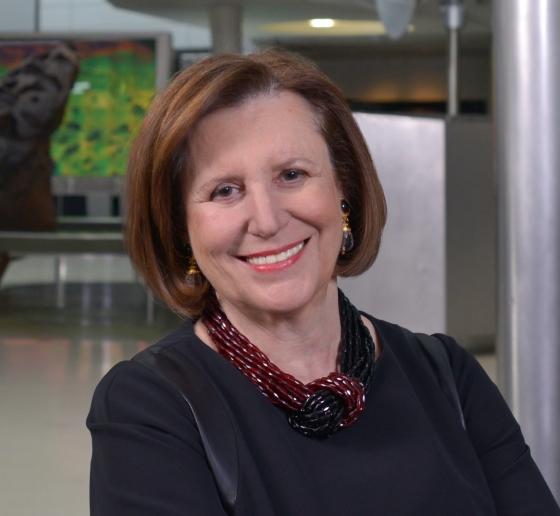 Ellen V. Futter BC '71, LAW '74 was a nontraditional choice to be Barnard College's fifth president because she wasn't an academic. Some people considered her a radical choice to head the American Museum of Natural History because she wasn't a scientist. But over the past 42 years, Futter has proved that a Columbia Law School education is ideal preparation to be an effective leader in the upper echelon of the nonprofit world.
"I think being a lawyer is really helpful with strategic planning and strategic thinking, and that's really what I love," she says. "Attending Columbia Law School was a great decision and shaped my life."
Futter—who has also served as the first woman to chair the Federal Reserve Bank of New York and on numerous corporate and nonprofit boards—will be recognized for her achievements when she and Brad Smith '84, president and vice chair of Microsoft, receive the Law School's Medal for Excellence at a luncheon on October 28.
As a Barnard student, Futter was a standout who was elected the student representative to the Barnard board of trustees as a senior. Barnard was also where Futter realized she might like to follow in the footsteps of her grandfathers, who were both lawyers, and her father, Victor Futter CC '39, LAW '42. (Her daughters, Anne and Libby Shutkin, received J.D.s from the Law School in 2008 and 2012, respectively.)
But Futter wasn't absolutely certain about law school, so she applied to two other graduate programs—English literature and American studies.
"The decision to go to law school was fueled by two things: the energy of the women's movement and recognizing that I would always love those two academic areas, but I might never have the energy to go to law school again," she says.
While a student at the Law School and afterward as an associate at Milbank, Tweed, Hadley & McCloy (now Milbank), Futter continued to serve on the Barnard board. In 1980, when she was 29, the Barnard board asked Futter to be the acting president, although she lacked the usual qualifications as a teacher and scholar.
"I was deeply knowledgeable about the college and its ethos, and we were engaged in a very significant negotiation with the university about the future relationship between the institutions," says Futter. The Barnard board was pushing back against Columbia University's attempt to absorb Barnard. "We wanted to remain an affiliated but autonomous women's college. I was seen as a good person to hold the tiller and try to move the institution forward."
The Barnard board asked Futter to stay as the permanent president, making her the youngest person at the time to be president of a major college. During her tenure, from 1980 to 1993, she ensured Barnard's ongoing independence, spearheaded the construction of a new dormitory, Sulzberger Hall, which made Barnard a fully residential college for the first time in its history, oversaw a major curriculum review, and launched Barnard's first capital campaign.
Making History Again
In 1993, The New York Times announced on its front page that Futter had been named president of the American Museum of Natural History, the first woman to head a major museum in New York. In many ways, it was a logical progression. "What most people didn't realize then—but more do now—is that the museum is also an academic institution," she says. "It always had a substantial scientific research dimension, with about 200 research scientists on site. Unlike many other museums, we also have had curators who went through a full tenure process and were often teaching in graduate programs at Columbia, Cornell, Harvard, and Yale."
The museum board and community recognized her qualifications to lead the museum even though she was not a scientist. "I think they understood I had a passion for the museum's work and could articulate it in ways that might be beneficial," she says. Some of her most visible accomplishments at the museum were overseeing the construction of the $210 million Rose Center for Earth and Space and the renovation of the Irma and Paul Milstein Family Hall of Ocean Life, one of the 19 museum galleries renovated or restored during her tenure.
"Attending Columbia Law School was a great decision and shaped my life."
Futter also takes pride in the museum's establishing, in 2006, the Richard Gilder Graduate School with a Ph.D. program in comparative biology that would further the museum's mission and become the only Phd.-granting graduate school in an American museum. "The program is unique in two ways," she explains. "First of all, it's in a museum, and what that means is students have access to the collections that include over 34 million specimens and artifacts as well as the context of a public-facing institution. Secondly, we already had the most advanced laboratories for our kind of work. In pre-COVID times, our scientists conducted more than 100 field expeditions a year, and these graduate students are participating in all of this."
In 2011, the museum also established a master's program in teaching earth science, also the first in an American museum. "We're now preparing about one-third of the earth science teachers in middle schools in New York state. Preparing and empowering science teachers is one of the most important things the museum can do," she says.
For her grand finale before stepping down as president next year, Futter will preside over the opening of the $431 million Richard Gilder Center for Science, Education, and Innovation in February 2023. The 230,000-square-foot project will have new galleries, classrooms, an insectarium, a fully renovated library, and a butterfly vivarium. And there will be the immersive Invisible Worlds Theater, which she says is about the size of a hockey rink: "It'll take you to the depths of the ocean floor, the outer reaches of the atmosphere, and inside the human brain and body—things that the naked eye cannot see. It's about the interconnectedness of life and how we all fit together."
Museum With a Mission
The museum, she says, has unparalleled authority to convey this message. "We're the only natural history museum in the world that covers the biological sciences as well as Earth and planetary sciences, astronomy and anthropology. . . . So it's really the sweet spot for us, leveraging science, the public presentation, and education for students, the general public, and teachers."
In Futter's view, the museum's responsibility to the future of the planet and society is essential. "Many, if not most, of the most important issues of our time are scientifically driven, which has certainly been underscored by the pandemic and the environment in recent years," she says. "There's an enormous need to have people understand that science is evidence-based and that a theory is not a thin concept but a proven, demonstrated one. And similarly, we want people to trust science, not be deniers, which is very dangerous.
"I think we are the institution for this moment. Look at the issues we are facing in this world," she continues. "I think we have a very special place in society in the sense that we are a trusted institution, a trusted guide through complex times and sometimes controversial issues."