Two Remarkable Alumni Receive Medals For Excellence
Two Remarkable Alumni Receive Medals For Excellence
Ellen V. Futter '74 and Brad Smith '84 are honored by Dean Gillian Lester as "empathic, smart, sensitive leaders" working to advance the public good.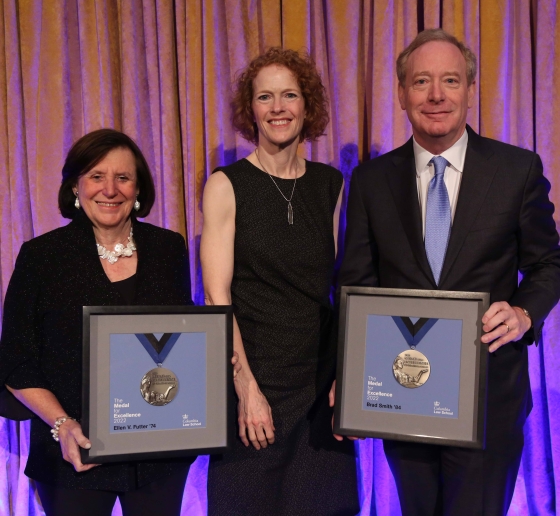 Two alumni who are longtime leaders in the public and private sphere were each honored with Columbia Law School's most prestigious award, the Medal for Excellence, at a celebratory luncheon on October 28.
Gillian Lester, Dean and Lucy G. Moses Professor of Law, awarded the medals to Ellen V. Futter BC '71, LAW '74, president of the American Museum of Natural History and former president of Barnard College, and Brad Smith '84, vice chair and president of Microsoft.
"This year, we honor two graduates who've shown tremendous skill as empathic, smart, sensitive leaders, who have demonstrated unwavering commitment to advancing the public good," Lester said. "They have stewarded core institutions, both public and private, to deepen discovery and knowledge and have used their platform as leaders to show the world how essential the advancement of knowledge—particularly scientific knowledge—is to the advancement of humanity itself." 
Lester presented the awards at Cipriani 42nd Street in New York City before an audience of 250 alumni, faculty, and friends of the Law School. Inaugurated in 1964, the Medal for Excellence is presented to alumni and faculty members who exemplify the qualities of character, intellect, and social and professional responsibility that the Law School seeks to instill in its students.
Shaping Two Storied Institutions
During her nearly three decades at the Museum of Natural History, Futter's mission has been "reinvigorating the over 150-year-old institution and expanding its scientific and educational scope," Lester said. Futter led the development of the museum's graduate program; the renovation of the Milstein Hall of Ocean Life; and the construction of the Rose Center for Earth and Space and the soon-to-open Richard Gilder Center for Science, Education, and Innovation. 
At the age of 29, Futter became the youngest major college president in the nation as the leader of Barnard College. During her tenure, she maintained Barnard's separate identity as a women's college while building stronger ties with Columbia University.  
"Mine has been an unexpected, unpredictable, and nonlinear career path," Futter said in accepting the award. Her legal training has been "critical," she said. "Analytical thinking; the capacity to marshal and interpret facts; the ability to make decisions even with incomplete information; instincts for problem solving and consensus building; clear communication; and especially integrity, good judgment, and solid values." Those skills, she added, make the law "an ideal platform and foundation for a career in almost any field and . . . affirms that a Columbia Law School education can indeed yield a rich and rewarding life in any number of different endeavors."
Futter, whose two daughters were the third generation of the family to attend Columbia Law, said that her father, Victor Futter '42, a World War II veteran and law professor, "would be, as so many of us are, utterly horrified and shocked to learn now that our very democracy and the system of justice on which it rests are under nearly unprecedented threat. 
"We lawyers, practicing or not, must be a bulwark against the winds that threaten our freedoms, which have perhaps been too much taken for granted by us all."
Harnessing Business for Good
In nearly 30 years at Microsoft, Smith has been instrumental in elevating the tech giant's industry leadership "beyond its scientific dimension to also embrace a moral dimension—a voice of conscience for Big Tech," Lester said. "He has seen the critical importance of public-private cooperation in developing sound regulation of technological development in a time when conventional legislative and administrative law processes just can't hope to keep pace with the speed of technological change and the rapidly evolving moral, cultural, security, and ethical issues it presents."
Smith has been a champion of Columbia Law, its students, and its faculty. This year, he and his wife, Kathy Surace-Smith '84 (who is a trustee of Columbia University), endowed the Smith Family Human Rights Clinic; they also serve as co-chairs, with Alison S. Ressler '83, of the successful five-year Campaign for Columbia Law. In 2004, the couple created The Smith Family Opportunity Scholarship, which supports students from countries underrepresented at the Law School. And, in 2019, Microsoft funded TrialWatch, founded by the Law School's Human Rights Institute and the Clooney Foundation for Justice. Smith also co-founded the nonprofit Kids In Need of Defense, which provides legal representation to unaccompanied immigrant children.
Nonprofit organizations are critical players in addressing society's problems, Smith said, forming a "three-legged stool" with business and government to innovate, incubate, and scale up potential solutions.
Instead of asking how much or how little government should regulate business, Smith said, the more important question is how business and government can collaborate effectively with nonprofits. "How do we harness the power of these three different legs of this stool so that we bring out the best in each other? So we each know what role we play so that we can work together to solve the great problems of our time?
"If we're going to get through the challenges to democracy in this decade, it is the time for us to step back and think about the great nonprofit community and how we all work together," he said. "This is something that we should think about more. We should talk about more. We should treasure it, we should nurture it. And then we should use it to move into the future." 
See photos from the event: