Student Spotlight: Tosin Owoka '22 LL.M. on Corporate Law and Her First Year in New York
Student Spotlight: Tosin Owoka '22 LL.M. on Corporate Law and Her First Year in New York
Owoka is leveraging her international experience and Columbia Law training in pursuit of a career in international corporate law in the United States.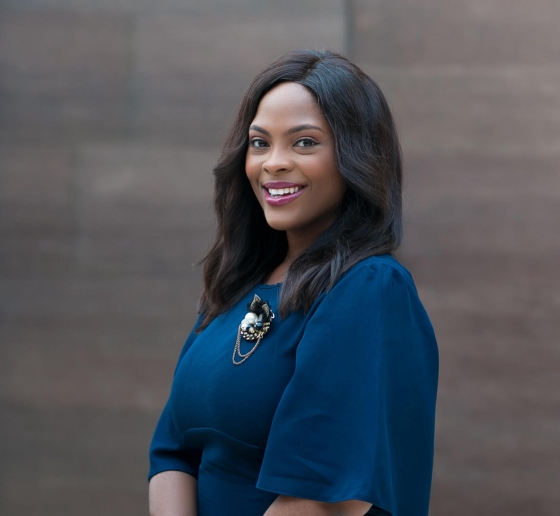 Born and raised in Nigeria, Tosin Owoka '22 LL.M. stands out in a family of entrepreneurs: "I am the only lawyer," she says. But her exposure to the family business is what inspired her to choose a legal path. "My experiences in the family business sowed the seeds of commerce in my young mind, and I learned early on that navigating regulatory bottlenecks was vital to the continued success of any business," she says.
Owoka left home at the age of 17 to pursue a B.A. in law and business at the University of Warwick in the United Kingdom, returning to Nigeria in 2017. After being admitted to the Nigerian Bar Association, she practiced corporate law for several years before enrolling in Columbia Law School's LL.M. program, with the goal of joining an international law firm taking on complex cross-border cases. She graduated along with her classmates on May 16.
Learn more about her career path and what it has meant to earn an LL.M. at Columbia Law.
What area of law are you most interested in?
I am most interested in—you guessed it—corporate law, specifically mergers and acquisitions (M&A). I thoroughly enjoy being involved in complex big-ticket deals that impact the life and growth of businesses and the global economy. As an avid problem-solver (with a passion for games and puzzles), being an M&A lawyer allows me to put my passion to work by coming up with innovative solutions to help meet client objectives.
Why did you decide to pursue your LL.M. at Columbia Law School?
I decided to pursue an LL.M. to build upon my knowledge and the experience I had developed as a solicitor in Nigeria. I was also keen on establishing myself as a New York corporate lawyer and positioning myself for opportunities in a truly international law firm, undertaking complex cross-border transactions.  
For me, Columbia was the obvious choice for two main reasons: First, I believed it would be the best platform to allow me to realize my goals for the LL.M. program. Second, Columbia's location provides a competitive advantage and opportunities in the city of New York; it gives the institution access to a fine mix of full-time and adjunct lecturers at the top of their fields. I knew I would get an in-depth, practical, and quality education. I have learned significant dealmaking techniques by taking M&A simulation courses taught by partners from some of the best law firms in the world.
Talk about your work with the Law School Pathways Program.
The Law School Pathways Program is designed to offer guidance to law school aspirants from underrepresented backgrounds. [Prospective law students in neighborhoods near the Law School's campus can apply to be fellows in the program.] We get together with the fellows weekly to help them prepare for law school. Fellows are paired with mentors (both law students and lawyers), who advise them on how to stand out during the law school application process. Fellows also learn how to take advantage of the opportunities in law school and how to navigate the job market post-law school. Some of the fellows are justice-impacted individuals, so we organize talks with previously incarcerated lawyers to counsel the fellows.
What was the highlight of your year at Columbia Law? 
I have tried to take advantage of all the opportunities available at Columbia. I had the privilege of learning from some of the best legal minds in the world. I value the diverse group of friends I made. I relish the idea of visiting different parts of the world to attend the wedding ceremonies of friends after graduation. 
Besides my experience with the Pathways Program, being a part of a student-run academic journal is another highlight of my year at Columbia. Journals are not common at universities in the United Kingdom; I was excited about joining the Columbia Journal of European Law. I graduated from university in the wake of Brexit, so it has been a great experience leveraging my knowledge of European law and adding value to the journal team. 
What's next now that you have graduated?
I graduated as a Harlan Fiske Stone Scholar for superior academic achievement. Writing the New York bar exam is what's next for me. I also intend to travel for a while, prior to joining the New York office of Freshfields Bruckhaus Deringer as an M&A associate. I am enthusiastic about establishing myself as an American corporate lawyer.
Do you have any passions outside of the law? 
Oh, yes! I am an ardent traveler. During my time in college, I took advantage of the ease of traveling within Europe and managed to squeeze in a few holidays across various countries. Volunteering is another passion of mine, as well as watching plays and musicals and solving puzzles. My favorite musical to date is Phantom of the Opera.
Favorite New York City experience?
I was able to score tickets to a basketball game (thank you, Columbia!). I saw Kevin Durant and the rest of the Brooklyn Nets team in action—that was awesome! Also, New York being one of the major theater capitals of the world aligns perfectly with my love of theater, and I have enjoyed watching plays on Broadway. Finally, I took a boat cruise around the Statue of Liberty, and it was amazing to see up close for the first time what I had previously only seen in movies.
This interview has been edited and condensed.