Student Spotlight: Kodjo Kumi '21 on Giving Everyone the Opportunity to Be Heard
Student Spotlight: Kodjo Kumi '21 on Giving Everyone the Opportunity to Be Heard
The opportunity to represent clients in a courtroom and the chance to ensure equal representation inspired Kumi to pursue the law.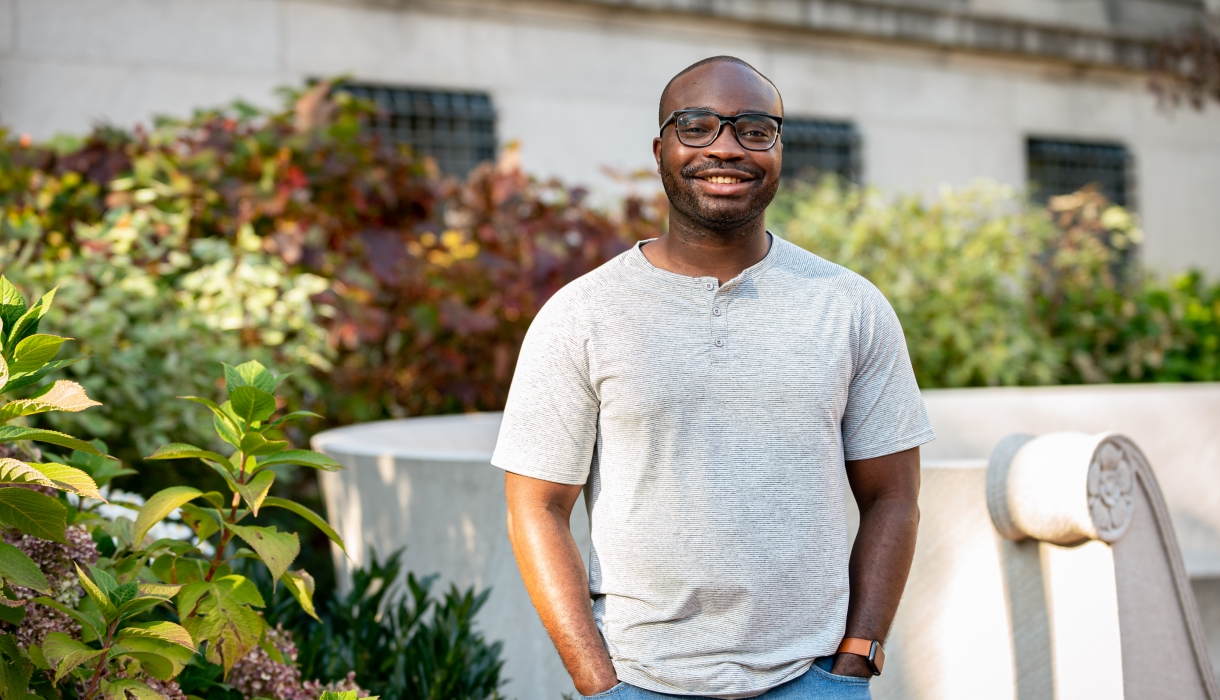 Kodjo Kumi '21 sees himself as an advocate. Over the past three years, he has honed his skills and refined his approach to the practice of law by participating in student organizations, law journals, moot court, and experiential learning opportunities. With plans to pursue litigation with an emphasis on trial practice after graduation, Kumi explains why the law is meaningful to him—and how he hopes it can bring about meaningful change for others. 
What brought you to Columbia Law School? 
One of the things that struck me about Columbia was that it wasn't just another law school with a great reputation, but one with an amazing location and proximity to all of the things I knew I needed. It's a really diverse community on campus and in a diverse city. I felt that I could do and be whomever I wanted in this community and that I would learn a lot from my peers. 
What area of the law interests you?
I'm very interested in litigation broadly, with an emphasis on trial practice, either through white collar, civil/constitutional rights, or criminal law. I think a big part of my experience has been the idea of advocacy, specifically being an advocate for others. To me, the law is about ensuring that everyone has the opportunity to be heard, regardless of who they are, where they come from, and whether they have the means to afford representation. 
You were a participant in the Challenging the Consequences of Mass Incarceration Clinic—how was that experience? 
Being part of the Mass Incarceration Clinic has undoubtedly been one of my most rewarding experiences at Columbia. I have been lucky to be part of a student trial team that has had the opportunity to represent formerly and currently incarcerated clients in cases challenging conditions of confinement, including a Section 1983 failure-to-protect case set for an upcoming jury trial this summer. I have felt a deep sense of community with the people that I have worked with and an immense amount of pride to have represented our clients. I think we were especially close this year because we drafted motions and argued them before a federal judge in the Southern District of New York. I'm very grateful to them and to Professor Brett Dignam for the opportunity to learn from and work with every member of the team. 
How have student organizations impacted your law school experience?
As a 1L, I was on the Black Law Students Association's (BLSA) Frederick Douglass Moot Court Team and also worked on the BLSA admissions committee. As a 2L, I was one of the coaches for the moot court team and co-chaired the admissions committee. As someone who felt strong ties to other people of color and to the Black community on campus, I wanted to give that back by showing prospective students what our community was all about. I've also been very involved in journals on campus, specifically the Columbia Human Rights Law Review, which has two publications: a legal academic journal and our Jailhouse Lawyer's Manual. As a 3L, I have primarily worked on publishing the newest edition of the manual and have thoroughly enjoyed the direct impact that it has on people who are currently or formerly incarcerated. Clients in the Mass Incarceration Clinic often talk about how various chapters have helped them file grievances, appeals, or Section 1983 suits. They would occasionally even ask our clinic team if we could get them another copy for a friend.
"To me, the law is about ensuring that everyone has the opportunity to be heard, regardless of who they are, where they come from, and whether they have the means to afford representation."
What do you hope to achieve after graduation?
After spending last summer in the Washington, D.C. office of Arnold & Porter, I will be joining the firm's New York office full-time after graduation. Post-bar, I would love to gain more trial experience so I can one day better represent clients who are repeatedly told their problems do not matter. My clinic experience has been transformative and showed me how much I love trial work. It has also inspired me to continue doing pro bono work because often pro bono clients (many of whom are BIPOC, incarcerated people, indigent defendants, or individuals who belong to an intersection of other marginalized identities and/or groups) lack the resources to ensure they are not deprived of the same rights that many of us in these elite institutions have come to expect. Ultimately, one of the best things about the clinic has been developing relationships with clients of varying identities, and I look forward to doing more of that work when I graduate.
What is something about Columbia Law School that you think would surprise people? 
Columbia can feel intense at times, but it's really that everyone is focused on what they're doing and has a very "work hard, play hard" vibe. There is a reputation that we are competitive, but that is far from the truth. People care a lot about the work they are doing and give their best with everything they do, but my experience has been incredibly collegial—from individuals sharing outlines and notes when I missed classes for moot court competitions to the mentors I have gained. I also genuinely appreciate that there is no one path at Columbia; plenty of students go on to take jobs at law firms, but others go into public interest and public service, and some friends of mine are interested in academia.
What is your favorite thing to do in New York City?
Well before COVID-19, I would have said brunch and/or karaoke with friends. However, once COVID-19 started, I started running outside and have found that running in Riverside Park has been a literal breath of fresh air. I highly recommend people spend time in parks across the city. 
What advice would you give to an incoming 1L?
Remember that you earned your spot here. The best advice that I got was to give it your best but not to compare yourself to other people. It's hard, but I've found that this allowed me to just focus on my goals. While law school can be intense, it can also be a very fun experience, so make sure to take the time to enjoy the three years. That, and don't be afraid to ask for help and to help others. 
This interview has been edited and condensed.