Student Spotlight: Jenny Park '21 on Community Advocacy, Corporate Law, and What's Next
Student Spotlight: Jenny Park '21 on Community Advocacy, Corporate Law, and What's Next
Park has used her legal education to support the Asian American community in New York through extracurricular activities and as a Davis Polk Leadership fellow.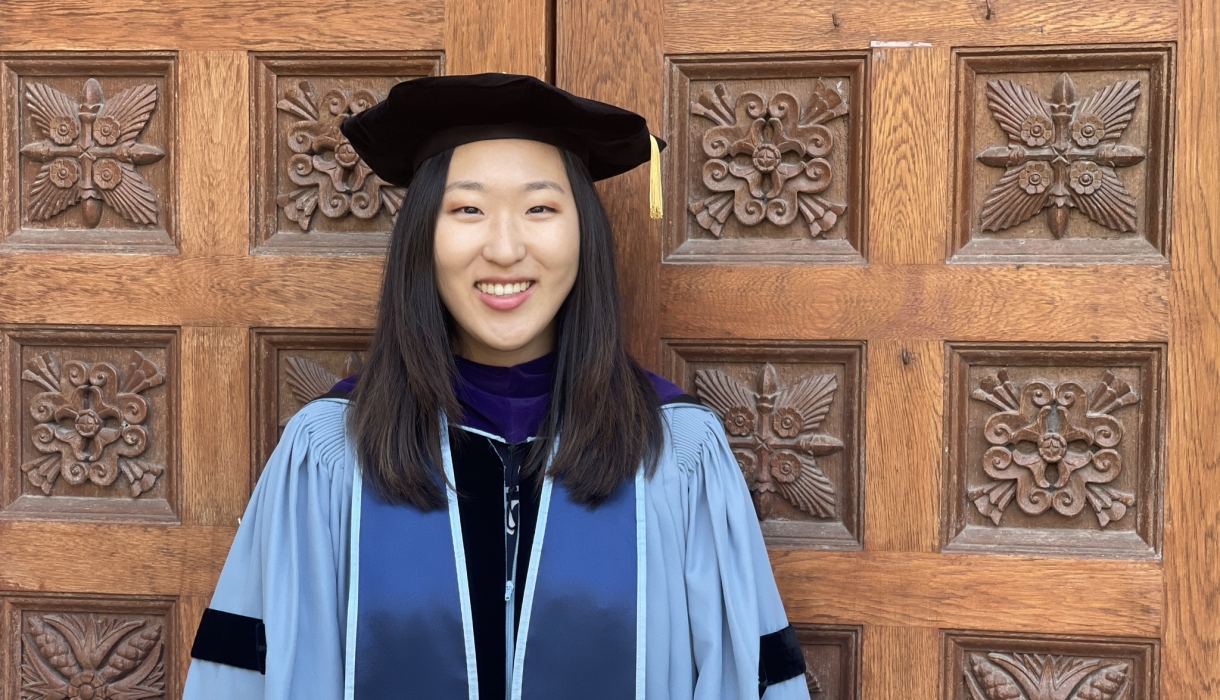 Jenny Park '21 became interested in the law in high school, when she participated as the president of Teen Court in Castle Rock, Colorado, a juvenile intervention and prevention program that offers an alternative to the juvenile justice system. At Columbia Law School, she pursued a number of interests inside and outside the classroom, including corporate law and gaming and technology. She was a 2020–2021 Davis Polk Leadership fellow and advocated for the Asian American community during the pandemic, providing important legal resources to those most affected by the COVID-19 crisis. Park even took a guitar class at Columbia's Teachers College. Now that she has graduated, Park plans to draw on what she learned through her classes, internships, and other Columbia experiences as she begins her career.
What sparked your interest in a career in law?
I went to high school in Castle Rock, Colorado, where I first learned about the Teen Court program, which allows high school students to hear cases [as peer attorneys, bailiffs, and jurors] of first-time juvenile offenders. One of my first cases [leading the peer panel as a facilitator] dealt with a senior in high school who was caught shoplifting from her employer. She had perfect grades and multiple extracurricular activities and was planning to attend college after her graduation. However, she could not afford the clothes that her job required. Her participation in Teen Court and our roles as volunteers enabled us to help her by removing the offense from her record after the completion of her sentence. Seeing the benefits of this program, I worked to establish more Teen Court programs in college. It was through this experience and the conversations that resulted that sparked my interest in the law. 
Describe your work with the Asian American Bar Association of New York (AABANY)?
As a result of this pandemic, an increasing number of Asian Americans are struggling with stereotypes and discrimination, economic difficulties, and health concerns. In 2020, hate crimes against Asians increased by 150% in the United States. In an effort to assist with these issues, I partnered with AABANY as a COVID-19 task force leader. The task force was able to provide pro bono resources to the community for issues such as housing, deportation, and other COVID-19-related issues. 
What have you accomplished as a Davis Polk Leadership fellow?
Through this fellowship, I have been able to expand on the work I started last summer with AABANY with the goal of making legal resources more accessible to members of the Asian American community. With the support of Columbia's Asian Pacific American Law Students Association and the Davis Polk Leadership Fellowship, students from Columbia Law were able to partner with AABANY'S remote clinic through a spring break caravan to update and translate AABANY's COVID-19 webpages; participate in client consultations with volunteer attorneys; and engage in research on consumer debt and foreclosure, immigration, housing, employment, and family law in New York. Following the caravan, we are using the information from the updated webpages and the translated materials to create paper brochures and materials that are easily distributable. Since many individuals do not have internet access and rely on their communities to receive information, our goal is to reach as many people as possible through these efforts.
"I hope to continue serving as a mentor and assisting young professionals as I grow in my career."
What extracurricular activities at Columbia Law were most important to your law school experience?
I served as the president of the Virtual Entertainment Society, treasurer of the Columbia Law Women's Association, a 1L representative and the director of communications for the Columbia Business and Law Association, and staff editor of the Columbia Business Law Review. I have also been fortunate enough to take classes outside of the Law School and even learned how to play guitar through classes at Teachers College. 
What are your personal passions? 
I have always been passionate about gaming and technology and have been fortunate enough to merge these interests with the law. For example, as a legal intern at the United Nations International Telecommunications Union (ITU), I led the UN Talking Tech web series on esports as well as an esports panel during the 2020 World Summit on the Information Society. Prior to law school, I also played Tetris competitively and was one of the top players in the world. More recently, I was able to fulfill a few of my personal goals, such as becoming certified to scuba dive, going skydiving, and enrolling in an aerial silks course! 
What are your plans now that you've graduated? 
After graduation, I will (hopefully!) pass the bar and begin working at Freshfields Bruckhaus Deringer in New York. Recently, I was also offered a vice chair position with AABANY's Young Lawyers Committee. I hope to continue serving as a mentor and assisting young professionals as I grow in my career. As a 1L and throughout law school, I also worked with the Esports Bar Association, assisting to host an annual conference, drafting and distributing a diversity and inclusion toolkit, and more. I am currently serving on the diversity committee and plan to remain involved as esports continue to grow.