Columbia Law Students Participate in 2021 Virtual Spring Break Caravans
Columbia Law Students Participate in 2021 Virtual Spring Break Caravans
As part of the Sidley Austin LLP Spring Break Pro Bono Caravans, students worked on projects in international law, criminal defense, and domestic violence prevention, among others.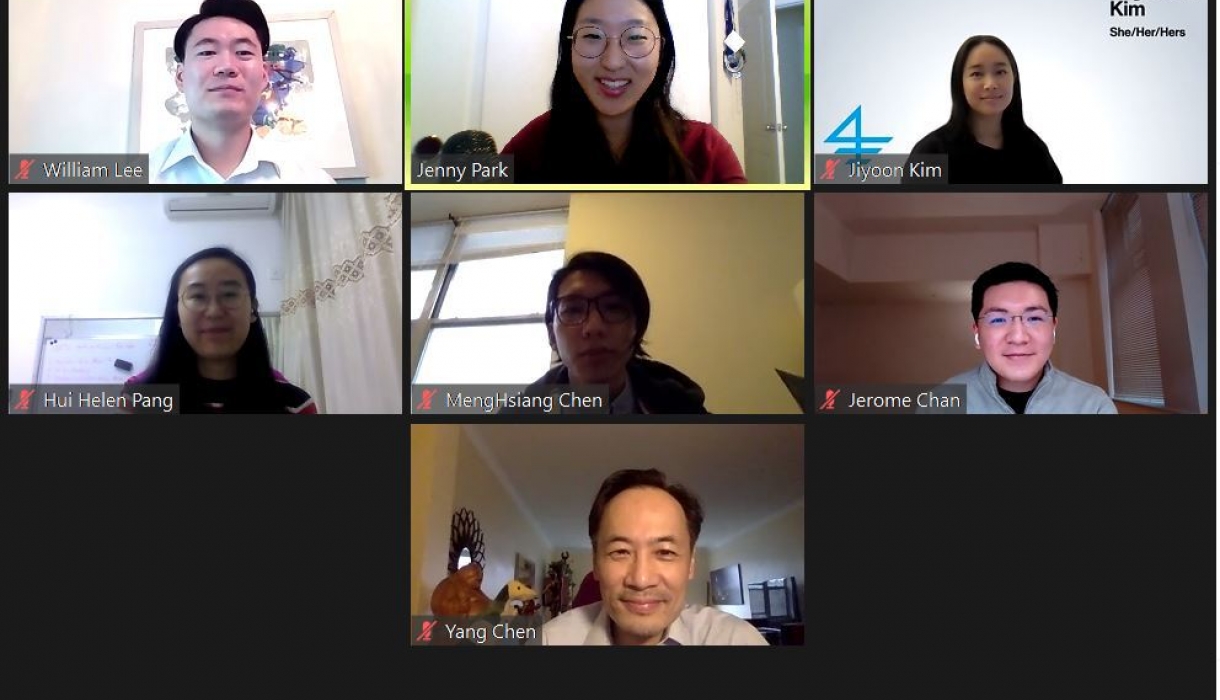 Pictured: William Lee, vice chair of the Student Outreach Committee of the Asian American Bar Association of New York (AABANY), and Yang Chen, executive director of AABANY, meet with Columbia Law students on the first day of the remote clinic caravan.
Spring Break pro bono caravans are a tradition at Columbia Law School. This year, due to COVID-19, many students moved their projects online. Student organizations and other partners arranged 17 remote caravans dispatching more than 80 students to support a broad range of organizations. "I was impressed with the students' commitment to the work despite all of the challenges associated with the pandemic," says Nadine Mompremier, assistant director of Pro Bono and Summer Programs at Columbia Law School. "They found new ways to build community and partnership and easily adapted to this new model."   
Learn more about some of the students and their virtual caravan experiences. 
Asian American Bar Association of New York (AABANY) Remote Clinic
Sponsor: Asian American Bar Association of New York
Since 2015, AABANY's pro bono clinic has provided free walk-in legal consultations to people with limited English proficiency. Because all in-person clinics are closed during the pandemic, AABANY established a remote clinic to provide legal information and referrals over the phone to callers who cannot afford an attorney or do not have access to legal representation. Columbia Law students helped update AABANY's COVID-19 webpages, participated in client consultations with volunteer attorneys, and did research on consumer debt/foreclosure, immigration, housing, employment, and family law in New York. Organizer Jenny Park '21 felt that AABANY was a good fit for a caravan "because it allowed students to become directly involved with COVID-19 relief efforts and address a specific need in a short period of time." Meng-Hsiang Chen '21 also felt a personal connection to the work. "Growing up in a Fujian immigrant family in Taiwan, I understand how minorities and low-income groups are disadvantaged. . . . I cannot even imagine the hardship Asian Americans have faced especially when they are not able to speak the common language in the country they live in," he says. Jiyoon Kim '22, another participant in the caravan, even continued volunteering with AABANY after spring break ended: "I remain involved in AABANY's efforts to raise collective awareness of the things we can do as a community to protect and uplift the Asian American community and to aggregate and disseminate legal information to those who often need it the most but have the least access." 
Domestic Violence Project Spring Break Caravan with Texas Advocacy Project
Sponsor: Domestic Violence Project (DVP)
Columbia Law's Domestic Violence Project has been sending students to work with the Texas Advocacy Project, an organization that provides legal services to survivors of domestic abuse, for the past five years. This year, a team of five students spent spring break working on a variety of assignments, including drafting petitions, conducting legal research, and interviewing local prosecutors. They were also able to observe virtual court hearings. While organizer Mingqian Ding '22 missed the organic interactions associated with being on-site, she says her group was able to adapt and still build a sense of community by exchanging information and ideas in a group chat. The project gave Ding an "invaluable perspective" into the inner workings of a legal service organization., "It allowed me to understand the importance of institutional collaboration in addressing the issue of domestic violence. . . . I came to appreciate the impact of household dynamics on mental and physical wellbeing and society as a whole," she says.   
Global Migrations: Refugee Law in Germany
Sponsor: Columbia Society of International Law (CSIL)
The Global Migrations: Refugee Law in Germany caravan was a collaboration between the Columbia Society of International Law and the Refugee Law Clinic Hamburg, an NGO dedicated to serving asylum-seekers in Germany. Caravan organizer Tianxing Lan '22 was interested in learning more about the refugee crisis in the Mediterranean from people on the ground. He and his teammates conducted research on legal issues the clinic is facing and (virtually) met immigration judges, former asylum-seekers, and others working in the area of asylum law. "I was really able to appreciate the complexities of the issue," says Lan. "As we talked to different stakeholders, I got to see their perspectives and understand just how many different forces are at play and how it's almost impossible to reconcile everyone's interest." This is the only caravan participating in a two-way exchange: In August, the Refugee Law Clinic Hamburg team is planning to travel to New York to see how Columbia's clinics are run and help with legal research (sponsored by the Refugee Law Clinic Hamburg). 
Louisiana Death Penalty Caravan
Sponsor: Black Law Students Association (BLSA)
In this partnership with the Louisiana Capital Appeals Project, Erika Carter '22, Jeremy Lee '22, and other teammates worked on death penalty appeals cases by examining case files and combing through more than 4,000 pages of trial records. As part of their work, Carter organized files from the clients' previous lawyers while Lee looked for instances when the defendant or defendant's attorneys were not present in the courtroom. Lee, who has opposed the death penalty throughout his life, "felt this was a great opportunity to go beyond moral opposition and actively work against it," while Carter felt that the caravan was a good fit based on her interest in the rights of incarcerated persons. They both ended the week feeling what Carter describes as the "emotional capital" of working on death penalty cases. "Diving into the case, reading the letters, looking at the documents, and looking at some of the crime scene photos was at times very emotionally disturbing," says Carter. For Lee, "the most meaningful part of this project was the day I came upon the jury instructions in the trial record. I was unable to hold back my emotions as I read through the words others were going to use in deciding whether or not to end a life," he says.  
Public Defenders Service for the District of Columbia
Sponsor: Criminal Justice Action Network (CJAN)
After the caravan was canceled last year due to COVID-19, Madeleine Durbin '21 finally got her chance to spend her spring break working on a felony case with an attorney in the trial practice division of the Public Defender Service for the District of Columbia (PDS). "PDS is an excellent organization that does work I strongly believe in," says Durbin, who hopes to pursue a career focusing on indigent criminal defense. "Representing clients who cannot otherwise afford representation is something I care deeply about." Durbin was able to use her legal research and writing skills to aid in the defense of a client facing criminal charges and found this work particularly meaningful during a pandemic. "Given the COVID-19 conditions that have developed in prisons and jails—there's even more urgency than usual to the work that we do representing people incarcerated or facing incarceration," she says. 
Public International Law Caravan
Sponsor: Latinx Law Students Association (LaLSA) and Society for Immigrant and Refugee Rights (SIRR)
Five students participated in the Public International Law Caravan and worked on several projects related to international law with Independent International Legal Advocates (IILA), a nonprofit international law advisory and training organization. The team also contributed to the work of the Small Developing States (SDS) legal advisers by identifying core international law issues for the organization to prioritize. Daimiris Garcia '22 coordinated the partnership. "Given the international focus of the work at IILA and their contribution to the legal development of Latin American countries, I knew the organization would be a good fit for LaLSA students," says Garcia. "I wanted to help expand the robust International and Comparative Law program at Columbia Law and help connect students to the field of public international law and human rights." Garcia plans to pursue a career in international human rights and this caravan provided her with valuable experience. She was tasked with drafting a legal memorandum about equitable COVID-19 vaccine distribution to share with SDS legal advisers. "I wanted to contribute to the work of international lawyers fighting for small and developing States to ensure that all voices are heard and all needs are taken into account."