Student Spotlight: Drew Brazer '24 on Civil Rights Law, Experiential Learning, and the Importance of Advocacy
Student Spotlight: Drew Brazer '24 on Civil Rights Law, Experiential Learning, and the Importance of Advocacy
As a law student, Brazer has focused on capital defense and death penalty abolition—fields in which he hopes to specialize after graduation.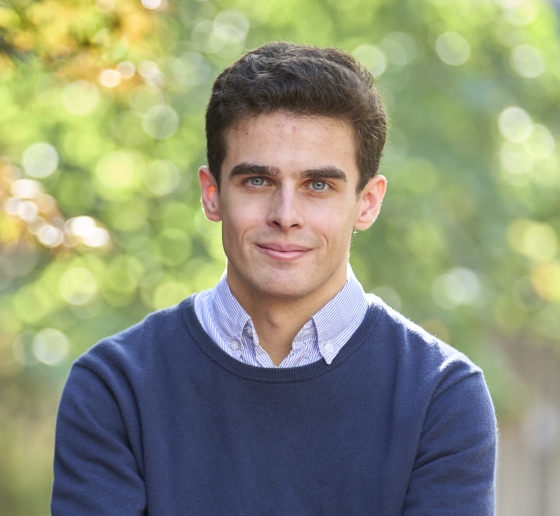 Halfway through his Columbia Law School experience, Drew Brazer '24 reflects on how his understanding of the law has evolved, discusses why political engagement is important to him, and offers advice to prospective law students.
Hometown: Simsbury, Connecticut
Education: B.A. from Princeton University, where he majored in political science and minored in history and Italian
Before Columbia Law: Worked in Washington, D.C., as government relations manager for Blue Star Families—a nonprofit dedicated to supporting military and veteran families—where he developed and directed an advocacy program in support of policies to address the challenges faced by military-connected communities, including high rates of food insecurity and military spouse unemployment. 
"My time as a public policy advocate in Washington, D.C., convinced me that lawyers are uniquely equipped to defend the rights of vulnerable populations and to spearhead these systemic transformations," says Brazer.
At Columbia Law: Max Berger '71 Public Interest/Public Service (PI/PS) fellow, Columbia Law American Constitution Society president, Columbia Journal of Law and Social Problems staff editor, and research assistant for Professor Bernard Harcourt
 
What area of law are you most interested in?
I am deeply passionate about protecting civil rights and believe that our criminal legal system and political processes must be transformed. I am most interested in civil rights law—particularly as it intersects with criminal defense. 
While my legal interests have not changed since coming to law school, my understanding of the myriad ways in which the rights of incarcerated people are violated by our criminal legal system has expanded dramatically. For example, I now know from working on federal habeas cases that many, if not most, of the individuals on death row in the United States suffered from ineffective assistance of counsel at trial, in violation of the Sixth Amendment. Dozens also experienced due process violations in the form of concealed evidence (Brady v. Maryland), false testimony (Napue v. Illinois), racially discriminatory jury selection (Batson v. Kentucky), and other equally pernicious prosecutorial tactics.
What are your favorite aspects of being part of the Columbia Law community?
There is no shortage of experiential learning activities at Columbia Law, including moot court competitions, pro bono opportunities, journals, externships, clinics, clubs, and opportunities to work closely with professors. A highlight of my time at the Law School was participating in the Frederick Douglass Moot Court competition. Not only was I able to benefit from extensive oral advocacy experience, but also I made valuable friendships with my community of fellow "Dougies." 
What are your career aspirations?
Since coming to Columbia Law, much of my independent work—including my note, pro bono project, externship, and research assistance—has been dedicated to capital defense and death penalty abolition. I have had the extraordinary privilege of working closely with inspiring capital defense attorneys—including Professor Bernard Harcourt at the Law School, George Kendall at Squire Patton Boggs' Public Service Initiative, and multiple assistant federal public defenders at the Nashville Capital Habeas Unit. These experiences have motivated me to continue to pursue capital defense and death penalty abolition after law school. I plan to work as a civil rights attorney, either in criminal defense (as a capital defender) or as a public policy advocate.
Tell us about being part of the Max Berger '71 Public Interest/Public Service (PI/PS) Fellows Program. 
It has been a true privilege getting to know and learning from so many kind, passionate, and hardworking public interest students. One of my favorite aspects of the PI/PS program is the lunchtime speaker series, where I have had the opportunity to hear from and speak with attorneys and scholars at the front lines of social change. I also greatly appreciate the PI/PS peer mentorship program. During my 1L year, I was fortunate to be paired with a wonderful peer mentor, Laura McFeely '23, who provided me with invaluable guidance and support. As a 2L, I have had the honor of mentoring one of the current 1L fellows and have endeavored to pass on much of the advice and encouragement that I received.
Do you have any passions outside of the law?
I am an avid follower of American politics. I religiously listen to the NPR Politics Podcast, read The New York Times, and watch late-night comedians like Stephen Colbert, Trevor Noah, and John Oliver. While I have long been interested in politics, my attention to it has grown since 2016, commensurate with my concern for the state of American democracy. As president of the American Constitution Society at the Law School, I have sought to encourage political engagement on campus by organizing a voter registration drive in advance of the 2022 midterm elections and partnering with the Columbia Law Center for Voting Rights to host an election law speaker series.  
Do you have advice for prospective students?
Make the most of your time in law school by pursuing activities and experiences that interest you. Work on issues that you feel passionate about. Don't concern yourself with what your classmates are doing. Despite what you might sometimes feel, there's no "right way" to do law school. 
Favorite New York City experience?
I recently saw the musical Hadestown on Broadway, and I cannot recommend it enough. The show reimagines the ancient Greek myth of Orpheus and Eurydice in an apocalyptic, early 20th-century industrial setting and is set to an amazing score of jazz, folk, and blues.