In Memoriam: Professor Joseph Raz
In Memoriam: Professor Joseph Raz
Preeminent legal philosopher and longtime member of the Columbia Law School faculty dies at 83.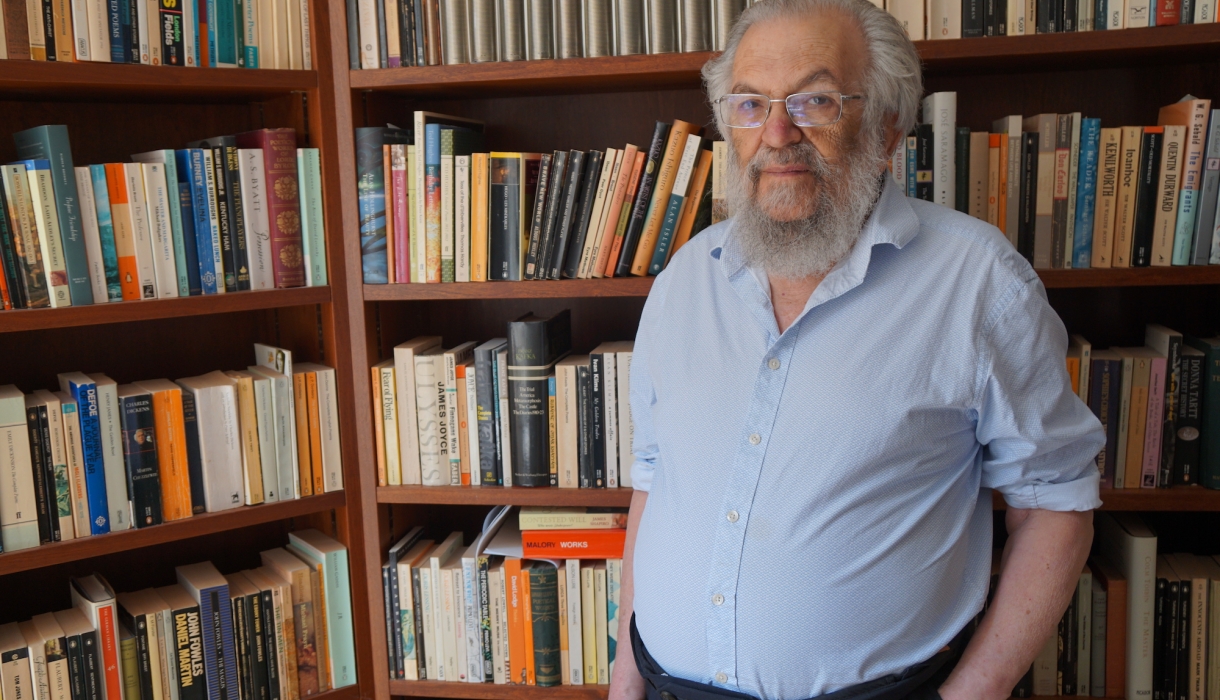 Joseph Raz, a longtime member of the Columbia Law School faculty and world-renowned legal philosopher whose prolific and influential scholarship offered new insights into the nature of law and legal reasoning, as well as the relationship between law, morality, and freedom, died on May 2 at Charing Cross Hospital in London. He was 83.
Raz was a leading architect of contemporary legal positivism and argued that an adequate test for the existence and content of law must be based on social fact, and not on moral arguments. In his 1986 book, The Morality of Freedom, he explored the nature, significance, and justification of political freedom or liberty within a liberal context. The Morality of Freedom was called the year's "best book in politics" by the British Political Science Association and "as significant a new statement of liberal principles as anything since Mill's 'On Liberty,'" by the Times Literary Supplement.
"Professor Raz was a prodigious thinker, possessing both incisive intellect and exceptional scholarly creativity," said Columbia Law School Dean Gillian Lester, Lucy G. Moses Professor of Law. "One of the most brilliant and influential academics of the last century, Professor Raz energized the study of legal and moral philosophy."
Bernard E. Harcourt, Isidor and Seville Sulzbacher Professor of Law and Professor of Political Science, recalled Raz as unfailingly magnanimous. "Joseph personified the philosophical pursuit of knowledge, always so earnestly and generously engaging his colleagues, especially his younger colleagues here at Columbia," said Harcourt. "What I admired most was how open and generous he was to other philosophical approaches, always trying to find common ground in order to advance the conversation."
In 2018, Raz was awarded the $1.3 million Tang Prize in Rule of Law. The selection committee recognized him for his argument that governments derive their legitimacy from their ability to serve their subjects and for his "path-breaking thoughts on fundamental aspects of legal studies, on which he offers a magisterial framework for deeper thinking, debates, and dialogue." 
Raz was born on March 21, 1939, in Mandate Palestine (now Israel), and he maintained dual British-Israeli citizenship. His father, Shmuel, was an electrician, and his mother, Sonya, was a nurse. After serving in the Israeli army from 1957 to 1959, he studied at the Hebrew University of Jerusalem, where he graduated summa cum laude with a magister juris (Mas­ter of Jurisprudence) in 1963. 
It was in Jerusalem that Raz first met the distinguished British legal philosopher Herbert L.A. Hart, who was a professor of jurisprudence at the University of Oxford. According to Hart, Raz "spotted a mistake" in an argument Hart had made in a written piece. "He was absolutely right," said Hart. "I was astounded. I altered the piece to correct the mistake." Hart was so impressed that he encouraged Raz to study at Oxford, where he became Hart's protege and earned a doctorate of philosophy in 1967.
After receiving his doctorate, Raz returned to Israel to be a lecturer in the faculty of law and department of philosophy at Hebrew University. In 1972, after being appointed senior lecturer (with tenure), he returned to Oxford, where he remained for nearly four decades in a variety of positions, including as a tutorial fellow of Balliol College, a professor of the philosophy of law, and a research professor. His philosophy of law professorship was created "ad hominem," or specifically for him, a rare honor at Oxford.
In 2002, Raz joined the faculty of Columbia Law School but maintained his appointments at Oxford (until 2009), and at Dickson Poon School of Law at King's College, London, where he was a research professor from 2011 until his death. Before his retirement from Columbia, in 2019, Raz was Thomas M. Macioce Professor of Law and taught Foundations of Practical Thought, Problems in Legal Philosophy, and Problems in Political Philosophy.
Known for his long beard, soft voice, dry wit, and humility in the classroom, Raz seemed to embody his profession. "It is impossible to think of him not being a philosopher," a close friend once said. At Columbia, Raz's Problems in Legal Philosophy seminar was invariably oversubscribed, and students considered it a privilege to study with him. "It's great to watch someone of Joseph Raz's stature interrogate a text closely," noted one student. "Much of the work is done close to the text, digging deeply into the arguments. If you're ready for that and enjoy it, his class is an incredibly rewarding experience."
Still, it was his groundbreaking written works that won him accolades around the world. In addition to numerous papers and essays, Raz published 11 books between 1970 and 2022, including From Normativity to Responsibility, Between Authority and Interpretation, and The Authority of Law: Essays on Law and Morality. He was a highly sought-after lecturer who held visiting professorships at the Rockefeller University, Australian National University, the University of California at Berkeley, Yale Law School, and the University of Southern California, among other institutions. Raz was a fellow of the British Academy and an honorary foreign member of the American Academy of Arts and Sciences. Over the years, he received numerous honorary degrees, including from Hebrew University, King's College, and Katholieke Universiteit Brussel.
When Raz delivered the Kellogg Biennial Lecture in Jurisprudence at the Library of Congress in 2011, Frederic Kellogg compared Raz to a mountaineer in his introduction."He has studied the path followed by the writers that preceded him," said Kellogg. "And, like Sir Edmund Hillary, he has carefully noted the pitfalls and then proceeded to climb beyond them."