M&A Conference Returns to Columbia Law School and Draws a Capacity Crowd
M&A Conference Returns to Columbia Law School and Draws a Capacity Crowd
The annual event, sponsored by the Center on Corporate Governance and the Millstein Center, returned following a two-year hiatus and featured a talk with Chancellor Kathaleen St. J. McCormick of the Delaware Court of Chancery.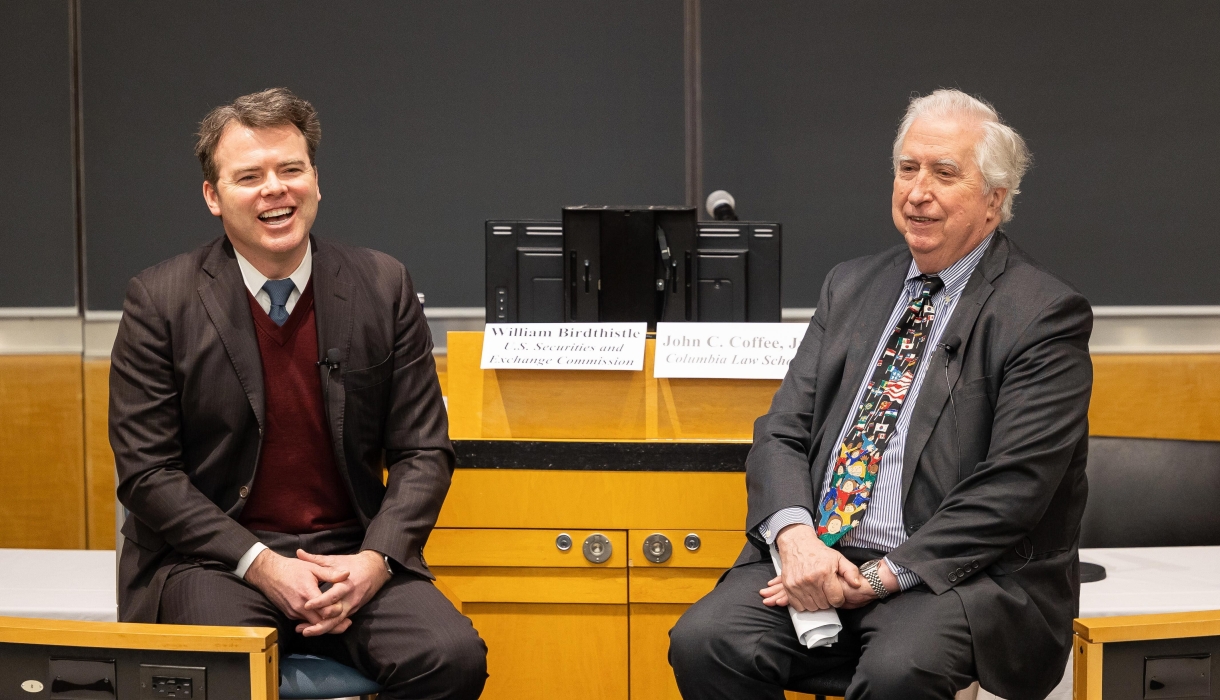 Pictured: John C. Coffee Jr. (right), Adolf A. Berle Professor of Law, leads a discussion with Director of the SEC Division of Investment Management William Birdthistle.
Officials from the U.S. Securities and Exchange Commission (SEC), the chancellor of the Delaware Court of Chancery, and law faculty and alumni practitioners in mergers and acquisitions headlined Columbia Law School's annual conference on mergers and acquisitions, held before a packed house in Jerome Greene Hall on Friday, December 2.
A leading forum for discussion of M&A, the day-long conference was sponsored by the Center on Corporate Governance, the Ira M. Millstein Center for Global Markets and Corporate Ownership, and the law firm Paul Hastings. 
Panel discussions led by Columbia Law business and transactional law faculty explored M&A litigation, antitrust enforcement, shareholder activism, and regulatory proposals from the SEC. Panelists included Vice Chancellor of the Delaware Court of Chancery Lori W. Will, Chief of the SEC Office of Mergers and Acquisitions Ted Yu, and Director of the SEC Division of Investment Management William Birdthistle.
A conversation with Chancellor Kathaleen St. J. McCormick of the Delaware Court of Chancery was led by Jack B. Jacobs, former Columbia Law adjunct faculty member and retired Delaware Supreme Court justice. It covered the proliferation of cases in the business law court, which McCormick attributed to heightened pleading standards instituted by the court. The change in pleading standard has increased motions to dismiss cases as well as Section 220 demands for corporate records, "which are viewed as proxy for ultimate merit of the suit and heavily litigated," she said. 
McCormick sparred with Jacobs over criticisms leveled at the chancery court in a research paper he co-authored (for applying too broadly the review standard established in Kahn v. M&F Worldwide Corp.) and noted the intense focus on the Delaware court during the Twitter takeover litigation. 
"What [legal commentators] do is a service to our courts, and the community benefits from the careful attention of scholars like you," McCormick said. "That doesn't make it feel good to be at the center of attention in some of these cases. It can be very stressful. But fortunately, we do have a really strong community in chambers. . . . I don't think any of us foresaw the attention that recent cases received. That was just another level of intensity. But it's part of the job." 
A morning panel covered the issue of increased antitrust investigations by the Biden administration. Moderated by Jeffrey N. Gordon, Richard Paul Richman Professor of Law and co-director of the Millstein Center, the panel included Lauren Hirsch, a reporter for The New York Times; Igor Kirman '96, partner at Wachtell, Lipton, Rosen & Katz and lecturer in law at Columbia Law School; Jennifer Muller, managing director of Houlihan Lokey; and Laura C. Turano, partner at Paul, Weiss, Rifkind, Wharton & Garrison.
Watch "The M&A Market: Current State and Future Direction"
A session moderated by John C. Coffee Jr., Adolf A. Berle Professor of Law, explored proposed regulations from the SEC requiring corporate disclosure on climate change and the "likely flurry of litigation" that would result from such regulations, Coffee said. The panel included Zohar Goshen, Jerome L. Greene Professor of Transactional Law; Georgetown University Law Center's Donald Langevoort; and Jed S. Rakoff, senior U.S. district judge in the Southern District of New York. Coffee also led a conversation about special purpose acquisition companies (SPACs) with William Birdthistle, director of the SEC department of investment management.
Watch "Recent SEC Developments and M&A"
Joshua Mitts, professor of law, led an update on M&A litigation, including controversies about SPACs and merger disclosure, with Merritt B. Fox, Arthur Levitt Professor of Law; Ann M. Lipton of Tulane University School of Law; Nelly Merkel, partner at Quinn Emanuel Urquhart & Sullivan; and Elena Norman, partner at Young Conaway Stargatt & Taylor.
Watch "Litigation Updates in M&A"