Human Rights Attorney From Nigeria Awarded 2020–2021 Baker McKenzie Scholarship
Human Rights Attorney From Nigeria Awarded 2020–2021 Baker McKenzie Scholarship
Hillary Maduka '21 LL.M. was recognized by the global law firm as an accomplished advocate for disadvantaged populations.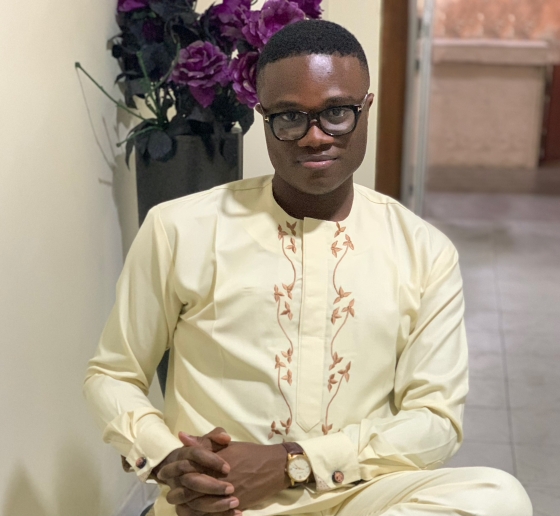 Hillary Maduka '21 LL.M., a human rights lawyer who founded Project Freedom Initiative to offer pro bono legal and human rights protection services to indigent prisoners across Nigeria, has been awarded the 2020–2021 Baker McKenzie Scholarship.
Maduka was motivated to pursue a career in law because of deep frustration with the status quo in Nigeria and a desire to drive change—not just for his own community but around the world. "While the myriad of problems which confront the Nigerian society cannot be defined or addressed in purely legal terms, the law remains a very powerful instrument to right wrongs and hold elected officials and private citizens alike responsible for their actions," he says.
Alyssa Auberger, chief sustainability officer of Baker McKenzie, says the firm is delighted to award this year's Baker McKenzie Scholarship to Hillary. "Hillary has been largely inspired by his first-hand experience of underdevelopment, religious extremism, and widespread corruption which are undeniable consequences of the indifference of any society to human rights, and we look forward to watching Hillary's career develop as we have no doubt that he will advance human rights and serve disadvantaged populations," says Auberger. "We are honored to provide an opportunity to such a deserving and hardworking candidate."
After Maduka graduated with an LL.B. from the University of Jos in 2016, the German government took notice of his volunteer work as an undergraduate with an internally displaced persons camp for children orphaned by the Boko Haram insurgency and offered him a scholarship to study the European human rights protection system. This experience transformed how Maduka saw his role as a human rights advocate. "This changed my perspective on human rights work from merely working to address symptoms to addressing root causes of human rights violations and abuses, which are weak institutions and societal norms that enable and normalize such violations," he says.
Maduka returned to his home country in 2018 and founded Project Freedom Initiative, a legal services nonprofit working to reduce the number of pretrial detainees in Nigeria. "I was motivated to set up this initiative when I read data from Nigeria's National Bureau of Statistics. . . . Data from 2011 to 2015 showed that 72.5% of Nigeria's total prison population is composed of inmates serving time while awaiting trial and without being sentenced," he says.
Project Freedom Initiative has achieved more than the release of unlawfully detained Nigerians: Reducing overpopulation of prison cells also limits the spread of disease, reduces poverty, and spurs development. So far, Maduka says that he has much to be proud of: "At this time, my team and I have offered legal representation to over 35 people, and of this number, we have secured the release of over 75% of people through litigation and/or alternative dispute resolution methods."
Maduka, who was also awarded an LL.M. Human Rights Fellowship by the Law School's Human Rights Institute and the Office of Graduate Legal Studies, sees his future in law at the intersection of business, technology, and human rights—a goal that brought him to Columbia Law School. 
Due to COVID-19 travel restrictions, Maduka has been attending class remotely from Nigeria. Despite these unusual circumstances, he has embraced virtual learning and is making the most of the first half of his LL.M. experience. "Through my guided learning and advocacy at the [Human Rights Clinic] . . . I am offered the priceless opportunity to study curated human rights academic materials, discuss these with my professors and colleagues, and immediately apply them to the advocacy work I am currently undertaking together with partners and communities across the United States while receiving feedback almost immediately," he says. "This is unlike anything I have done before and is enabling me to develop in ways I never thought possible."
Jill Casal, director of the Law School's Office of Graduate Legal Studies, noted that Maduka stood out at the start. "When we received Hillary's application, the question for us was not whether to admit him—it was how do we ensure that he attends Columbia?" she says. "What was most compelling was his incredible commitment to human rights and social justice in his home country of Nigeria. In our subsequent numerous conversations throughout the admissions process, his incredible kindness and humility only enriched our strong impression of Hillary. We look forward to personally welcoming Hillary to Columbia in January!"
The Baker McKenzie Scholarship was first established in 2015 to be awarded to a Columbia Law LL.M. student who demonstrates academic success and financial need, with a priority given to students from Africa, Asia, Eastern Europe, and Latin America.
"I am positive that in the near future this award will open up new avenues for me to collaborate with other scholars, activists, and policymakers to advance human rights," says Maduka. "Winning the Baker McKenzie Scholarship is such a great honor to me, but just as important, it bestows upon me the duty to be upright, diligent, and consistently on the lookout for opportunities to pay it forward. . . . I thank Baker McKenzie for this very generous award."