Gregory Bernstein '20: 2020 Harlan Fiske Stone Moot Court Finalist
Gregory Bernstein '20: 2020 Harlan Fiske Stone Moot Court Finalist
This year's case is Chen v. Secret Saturdays Inc. and the competition takes place on May 1. Bernstein will be arguing for the defendant-appellant.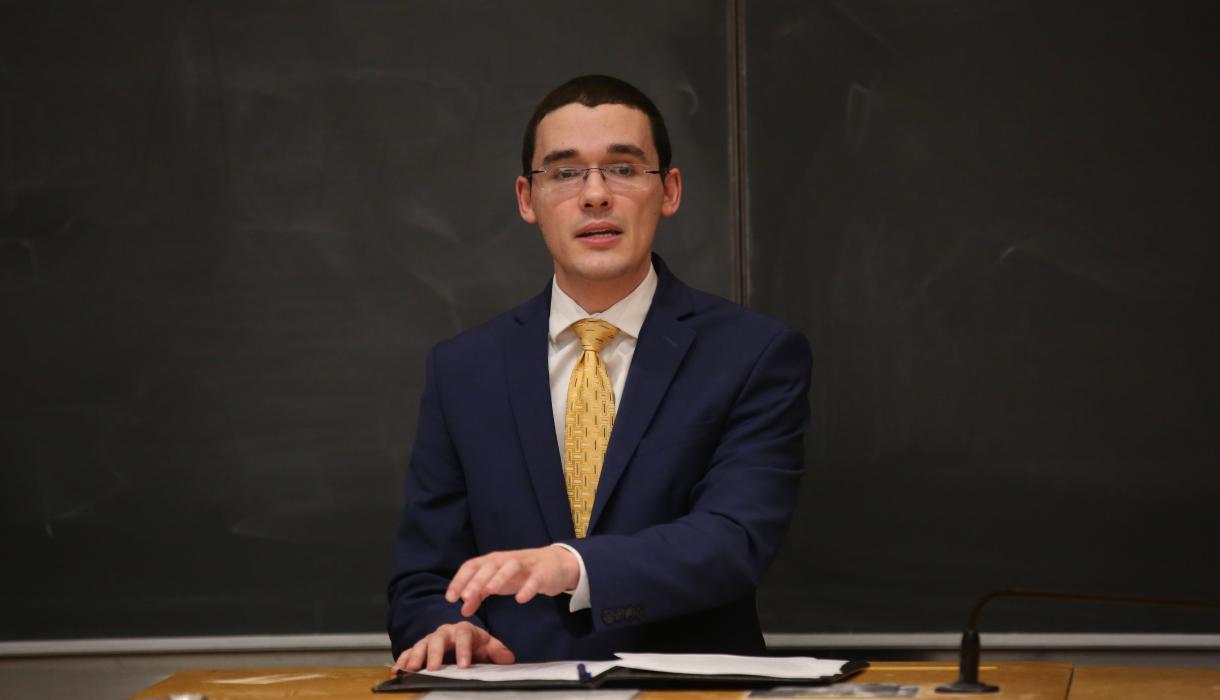 In high school, Gregory Bernstein '20 was a top performer in the 2013 National Forensic League National Speech and Debate Tournament, but he says he gained more expertise in public speaking when he taught the subject in college through a company he co-founded in Fort Lauderdale.
"I learned more from teaching than I had in all my time competing—it's not even close," he says. "That really forced me to learn what is persuasive and what's not."
Bernstein, who studied political science at Vanderbilt University before coming to Columbia Law School, says he signed up for the Harlan Fiske Stone Moot Court Competition in part because he felt it might be his last opportunity to compete in an oral advocacy program. His classmate Brendan Krimsky '20 also helped convince him. Krimsky had participated as a 2L, and the friends teamed up this year for the first round of the competition. 
Bernstein says his favorite part of mooting is "responding to tough questions" during oral argument, and he enjoys watching his co-competitors do the same.
"I've learned a great deal about effective advocacy just by watching my peers deliver persuasive arguments," he says. 
His co-competitors were also instrumental in his quest to reach the finals.
"I think the best way to prepare for difficult questions from the judges is to moot the case with other students," he says.
In addition to Krimsky, Bernstein mooted before previous rounds with Christen Hammock '20, who will be arguing against him in the finals. "She pushed me very hard on things I hadn't thought about," he says.
Bernstein also credits his academic experiences at Columbia Law School for giving him a competitive edge. Courses with Lecturer Alexis Hoag—the Capital Post Conviction Defense Practicum and Abolition: A Social Justice Practicum—helped him improve his legal writing skills. Through the Constitutional Rights in Life and Death Penalty Cases externship, he traveled to Arkansas to watch an argument before that state's Supreme Court. And, during his semester in the Externship on the Federal Government (which places students in government or nonprofit legal offices in Washington, D.C.), his legal writing was put to the test while working at the NAACP Legal Defense and Educational Fund. 
Bernstein, who will be joining Fried Frank's D.C. office after graduation and hopes to work in death penalty defense eventually, says mooting is different from other forms of public speaking: It's "all about the questions you get."
"There's not much I want to say for 20 minutes on my own," he adds. "It's really that I want to answer the questions." Still, the objective is the same, whoever the audience is: Whether you're persuading a "layperson or an appellate judge or a juror, [the point is] to convince someone that you're right," he says. 
The Harlan Fiske Stone Moot Court Competition final arguments, part of the Paul, Weiss, Rifkind, Wharton & Garrison Moot Court Program, are the culmination of a three-round elimination competition in appellate advocacy. ​Read about the other finalists in the competition.