Christen E. Hammock '20: 2020 Harlan Fiske Stone Moot Court Finalist
Christen E. Hammock '20: 2020 Harlan Fiske Stone Moot Court Finalist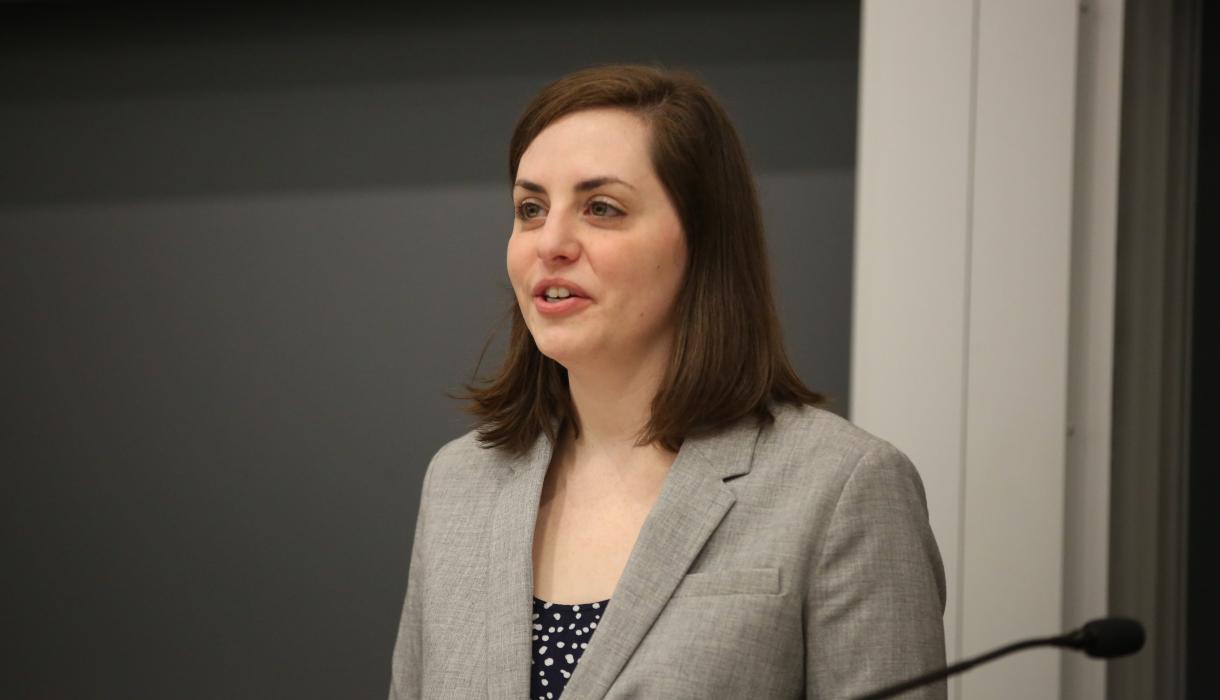 In her living room, Christen Hammock '20 has a framed copy of the amicus brief the Planned Parenthood Federation of America submitted in the landmark 2016 U.S. Supreme Court case that struck down part of a Texas law restricting women's access to abortion. 
Hammock worked on the brief when she was a paralegal at the organization before law school.
"It's my most treasured possession," she says of the document, which was filed in Whole Women's Health v. Hellerstedt  and signed for her by Justice Stephen G. Breyer, who wrote the majority opinion.
For Hammock, who earned a bachelor's and a master's degree in English from the University of Georgia, the job with Planned Parenthood confirmed that she wanted to pursue a career in the law.
"I saw that the things that I really loved about my English degree would be transferable to the law and a legal career," including "being able to craft a narrative or tell a story," she says. 
The early career experience also provided excellent preparation for where she finds herself now—as a finalist in Columbia Law School's Harlan Fiske Stone Moot Court competition.
"It was basically nonstop mooting, but in real life," she jokes.
Even though she was captain of her mock trial team in college and participated in the Williams Institute Moot Court as an internal 1L competitor and 2L student editor, she says she still dreads standing in front of the judges, until the argument begins.
"Once I'm up there, it's really fun to be put on the spot and have to think quickly and translate the things in my head," she says.
Hammock adds that she doesn't think of oral arguments as an adversarial process. "I continually remind myself that, even though it's an 'argument,' I'm not really arguing with anyone. My job is to clarify and explain tricky issues," she says. "It feels like there's this thorny problem, and we're all trying to figure it out."
Hammock says she's benefitted from her previous mock trial and moot court experience and serving as an instructor in Columbia Law School's High School Law Institute, which trains New York City youth in the law. 
"Having to translate the law for high schoolers really crystallizes the things you think you know and the things you don't understand," she says.
To prepare for competitions, Hammock practices her delivery in the shower and while walking her dog. She's also mooted with co-competitors, including Mary Marshall '20, her boyfriend Zachary Jones '20 (the one responsible for getting Breyer to sign Hammock's copy of the Whole Women's Health brief), and fellow finalist Gregory Bernstein '20.
After graduation, Hammock will join Simpson Thacher & Bartlett LLP's litigation department, but for now, she's focused on the task at hand: "I want to maintain control of the conversation," she says of the final arguments. "And I just want to leave it all on the table, to come away from it feeling like I did my very best."
The Harlan Fiske Stone Moot Court Competition final arguments, part of the Paul, Weiss, Rifkind, Wharton & Garrison Moot Court Program, are the culmination of a three-round elimination competition in appellate advocacy. ​Read about the other finalists in the competition.