Defending the Planet: Environmental Justice
Defending the Planet: Environmental Justice
In the sixth and final episode of Columbia Law School's limited-series podcast, Professor Olatunde Johnson and environmental and community lawyer Ruth Santiago '83 J.D., '10 LL.M. discuss the nexus of civil rights and climate change.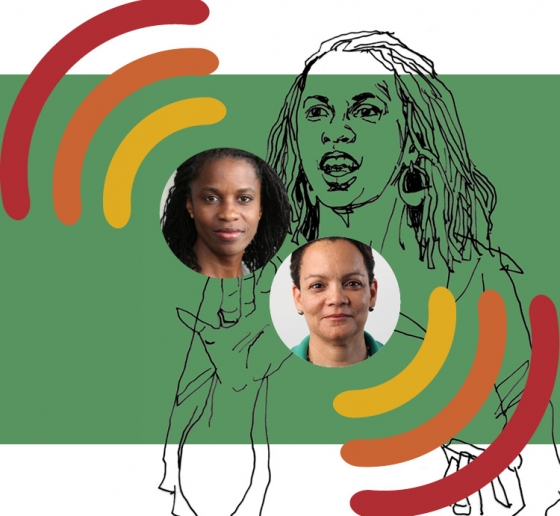 Low-income communities and communities of color are more likely to live near contaminated land and to have greater exposure to air and water pollution that are harmful to health. Questions about equity and fairness have taken on new levels of complexity as we confront global climate change. It's clear that major action is needed to address environmental injustices and ensure that marginalized communities have input on governmental policies and decisions. What legal tools and strategies can be used to effectively advance environmental justice?
Olatunde C.A. Johnson, Jerome B. Sherman Professor of Law, and environmental and community lawyer Ruth Santiago '83 J.D., '10 LL.M. join host Michael B. Gerrard to discuss policies and legal strategies to create a healthier and safer world for all people. Download the transcript here.
Read a recent op-ed by Gerrard and Santiago in The Hill: "Renewables Are Key to a Just Energy Future for Puerto Rico."
Listen to the full season of Defending the Planet. Subscribe on Apple, Spotify, or wherever you get your podcasts and learn more about the series. 
Meet the Experts
Olatunde C.A. Johnson is Jerome B. Sherman Professor of Law at Columbia Law School. Her research has helped shape the national conversation on modern civil rights legislation, anti-discrimination, fair housing, congressional power, and innovations to address discrimination and inequality. Her recent work examines the efforts of state and local governments to enhance opportunities for historically excluded groups. Johnson serves as chair of the Poverty and Race Research Action Council, which focuses on environmental justice among other issues. From 1997 to 2001, Johnson worked at the NAACP Legal Defense Fund, where she conducted trial- and appellate-level litigation to promote racial and ethnic equity in employment, health, and higher education. From 2001 to 2003, she served as constitutional and civil rights counsel to Sen. Edward M. Kennedy on the Senate Judiciary Committee and was a senior consultant on racial justice in the ACLU's National Legal Department from 2003 to 2004. In 2017, Johnson was elected a member of the American Law Institute. In February 2020, she was appointed by the U.S. Department of Justice to the Resolutions Committee honoring Justice John Paul Stevens, for whom she clerked. Johnson served as vice dean for Intellectual Life at Columbia Law from 2016 to 2018. In 2016, she was awarded the Law School's Willis L.M. Reese Prize for Excellence in Teaching and Columbia University's Presidential Award for Outstanding Teaching.
"I think of environmental justice as both the condition and a set of actions, but also the movement that has arisen over the last few decades to try to address these inequities." 
—Olatunde C.A. Johnson
A resident of southeastern Puerto Rico, Ruth Santiago '83 J.D., '10 LL.M. has worked there with environmental groups, fishers' associations, and other community organizations on numerous projects for more than 30 years. Santiago has participated in broad alliances to prevent water pollution from landfills, power plant emissions and discharges, and coal combustion residual waste. Santiago is a member of the White House Environmental Justice Advisory Council as well as Queremos Sol (We Want Sun), a civil society initiative to promote solar communities and energy democracy. In 2018, she was awarded the Robert Bullard Environmental Justice Award from the Sierra Club, which recognizes individuals who have done outstanding work in the area of environmental justice. In addition to litigation in courts and administrative agencies, Santiago has co-organized environmental education projects and advised the Jobos Bay National Estuarine Research Reserve on watershed protection and land use issues. Most recently, she worked on cases related to energy projects and integrated resource plans and has published articles on energy issues in Puerto Rico.
"There's a much more intersectional approach in these processes and these struggles and these battles. And I think there's a realization that we really need to bring together different sectors and different kinds of struggles that seem sort of siloed but have to come together in order to achieve the transformation that is required." 
—Ruth Santiago '83 J.D., '10 LL.M.
Michael B. Gerrard, Andrew Sabin Professor of Professional Practice, is the founder and faculty director of the Sabin Center for Climate Change Law. He writes and teaches courses on environmental law, climate change law, and energy regulation. He was the chair of the faculty of Columbia University's Earth Institute from 2015 to 2018. Before joining the Columbia Law School faculty in 2009, Gerrard practiced as the partner in charge of the New York office of Arnold & Porter Kaye Scholer, where he remains senior counsel. As an environmental lawyer, he tried cases and argued appeals in federal and state courts and administrative tribunals. Gerrard has written or edited more than a dozen books, including Global Climate Change and U.S. Law (co-edited with Jody Freeman, ABA Book Publishing, 2014), the first and leading work in its field. He is the former chair of the American Bar Association's Section of Environment, Energy, and Resources. He also has chaired the New York State Bar Association's environmental law section. 
"Disadvantaged communities should not be disproportionately exposed to environmental hazards and should have a full voice in the nature of the environment that they live in." 
—Michael B. Gerrard