Dean Gillian Lester and Professor Kimberlé Crenshaw Elected to the American Academy of Arts and Sciences
Dean Gillian Lester and Professor Kimberlé Crenshaw Elected to the American Academy of Arts and Sciences
They join a diverse group of distinguished scholars, artists, scientists, and leaders in the public, nonprofit, and private sectors.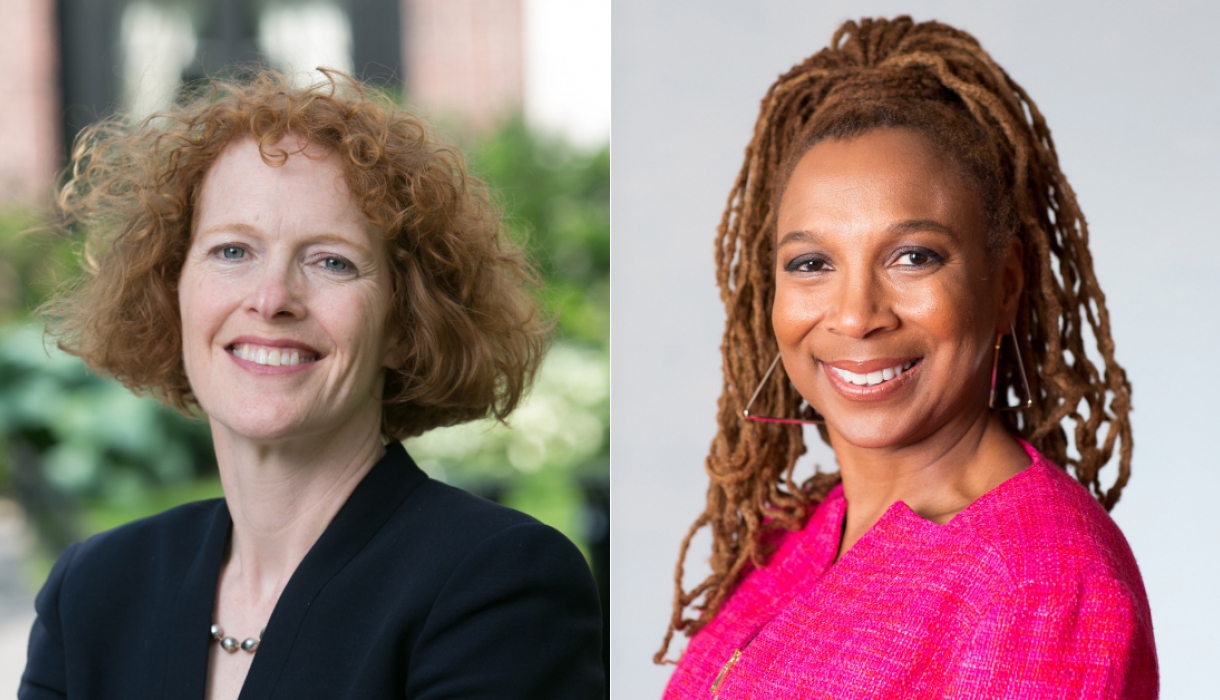 Columbia Law School Dean Gillian Lester and Professor Kimberlé Crenshaw have been elected as members of the American Academy of Arts and Sciences, a leading center for independent policy research and one of the nation's most prestigious honorary societies.
"We are honoring the excellence of these individuals, celebrating what they have achieved so far, and imagining what they will continue to accomplish," said David Oxtoby, president of the academy. "The past year has been replete with evidence of how things can get worse; this is an opportunity to illuminate the importance of art, ideas, knowledge, and leadership that can make a better world."
Gillian Lester, Dean and Lucy G. Moses Professor of Law, is one of the country's leading authorities on employment law and policy, specializing in workplace intellectual property law, contracts, public finance policy, and the design of social insurance laws and regulations. 
She became the Law School's 15th dean in 2015—only the second woman to hold the position since the school's founding in 1858. She began her teaching career at UCLA School of Law and joined the University of California, Berkeley School of Law as a professor in 2006, serving as interim dean from 2012 to 2014. 
She has held visiting appointments at Harvard Law School, Georgetown Law, University of Southern California Gould School of Law, University of Chicago Law School, University of Toronto Faculty of Law, and the Interdisciplinary Center Herzliya in Israel.
Dean Lester is the editor of Philosophical Foundations of Labour Law (with Hugh Collins and Virginia Mantouvalou), from Oxford University Press, and her widely used casebook, Employment Law: Cases and Materials (with Steven L. Willborn, Stewart J. Schwab, and John F. Burton Jr.), is now in its sixth edition. Her journal articles and book chapters include "'Keep Government Out of My Medicare': The Elusive Search for Popular Support of Taxes and Social Spending" and "Can Joe the Plumber Support Redistribution? Law, Social Preferences, and Sustainable Policy Design."
Dean Lester serves on the boards of the Legal Aid Society of New York and the Knight First Amendment Institute at Columbia University. She also serves on the executive committee of the Association of American Law Schools and is a member of the American Law Institute.
Kimberlé Crenshaw, Isidor and Seville Sulzbacher Professor of Law, is a pioneering scholar and writer on civil rights; critical race theory; Black feminist legal theory; and race, racism, and the law. She is widely known for coining the term "intersectionality" more than 30 years ago. 
One of the country's most cited legal scholars, Crenshaw was presented with the Ruth Bader Ginsburg Award for Lifetime Achievement by the Association of American Law Schools' Section on Women in Legal Education earlier this year.  
Crenshaw is the co-founder and director of the Center for Intersectionality and Social Policy Studies at Columbia Law, and also holds an appointment at the University of California, Los Angeles School of Law. She is the host of the podcast Intersectionality Matters! and moderator of the webinar series "Under the Blacklight: The Intersectional Vulnerabilities that the Twin Pandemics Lay Bare."
Other Columbia Law professors who are active members of the American Academy include (in alphabetical order): Barbara Aronstein Black '55, Vincent Blasi, Philip C. Bobbitt, John C. Coffee Jr., George P. Fletcher, Jane C. Ginsburg, Michael Graetz, Kent Greenawalt '63, Philip Hamburger, Lance Liebman, Thomas W. Merrill, Henry P. Monaghan, Robert Scott, Peter L. Strauss, and Tim Wu.