Two Columbia Law School Professors Win Lifetime Achievement Awards From AALS
Two Columbia Law School Professors Win Lifetime Achievement Awards From AALS
The Association of American Law Schools honors Kimberlé W. Crenshaw and Richard Briffault for excellence in legal education. Kimberly Mutcherson '97 and Jack Weinstein '48 are also among the 2021 honorees.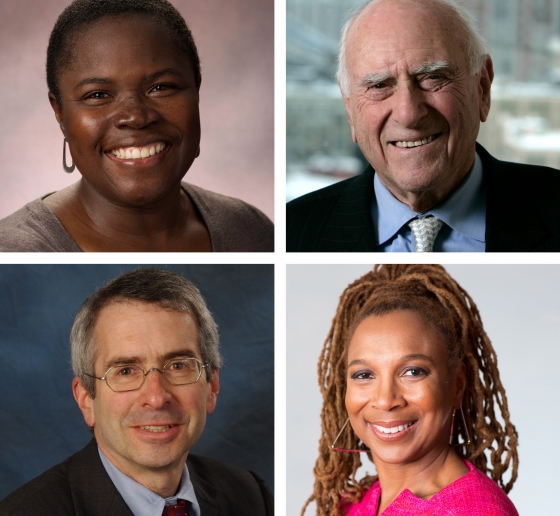 Honoring decades of achievement in scholarship and teaching, the Association of American Law Schools (AALS) presented Columbia Law School faculty members Kimberlé W. Crenshaw and Richard Briffault with lifetime achievement awards during its 2021 annual meeting. 
Crenshaw, Isidor and Seville Sulzbacher Professor of Law, received the Ruth Bader Ginsburg Award for Lifetime Achievement from the AALS Section on Women in Legal Education, citing her pathbreaking work in critical race theory and intersectionality, two fields of study she has pioneered. 
"I can think of no person who better meets the criteria for this distinguished award," said Gillian Lester, Dean and Lucy G. Moses Professor of Law. "Professor Crenshaw has, with no hyperbole, written the book on issues relating to the intersection of women and race and has elevated the voices of female scholars and thinkers who have long been underrepresented in the academy."
Crenshaw's scholarship has shaped the world's understanding of how overlapping social identities, particularly minority identities, relate to structures of power and oppression. In applying a legal and theoretical lens to examine the confluence of civil rights and racial identity, she uses her analyses to promote greater social and political equity. She coined the term "intersectionality" to describe the double bind of simultaneous racial and gender prejudice. 
Crenshaw is the co-founder of Columbia Law's Center on Intersectionality and Social Policy Studies, executive director of the African American Policy Forum (AAPF), host of the podcast Intersectionality Matters! and the webinar series Under the Blacklight, and a regular contributor to The New Republic. She created the #SayHerName campaign to document and highlight how Black women and girls were being overlooked as victims of police violence. 
U.S. Supreme Court Justice Ruth Bader Ginsburg '59 received the first lifetime achievement award from the Section on Women in Legal Education in 2013, and the award was subsequently named for her. 
"Like civil rights icons before her, Justice Ginsburg used her brilliance to transform a historically oppressive institution into one that could lift burdens and stand alongside the downtrodden," Crenshaw said in an AAPF statement after Ginsburg's death in September. "She dedicated herself to the fight for justice and stood her ground against sinister forces. We are grateful for her tenacious spirit. We are all better for it."
Briffault, Joseph P. Chamberlain Professor of Legislation, received the John Hart Ely Prize in the Law of Democracy, the AALS Section on Election Law's first lifetime achievement award in the field. Briffault has taught election law longer than any other active scholar at an American law school and is the author of more than 75 law review articles, "profoundly influencing our understanding of public funding, campaign finance, state and local government law, and other topics in the law of democracy," said Eugene Mazo, chair of the section.
In addition, AALS presented two Columbia Law School alumni with section awards. Kimberly Mutcherson '97, co-dean and professor of law at Rutgers Law School, was one of five law school deans presented with the AALS' inaugural Impact Award, which honors a positive impact on legal education, for their creation of the Law Deans Antiracist Clearinghouse.
The website, developed for law deans and faculty, contains resources and information related to addressing racism in law and legal education. "The five extraordinary deans who are receiving this award acted decisively in a moment that required a meaningful response from all of us in legal education," said Vince Rougeau, AALS president-elect and dean of Boston College Law School. "In assembling these resources, they have provided their colleagues with a wonderful set of materials to support our work in building an antiracist future for our law schools, our profession, and our society."
The Section on Torts and Compensation Systems William L. Prosser Award honored Judge Jack B. Weinstein '48, U.S. District Court Judge for the Eastern District of New York. "No one in modern American law has played a more important role in pressing lawyers, fellow judges, and law professors to reconsider the potential of tort law to contribute to a just polity," John C.P. Goldberg, Harvard Law School deputy dean and Carter Professor of General Jurisprudence, said about Weinstein, who was a member of the Columbia Law faculty from 1952 to 1967. "In presiding fairly and firmly over asbestos, Agent Orange, DES, and many other complex litigations, Judge Weinstein created and defined the field of mass torts. Along the way, he has provided deeply learned treatments of topics ranging from causation to punitive damages. Most importantly, everything he has done in the world of torts has been guided by an unrelenting drive to help ordinary people."